Bills offensive lineman Dion Dawkins shared that when he was growing up, getting a grasp on learning material in school didn't come easy to him. But to help improve and strengthen his learning skills, Dawkins would gravitate toward his teachers.
"When I had those few teachers that actually stuck with me and invested time into helping me learn in different ways other than the traditional standard way that was taught from a textbook, I flourished," Dawkins said. "I always appreciated those teachers and even to this day I still stay in touch with those teachers because if it wasn't for them, they would've failed me."
The special connections Dawkins has with his former teachers encouraged him to spend Tuesday evening giving back to the teachers of Community School 53 and their children with a teacher appreciation dinner right at the school. During his visit, the lineman talked with the teachers and their families, took pictures with them, and brought smiles to a lot of faces.
"Teachers, how you guys interact with the students is how the students interact with wanting to learn," Dawkins said. "So just letting y'all know that you guys are extremely important, and I appreciate you."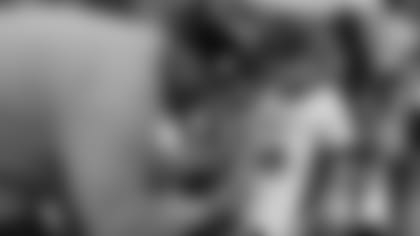 Community School 53 is located on Buffalo's East Side which has been hit hard the past few years. Between the tragic mass shooting at the Top's Supermarket on May 14th and the sorrow the neighborhood saw during the COVID-19 pandemic, Dawkins knew he wanted to spread love to this specific community.
"I feel like the East Side of Buffalo needs the most love right now," Dawkins said. "I'm not saying that the other areas don't. But as of right this second, the East Side needs us. So I'm here for them."
The minute Dawkins walked through the doors of the school, cheers erupted and joy filled the air.
Denisca Thompson, the principal of Community School 53, shared that she is beyond grateful for what Dawkins is doing for the community of Buffalo, especially for her school, in supporting teachers, their families, and the East Side neighborhood.
"We all know that it's been a tough couple of years, so this is something that as a staff, we will remember forever," Thompson said. "We can definitely relish in the joy that you've been able to bring here tonight. The fact that you thought about us, it definitely means a lot. Go Bills!"
The teachers in attendance felt the same way as Thompson — appreciative. Melissa Collins, a speech teacher at Community School 53, shared that everybody in the community has been working tirelessly to ease the pain from the recent events that have affected this area of Buffalo. The dinner that Dawkins provided on Tuesday and the uplifting spirits that came along with that will go a long way.
"There are things that come in that are just so tough, so to have somebody like Dion Dawkins come unsolicited to this school, it means so much," Collins said. "It's so special to us. Just to have a little beacon of light and joy brought back to the school is truly great to see."
Dawkins has a foundation, Dion's Dreamers, that aims to advocate for vulnerable populations through increasing awareness of issues that affect their communities. The lineman was honored to bring the efforts of his foundation to Tuesday's event as he continues to provide support and mentorship to under-served communities.
"I enjoy it because there are so many different ethnic backgrounds that contribute and there are different types of teachers that do the same thing, and all different types of people that help in different ways," Dawkins said. "So, to see them happy and to see them doing well, it's a positive for me."