It's been a big year for EJ Manuel.
Since last Thanksgiving, he's led Florida State University to an ACC title and an Orange Bowl win, graduated from college, been selected in the first round of the NFL draft as the first quarterback overall, moved to a new city, established himself in the Bills starting quarterback role, and led his team to dramatic victories in a new era of Buffalo football.
He's also watched his mother battle and overcome cancer.
And among all those milestones, among all those achievements, her survival is what he's most thankful for.
"I'm thankful for my mom's health," said Manuel, without hesitation. "That's the biggest thing I'm thankful for. Family. I'm just thankful for life. I think my mom going through this really put life into perspective."
In August of 2012, just as Manuel set out for a promising year as the quarterback of FSU, his mother Jackie was diagnosed with breast cancer. There's no easy way to cope when a parent is diagnosed with cancer, but it's certainly no easier when you're competing on the national scale, expected to play without missing a beat on the football field.
"Obviously I had a lot of responsibilities and I'd already graduated but I had a full season ahead and at Florida State you're expected to win each and every Saturday," he said. "Beyond that pressure you still have your mom and her health. But she helped me out a lot because she always sounded upbeat when I talked to her. She was always positive about everything. She helped me probably more than I helped her."
Jackie went into remission in February and was able be there at Radio City Music Hall as her son was chosen by the Buffalo Bills in the first round of the draft. Millions around the country quickly learned his story as well as that of his mother's, including Adam Ryan, who is part of a team at the only national organization with a focus on helping kids whose parents have had cancer. He knew how much good Manuel could do and the lives he could touch through his organization, Camp Kesem.
"I'm an avid football fan and I remember watching the draft, and as soon as EJ was taken in the first round one of the first comments he made was about being a child impacted by a parent with cancer and how he went through that process and has grown, and how happy he was to get drafted after all of that," said Ryan. "It immediately stuck with me and from there we realized he would be not only a good fit but a perfect fit."
As a child who'd been through a parent's bout with cancer, the cause hit too close to home for EJ to ignore.
"Playing in the NFL is great and this is a dream come true and with that comes a lot of responsibility to use the platform you've been given," he said. "This is something I wanted to do. I wanted to be a part of a foundation that will help kids handle that, because it's hard. I was very scared when my mom was going through her chemo because you really don't know what's going to happen. You have faith, but you really don't know what's going to happen. I can understand what those guys and girls are going through."
His involvement in the organization has been two-fold. As one of three players involved in Camp Kesem's Scoring for Good campaign, Manuel makes a donation to the organization every time he scores a touchdown. His donations go towards Camp Kesem's main initiative: sending kids whose parents have been touched by cancer to summer camps across the country.
"Allowing kids the opportunity to get a chance to go to the camp and bond with other people who are going through the same thing and not just to necessarily talk about cancer, I'm excited to be a part of that," said Manuel. "Sometimes that's a hard subject for people to talk about. It's good to get your mind off of it, understand that you can cope with it and that there are other people who are going through the same thing you're going through."
On top of his season-long philanthropy through the Scoring for Good campaign, Manuel also hosted a group of Camp Kesem families at the Ravens vs. Bills game at Ralph Wilson Stadium in late September. To be able to use his platform not just to make monetary contributions but to directly impact kids who he can relate to and inspire is something that Manuel says makes him proud to be a part of the Camp Kesem cause.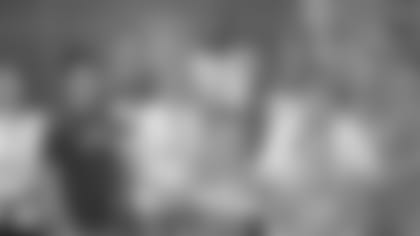 "A quote that I heard that day was from one of the mothers that was there," said Ryan. "She said, 'We haven't had a lot of good days lately, but this the best we've had in a long time,' That really defined all of our feelings. It was incredible not only because of the great seats and hospitality that was given to us but after the game EJ - and even his sister - were around and you felt the sincerity of the both of them when talking to our families."
"You really don't know the impact you have as an athlete until you see something like that happen," Manuel said in response to that story. "People are dealing with illnesses and we get upset over a hurt ankle or a bad throw or a bad game, but people are dealing with a life or death situation. It puts things into perspective. Obviously you want to do well on the field because that's your job but at the same time you have to have respect for the people who are going through that and always make time for them."
He's had wins on the field, but for this quarterback, watching his mom survive cancer and putting others in a better spot to cope with what his family has been through, that's what this Thanksgiving is all about.
Bills fans can help Manuel score for good with the Scoring For Good mobile application in both iTunes and Android stores, as well as at www.ScoringForGood.org*, where you can follow and match Manuel's contributions. *