Tuesday marked the beginning of voluntary offseason conditioning at One Bills Drive, and new head coach Doug Marrone has immediately raised the energy level in the building.
"[Today] kind of reminds me of that first day of kindergarten a little bit," said Marrone. "You go into that room, you're not really sure what it's going to be like."
The start of voluntary offseason conditioning marked the first time Marrone was able to interact with most players face-to-face.
Marrone said of the first meetings, "I think the first thing you need to do is you want to create a personalized type of effect. A lot of [the players] can go online and figure out about me and I can go online and figure out about them."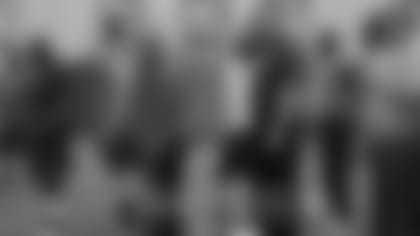 ](http://www.buffalobills.com/media-center/photo-gallery/Players-return-to-One-Bills-Drive/67f5e118-5f21-4328-aef6-f81fd8971457)
"Today is obviously a very exciting time for myself and the coaches. Hopefully, it's an exciting time for our players."
Some players are familiar with Marrone's background, including University of Louisville alum Eric Wood, who has watched his alma mater take on Marrone's Syracuse Orange.
"I've seen [Syracuse] beat the dog out of Louisville," said Wood. "[Marrone] is a guy with a tough background. A Bronx background. He's going to hold us accountable just like he holds himself accountable, and I like that in a coach."
For other players, first impressions of the new head coach were established today, and the reviews are strong.
"He's a great coach," said running back CJ Spiller. "You can tell just by the way he talks."
Marrone's enthusiasm clearly resonated with the players.
"The energy. I like the energy," said receiver Stevie Johnson. "[Marrone] could've been saying 'blah blah blah blah' but it was up-tempo."
"[The vibe] felt good to me. We want to be up-tempo and have an attitude."
Many players were excited about what new offensive coordinator Nathaniel Hackett brings to the table.
Spiller said, "He's very excited. He's a guy that's going to bring positive energy to the offensive unit."
"He's got a ton of energy," explained Wood. "He's cutting edge in some of his philosophies, while still respecting the game of football in running what works."
Wood added, "I'm excited for what he's going to bring to the table."
The excitement is also palpable on the defensive side of the ball, where players are eager to work with new defensive coordinator Mike Pettine.
"Looking at what's happened with [Pettine] when he was with the Ravens and the Jets is definitely something everyone should be excited about," said defensive end Mario Williams. "He definitely has an outstanding resume."
"This new coaching staff is very excited about being here, and they bring a different vibe," said cornerback Stephon Gilmore. "It makes me want to be here more and makes me want to make plays for them."
Players agree the new coaching staff has raised the expectation level for this team, and that fact is readily visible in the field house. Banners now hang behind the uprights on each end of the field. On one end hang two banners for the 1964 and 1965 AFL Championships. On the other end hang four banners for the AFC Championships won from 1990 to 1993. Another banner reads, "Don't confuse effort with results."
Also hanging in the field house: a prodigious image of the Lombardi Trophy.
"It's a new Bills team," said Stevie Johnson.
A new team with sights set high.