The Bills recorded 6 sacks Sunday, raising their season total to 43
43 sacks are the Bills' most in a season since recording 45 in 2004 and are already tied for the 9th most in a season in team history (43 in 1967, 1990, and 1998)
The Bills need 7 sacks in the final 4 games to tie the team record (50) set in 1964
Buffalo has four players with 5 sacks this season (Mario Williams-12.0, Jerry Hughes-8.0, Kyle Williams-7.0, Marcell Dareus-6.0), the most by the club since 2000
(also four: Marcellus Wiley-10.5, Keith Newman-8.0, Sam Cowart-5.5, Sam Rogers-5.0)
The Bills have four players with 6 sacks for the first time since individual sacks became an official statistic in 1982; 2 NFL teams last year (Chicago and Cincinnati) had a quartet of 6 sack players.
BY THE NUMBERS
4
Buffalo's defense is the only one in the NFL to feature four defenders with 5.0 sacks or more in 2013: DE Mario Williams (12.0), DE Jerry Hughes (8.0), DT Kyle Williams (7.0) and DT Marcell Dareus (6.0)  - also the first such season by a Bills' defense since 2000.
8.0
Number of sacks LB Jerry Hughes has posted in 2013 - a new career-high for the 2013 acquisition.
43.0
Number of sacks Buffalo's defense has recorded in 2013 – the most in the NFL through Week 13 - and most by a Bills team through Game 12.
1st
DE Mario Williams is the first Bill with 10.0 or more sacks in back-to-back seasons since Aaron Schobel in 2005-2006.
50 /5.0
Marcell Dareus is one of 12 NFL defenders to have at least 50 tackles and 5.0 sacks in 2013 and only one of two at the defensive tackle position (Kyle Williams, BUF).
MARIO WILLIAMS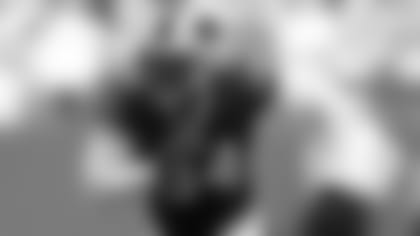 Mario Williams ranks third in the NFL and leads Buffalo's defense with 12.0 sacks through Week 13 of 2013:
NFL SACK LEADERS - 2013 SEASON
RK. PLAYER,TEAM  (POS-SACKS)
1. Robert Mathis, IND (LB-15.5)
2. Robert Quinn, STL (DE-13.0)*
3. Mario Williams, BUF (DE-12.0)*
Gettin To The QB on 3rd Down
Williams recorded 3.5 of his 4.5 sacks against Carolina in Week Two on third-down plays. Since joining Buffalo in 2012, 12.5 of his 22.5 sacks have occurred on third-down situations - tying as the most sacks on third-down situations over the last two seasons:
NFL 3RD DOWN SACK LEADERS - 2012-13
RK. PLAYER/TEAM (POS-SACKS)*
T1. Mario Williams, BUF (DE-12.5)*
T1. Cameron Wake, MIA (DE-12.5)
T3. Von Miller, DEN (LB-11.5)
T3. Julius Peppers, CHI (DE-11.5)
JERRY HUGHES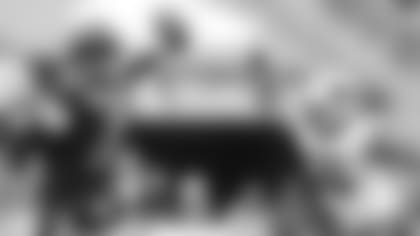 DE Jerry Hughes has registered a single-season career-high of 8.0 sacks through Week 13, including two quarterback takedowns at Pittsburgh in Week 10 and on Sunday against Atlanta. Hughes' 8.0 sacks place him seventh among defensive ends in the AFC in 2013:
AFC DEFENSIVE END SACK LEADERS - 2013 SEASON
RK.  PLAYER/TEAM SACKS
5. J.J. Watt, HOU 9.5
6. Shaun Phillips, DEN 9.0*
7. Jerry Hughes, BUF 8.0*
8. Carlos Dunlap, CIN 7.0
T9. Wallace Gilberry, CIN 6.5
T9. Cameron Wake, MIA 6.5
KYLE WILLIAMS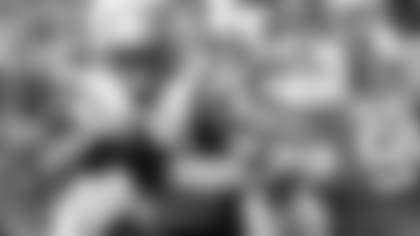 With 7.0 quarterback sacks in 2013, Kyle Williams ranks third among NFL defensive tackles through Week 13:
NFL DEFENSIVE TACKLE SACK LEADERS - 2013
RK.  PLAYER/TEAM  (POS- SACKS)
1. Jason Hatcher, DAL (DT-9.0)
2. Jurrell Casey, TEN (DT-8.0)*
3.  Kyle Williams, BUF (DT- 7.0)
T4.  Marcell Dareus, BUF (DT- 6.0)
T4.*Geno Atkins, CIN (DT-6.0)
T4. Gerald McCoy, TB (DT-6.0)
MARCELL DAREUS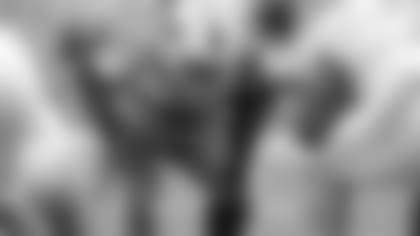 Since entering the NFL as a the team's first-round draft choice in 2011, Dareus has registered 17.0 quarterback takedowns and 95 solo tackles - the fourth most sacks and third most solo tackles among NFL defensive tackles (StatsPass.com):
NFL DEFENSIVE TACKLE SACK LEADERS - 2011-2013
RK. PLAYER/TEAM (POS-SACKS)
1.  Geno Atkins, CIN (DT-26.0)
T2. Jason Hatcher, DAL (DT-17.5)
T2. Ndamukong Suh, DET (DT-17.5)
4. Marcell Dareus, BUF (DT-17.0)
5. Jared Odrick, MIA (DT-15.5)