Catch them in the fall and they're usually studying playbooks in their team meeting rooms.
Catch them in the spring, they might be studying textbooks in college classrooms.
More than a handful of Bills players are dedicating their time away from One Bills Drive not only to recovering from the season and staying football fit, but to earning their college degrees.
"I can't say that it's easy," said DB Nickell Robey. "It's all academic. I'm looking at slopes and graphs and all that type of stuff. That's way different than watching film and listening to coach and the game plan. This will require a little more time to understand than normal so I'm just going to take one day at a time to master everything."
Robey is commuting from his home in Florida to Warner University, where he's taking credits towards a University of Southern California degree, where he played college football and began his undergrad studies. He plans to graduate after one to two additional semesters and a few internships under his belt with a degree in Product, Planning and Development, or real estate, in laymen's terms.
"Growing up as a kid I was always interested in land and housing," he said. "My father used to do a little bit with real estate and being out there with him I learned a little, so when I went to college I wanted to pursue it."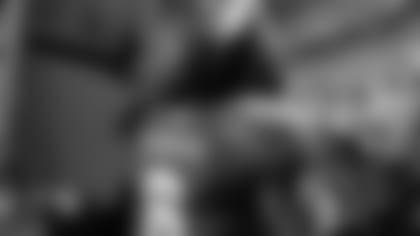 WR T.J. Graham went back to study something more closely related to his day job. He's one semester away from finishing his degree in Sports Management, and he says being back at NC State without the time crunch that being a student athlete brings has improved his school work.
"You've been going through that struggle at school where you have to manage your time," Graham said. "I had way less time to do school work and now I should do even better because I have more time.
"It's so much easier to focus on school because you're not worrying about what parties are happening on the weekend," he added, laughing.
Even though he's back on his home campus where he still has notoriety, he tries to keep a low profile.
"Our teacher asked one interesting thing we did over break. I said I shoveled snow," he said. "They were like, 'Why were you somewhere you can shovel snow?' It's only because I want them to treat me like normal."
Mario Williams has also re-enrolled at NC State with Graham, and Robert Woods is taking classes where he played with Robey at USC. Other Bills heading back to school include Kevin Elliott (Florida A&M University), Arthur Moats (Empire University), Jeff Tuel (Washington State University), Ronnie Wingo (University of Arkansas), and Cordy Glenn.
And whether to keep their post-football career options open, work towards a skill or simply finish what they started, their motives for returning to college vary.
"I started, and usually I finish what I start," said Graham. "Maybe a meal is the only thing I finish and don't start. Well, I finish most meals. Really though, I started in school and put a lot of effort into it and worked so hard and for me to not reap the benefit, I couldn't let that happen. I have a business mentality and I want to see this through."
"I promised my mom that I was going to get my degree," said Robey, of his mother who unexpectedly passed when he was in high school. "She always told me how important that was. I'm just being like every other regular student in that case. Growing up, your dream is to go to college and have that experience and get a degree a get the career started."
The Buffalo Bills are proud to partner with New York's 529 College Savings program.  Whether you're a parent, grandparent, or someone with a special child in your life, New York's 529 College Savings Program Direct Plan can make saving for your child's future easier. To learn more visit www.nysaves.org.