STEP BY STEP
The Bills victory ensures a non-losing season for the first time in a decade, and even though the team has much loftier goals in mind, it does represent a step forward for the franchise.
It also reflects the improvement in team culture instituted by Doug Marrone. With two games left to play, it's pretty apparent the 2014 Bills are tougher, more driven, and hold themselves to a higher standard than recent Buffalo teams. And laying the groundwork for that culture change may be the most important thing Marrone has done in his 30 games as head coach.
While analytics geeks and talk radio know-it-alls focus on 4th down strategy and individual play calls, the Bills are slowly getting better. No question, it's a process that's agonizingly slow for the loyal fans who've waited 14 years for their team to return to playoff contention.
But Marrone has put together an elite defense, a defense that survived the departures of its coordinator and top ball-hawk from last year, and lost one of its top young playmakers to an offseason workout injury. Marrone has watched four different quarterbacks start games for the Bills over two seasons, and he's been flexible enough to adapt his offense to the talents of each of those quarterbacks. This year, the Bills have fought through injuries to their top two running backs and nurtured a rookie wide receiver through his first year, a receiver who's already established franchise records for catches and receiving yards by a rookie, with two games left to play.
The Bills remain in playoff contention after 14 games. That's a spot the franchise hasn't been in for ten years.
Are there fourth-down situations that some might have gone for rather than punt? No question.
Are there play calls that amateurs playing Madden might have handled differently? Without a doubt.
But when the season ends, and a true evaluation of Doug Marrone's first two years is timely, ask yourself this—have the Bills ever been disinterested or looked flat going into a game? Have they been blown out and uncompetitive in a game this year? The answer is no.
And that's a much better measure of a coach's effectiveness than how he stacks up against the NY Times' 4th-down-bot.
BEST MATCHUP OF THE MATCHUP
It was a big challenge for second year CB Nickell Robey going in—lining up against Packers slot WR Randall Cobb. And Robey was up to the challenge.
Cobb caught seven passes and did the most damage on a 20-yard catch in the third quarter when Robey was not on the field. The rest of the time, Cobb and Robey went to war on almost every down.
Cobb got open near the sideline to make a 19-year catch midway through the second quarter, demonstrating how elusive and quick he is. But Robey battled all day long against Cobb and made a big play later in the second quarter on a pass over the middle. Robey, who almost always gives up size and bulk to opposing receivers, was physical and on his game.
Aaron Rodgers clearly was looking to make hay with the matchup—he targeted Cobb 13 times in the game. But Robey stuck with him, including in crunch time with 5-minutes to go in the fourth quarter. Rodgers went Cobb's way on a critical third down, and Robey was right there to break it up. The second year CB from USC had one of his best games with the Bills, and Robey has become one of the unsung stars on Buffalo's back-breaking defense.
SPECIAL CONTRIBUTION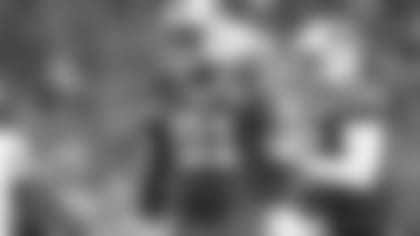 He had a six-game hole carved out of his 2014 season due to injury, but the Bills coverage man Marcus Easley is back making impact plays.
He made one of the biggest covering a punt with two minutes left in the game and Buffalo up by just six points.
Lined up as the outside gunner on the right, the Bills moved Easley tight to the line before the punt snap for extra protection, expecting Green Bay would go for the block. So after chipping in with protection, Easley flew down field and met the Packers Micah Hyde at the ten yard line, just as the punt got there. The result? A Green Bay drive start from their ten. The very next play—Mario Williams sack of Rodgers that wound up as a safety.
It was the only special teams tackle Easley made in the game. He also made a big play in the third quarter when he downed a punt at the two yard line.
Easley is often overlooked, but he was missed when he was out of the lineup. And he's one of the reasons the Bills special teams continue to shine.
STICKING UP FOR EACH OTHER
It was a cheap shot hit after the whistle by Green Bay LB Sam Barrington that brought out the feisty, competitive spirit of many Buffalo Bills.
After Kyle Orton's interception late in the second quarter, Barrington drilled Bills RB Fred Jackson from behind in front of the Packers bench, at least 5-seconds after the play was blown dead. Offensive linemen Erik Pears and Eric Wood rushed to the scrum immediately to let Barrington know how cheap his hit was. It was a classic hockey-style "stick up for your teammates" move from Pears, Wood and other Bills on the field. It was a response that said a lot about the team.
It also says a lot about the culture that Marrone has instilled.