One thing is for certain, COVID-19 has flipped everyone's 2020 plans upside down. The NFL offseason as we know it has never been so out of whack, even the lockout year in 2011 can't compare to how players and teams are adjusting to prepare for the upcoming season. One of the most necessary parts of the offseason is training your body to withstand another season. Well, how in the world is that possible when public gyms are closed across the country?
Head coach Sean McDermott has enlisted a theme for his team this offseason—'Find A Way.' His team is doing just that, finding a way to train for the 2020 season when it's difficult to get to a squat rack.
"There's challenges for everyone, right," McDermott said. "But what you do is you try and find ways to adjust and adapt and like we said before our theme this offseason has been 'Find A Way.' I think that it really fits the time and the situation and circumstances we're in."
New Bills defensive lineman Mario Addison who is 32-years-old knows just how crucial working out is during the offseason. Addison, who lives in Birmingham, told media he feels like he's 25 due to his ability to keep himself in shape. Entering your 10th season in the NFL feeling in your prime is exactly what a head coach wants to hear. But this offseason, given the circumstances, it hasn't been easy.
"Everything was going perfectly fine," Addison explained. "I was working out with the guys, with the coaches and boom everything changed. We went from working out five times a week to you can't workout at the gym because it's shut down. I had most of the equipment I needed at home. I never had to use it until now. There's ways around everything."
Some are not as lucky as Addison who has been through plenty of offseasons. The rookie class, on the other hand, is preparing for their first season remotely. The group feels the pressure to soak up all they can during zoom meetings in order to be on the same page as the veterans once the facilities open. 
"It's going to be on me to do those workouts and to get in shape for camp, all the stuff that's coming up next because we don't know when the pandemic is going to be over or when we can all start going back out in the public," A.J. Epenesa said. "It's really just if I can continue to grind and keep working to be ready whenever it's time to go."
The thought of being a trainer through a pandemic is quite interesting. The most essential part of your operation has been shut down. How do you proceed? How do you get your clients, especially the rookies, ready? 
These are questions NFL trainer Bert Whigham had to answer quickly once states closed. Whigham trained running back Zack Moss and wide receiver Gabriel Davis before the NFL Scouting Combine and has continued to train Davis after the draft. Whigham explained it's been a very odd offseason in that the pair has had to travel to find space to effectively train. 
"You don't have a back squat, so you're lunging with heavy dumbbells and you have to get creative, do a lot of band work," Whigham explained. "You don't have to have 400 pounds of weights, you can just use resistance bands. But a lot more field work than weight room work and that's and that's where the games played."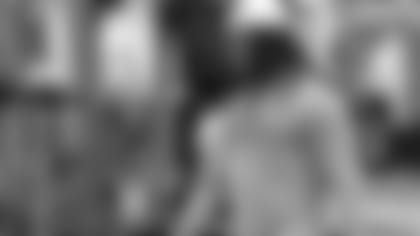 The offseason is also a vital time for players who are rehabbing from injury. Bills defensive lineman Harrison Phillips tore his ACL during the 2019 season and has been doing everything in his power to be ready for the upcoming season. Rehabbing away from the training facility brings on its own set of challenges, but Phillips has been able to adjust.
"It has changed because of my rehab," said Harrison. "My girlfriend Shae has had to video tape every single run I've done, every single warmup. An hour and a half of video, four days a week. She sends it into a group chat that has an athletic trainer and a strength coach. She sends in the video and they'll text back a coaching point. She will read that to me as I do my next set and rep and she videos that."
Harrison isn't the only one who is thankful to have loved ones by his side helping him navigate through his time. Linebacker Tremaine Edmunds has been at home in Virginia training with his two brothers Trey and Terrell who play for the Pittsburgh Steelers.
"Everybody is going through this, so we are trying to find ways to adjust to this every day, but I think it is very effective and we are getting something out of it," Edmunds told WDBJ7.
The word routine is essential to any player, but in the last few months finding a productive routine to stick to could be the difference in coming back to the facility in shape or far from it. Safety Jordan Poyer has found a daily schedule that works for his body as he enters his eighth year in the league.
"I live right next to a park – an open field park," Poyer said. "I have all the equipment to get on the field, so we get out there around 10:30 a.m., do a field workout then come back home. I have a gym at home. I do a nice little lift, whether it's upper body or lower body."
For many, just like you and me, it's tough to find the positives in a time where we have been stuck at home living a not-so-normal life. Whigham has found something the Bills staff and fans can be proud of. 
"I think the only positives will be the ones that actually continue to have a professional type offseason and approach," Whigham explained. "They'll stand out when the time comes. Matt [Barkley] and Josh [Allen], the rookies that I'm with right now and Smoke [Brown].Those guys that are really training hard and finding a way to get with the massage therapists, the Pilates, the ones that approached it that way, they'll be farther ahead. That's the only good thing."
A picture floated around social media that showed a few Bills players finding a way to train. But it's not just those in the picture who look like they are successfully navigating through this, several Bills players have posted their workouts across social media. It's no humble brag. Go ahead and flex for the camera because in a time where it's difficult to achieve anything, McDermott's squad is accomplishing the offseason. When the doors to One Bills Drive open, it looks like this group will be prepared to hit the ground running.