Bills GM Brandon Beane has already gone on record saying he's committed to getting quarterback Josh Allen more help on the offensive side of the ball this offseason. And while upgrading the talent on offense will certainly help Allen in his second NFL season, there is something else that will aid his development even more come 2019.
The plan going into the season was to let playing time for the rookie QB unfold naturally. However, there was nothing natural to the start of Buffalo's season on offense as Allen found himself in the lineup in the second half of their Week 1 game at Baltimore. He started from that point forward, when healthy.
It proved to be supremely beneficial for Allen's game. Just getting 12 games worth of live reps ultimately served as the best teacher in his rookie season.
"There's nothing like in-game experience, there's nothing like in-game reps," Allen said. "You can't fake game-like reps. It's the only thing you can get being in the game. Every experience, every defense, every game has its own different elements to it.
"In turn, taking those elements and running with it, learning from them and allowing yourself to use them next time in that situation may arise. Sometimes, the situation may never arise again, but just having those situations and learning from those and kind of going through that is going to help any player in the long run."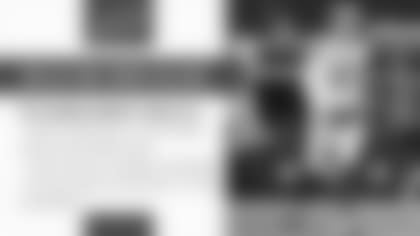 MASTERING THE MENTAL SIDE OF THE GAME
The oldest quarterback in Buffalo's QB room, Derek Anderson, believes Allen's persistent work ethic leaves just one needed variable to take his game to the next level. Snaps.
"Whether it's becoming a more vocal leader or getting a feel for your receivers, understanding adjustments as you go, it comes from playing with the same guys for a period of time where it's understood," Anderson said. "Whether you change a 'mike' linebacker assignment, or another change at the line of scrimmage everyone understands why you're doing it. Those things happen organically the more you play together. They just happen."
Allen was much more comfortable making such changes at the line pre-snap in the latter half of the season. His last example of the 2018 season came in Week 17 when he checked out of a play at the Dolphins four-yard line because he recognized a zero-coverage blitz coming. The result was a four-yard back-shoulder touchdown pass to Robert Foster.  
"Even if a play goes in wrong, (Josh) has the presence of mind to fix it," said Anderson. "Sometimes coach calls the protection the wrong way, but (Josh) knows what it's supposed to look like and fixes it. Fixing those things at the line of scrimmage comes in time."
While Allen and Foster are only getting started as a passing tandem, Anderson referenced a New England passing combination as an example of the on-field chemistry that emerges when two players have worked together for several seasons.
"Brady and Edelman, just the little routes they run, he knows exactly where he's going to be, but they've been doing it for years," said Anderson. "Are we there yet? No, but we'll progress over time and we'll get there."
Table inside Article

| Yards (1st 6 games) | Yards/Attempt (1st 6 games) | TDs (1st 6 games) | INTs (1st 6 games) | Rating (1st 6 games) | Team total points (1st 6 games) |
| --- | --- | --- | --- | --- | --- |
| 832 | 6.0 | 2 | 5 | 61.8 | 76 (12.6 ppg) |
Table inside Article

| Yards (Last 6 games) | Yards/Attempt (Last 6 games) | TDs (Last 6 games) | INTs | RATING (Last 6 games) | Team total points (Last 6 games) |
| --- | --- | --- | --- | --- | --- |
| 1,242 | 6.9 | 8 | 7 | 72.6 | 132 (22.0 ppg) |
WHAT THE NUMBERS SAY – THE FIRST 6 VS. THE LAST 6
In looking at Allen's final six starts in 2018 in comparison to his first six games, five of them starting assignments, the former first-round pick improved in almost every offensive category.
More passing yards, more touchdowns than interceptions, a higher yards per attempt average, one third the number of sacks taken (7 down from 21), a passer rating increase of almost 11 points, and most important, almost double the number of points per game (132 vs. 76).
Yes, Allen's completion percentage over his final six games was down slightly (52%) from what it was over the first six games (54%), but he attempted fewer deep passes in the first half of the season and more high percentage throws.
Offensive coordinator Brian Daboll maintained more than once during the season that he was not concerned about Allen's completion percentage. His focus was on the end results of Allen's game more than anything else.
"Everybody would like to be 80, 78, 75, 71 percent, but you kind of need to peel it back and figure out the reasons why," Daboll said. "The quarterback really needs to be judged on leading this team down to score points and taking care of the football and giving us an opportunity for us to have success, and we'll just keep on working on really all of the completion percentage, the third down throws, the red zone throws, the scrambles the staying in the pocket, that's all part of it. The most important thing is that letter (W) at the end of the game."
Daboll, much like Anderson, does believe Allen's game will continue to take leaps forward in year two just through repetition and time on the field with teammates. The other key elements that almost guarantee he'll be able to propel his game forward are already there.
"He's smart and he's competitive," Daboll said. "He wants to try to do anything he can do to help this football team win in any role that he needs to do it. Whether that's run it, quarterback sneak it, throw it, it's what you appreciate about him."
WHAT'S IN STORE FOR THE OFFSEASON?
Allen plans to put the work in this offseason. From working on his mechanics with quarterback specialists to catching up with teammate Matt Barkley and some of their receivers in California for throwing sessions.
"He still has a long way to go. He's not arrived by any means," said Beane. "But I know who he is, and he is not complacent. This guy is competitive. He wants to get better. He wants to be the best at his craft. Josh has a really good plan for the offseason to come back here bigger, stronger, faster and mentally even sharper."
"I'm pleased with the progress for sure. There's still a lot of improvement to go," said Allen. "I want to be better. I want to be as best as I can be and that's putting in the work and taking as many reps as possible, drill work in the offseason, throwing with our guys and just trying to get back in that mindset of being in the game-like situations. It's very valuable. I'm excited to see where it can go."