The second day of Bills minicamp went to the defense as they made the lion's share of the plays. Between the secondary making plays on the ball and the pass rush getting home a handful of times, the defense provided more for the highlight reel.
It began with LB Corey Thompson. The second-year player got first team reps all day as Lorenzo Alexander was essentially given a day off. Thompson had the first pass breakup of the day on a pass intended for Dawson Knox.
During the blitz period, Taron Johnson came off his slot assignment to register a 'tap out' sack on Josh Allen. Four plays later Siran Neal was equally successful coming from the nickel spot to get to the quarterback and had a pair of sacks on the day.
"When it's our time to blitz you've got to make play," Neal said. "That's what the coaches say, 'When we call your number go make a play.' That's what we've been doing the past couple of days. If coach sends us on the blitz we've got to get there."
In between those two sacks, Jordan Poyer made the most acrobatic defensive play of the day. Defending a Josh Allen throw deep down the left sideline for Cam Phillips, Poyer out jumped every other player around the ball and came down with the interception as he landed on his back inbounds.
"That back end of the defense it's a brotherhood," said Neal. "We all come in in the morning and we're about getting the day going. Don't come out here relaxed. We have a little chart in our room of the plays that we make and we keep score. We're not just looking at it as a scoreboard, but as a 'take the ball away' type gauge. Get hands on the ball as many times as we can and take the ball away."
Ed Oliver got great penetration on a quarterback draw play and tagged out Tyree Jackson for a sack as the rookie QB had no shot to reach the line of scrimmage.
Jerry Hughes had the other sack for the defense, while other pass breakups were turned in by Poyer and EJ Gaines. Poyer's pass defensed came in the end zone when Allen tried to find Knox in the front right corner of the end zone. After Poyer knocked the ball away he shouted, 'You can't try that Josh!'
As frustrating as the day may have been for Allen and the offense at times, he has a healthy respect for his defensive unit.
"I really believe we've got the two best safeties in the league. How they move, I was talking with some of our guys the other day, 21 and 23 might as well be the same person on the field," Allen said. "They're moving in unison. They're very vocal with each other. They disguise things so well. It's a real challenge on the football field, but that's only going to make us better. I think we're only going to get better on defense."
2. Andre Roberts and Duke Williams flash
Though the defense carried the day, the offense did turn in some quality plays. Two of the best plays were turned in by receivers Andre Roberts and Duke Williams.
Early in the practice session, Allen saw Roberts break to the outside hip of cornerback Cam Lewis and decided to give his receiver a chance to make a play.
He lofted a 25-yard pass to the end zone dropping it right over Roberts' shoulder. Despite the tight coverage from Lewis and a safety in close proximity to challenge the catch, Roberts was able to hold onto the ball with just his fingertips all the way to the ground.
It was the kind of play that a quarterback remembers when building an on-field rapport with a new receiver.
"It absolutely does help reinforce my trust in him," Allen said of Roberts. "It was a time and a moment where as an offense we didn't start off too hot and he went out there and made a play. Coach McDermott always preaches we want smart, tough guys that can make a play to win the game. That's a play that can win the game. That's the type of effort and attitude we're looking for."
Not long after Roberts' fingertip grab for a touchdown, Duke Williams got in on the act.
Facing a third down situation inside the 10-yard line, Matt Barkley was patient in waiting on Williams' route and fired the ball to the rear right corner of the end zone where Williams' had shaken free from Tre'Davious White.
"I had run an over route the other day and I wasn't running like I was supposed to. He put it in the bucket, but I wasn't there so I had to redeem myself and earn his trust," said Williams. "We're taught to get to the top of the route. So I went head and shoulder fake inside and then came back out. And it was open and Matt trusted me and made the throw."
Williams has found it hard to climb the depth chart. His reps with the first team even with players out injured have been few and far between. He'll need to keep making plays with the second unit if he's going to make a move up the pecking order in training camp.
But the CFL product believes his daily progress is greater than the baby steps he was taking a few weeks ago.
"I feel the steps I'm taking is getting better every day," Williams said. "Our coach put up a saying in a team meeting and it said the good thing about tomorrow is you can get better. You can be better than the day before, so that's been my main focus."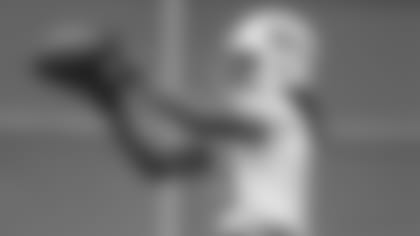 3. Siran Neal working hard to master nickel spot
Neal's opportunities in the spring practices have come in the nickel package. At the outset of OTA practices he was running with the third team defense as he got adjusted to the role. With minicamp now winding down, Neal was rotated in with the first unit as he swapped reps with draft classmate Taron Johnson.
"I'm digesting the responsibilities pretty well," Neal told Buffalobills.com. "I'm just taking it one day at a time and one play at a time. I'm taking it real slow and just processing everything before the play and then trying to get the job done on that play."
Neal is an interesting option for the position. With more and more NFL clubs putting taller receivers in the slot, Neal at 6-0 and 206 is a good counter move if such a matchup presents itself.
In college at Jacksonville State, Neal spent a year at linebacker, a year at cornerback and a year at safety. He was never really given a defined role to focus on for any length of time.
Now lining up at nickel corner, Neal has the opportunity to lock in one position and work to improve on the nuances of that role.
"For right now they told me just focus on the nickel job and get everything down with alignments and fundamentals at that position," he said. "I feel at home. I feel comfortable in there. I played corner in college and I have a lot of one-on-one experience, which we do a lot in the slot. So taking that from college to now I actually feel alive again in that spot. I love it."
It will be interesting to see what kind of pressure Neal can put on Taron Johnson in training camp. Johnson made a name for himself last season as a rookie playing hurt for much of the year. But these two second-year players look like the prime candidates for the job as EJ Gaines has seen more reps at outside corner since spring practices began.