"This is my first time here meeting a football player. And Mom, I love you so much and it's gonna be alright. Thanks to the barber, who lined me up so quick. Let's have a good time, Buffalo Bills, let's go!"
Those were the words of Kentrel, a 9-year-old who was one of 70 children at the Salvation Army Buffalo Area Services building Monday morning. After messing around on DJ Yes and DJ Milk's audio equipment, Kentrel took the mic to deliver his special message.
Thanks to Bills safety Micah Hyde's IMagINe for Youth Foundation, who partnered with Salvation Army and LECOM, the children in attendance were provided with backpacks, school supplies, haircuts and plenty of dancing.
"It's awesome to see the faces of the kids, how excited they get. Music's playing, eating pizza, getting backpacks for school," Hyde said. "Just another great event that the IMagINe for Youth and obviously Salvation Army and LECOM, Highmark and everyone is a part of putting on."
Kentrel and the rest of the kids got to meet Hyde, who snapped photos, signed autographs and got to know those in attendance.
"It puts me back in the position of when I was a young kid and going to events like this and just trying to be around the varsity football players, you know, thinking I was doing it big by being around then," Hyde said. "Trying to be a positive role model for these kids and it means the world to me that even if one kid here sees me and sees me as a role model and that kind of changes the way they think or whatever they want to be in life, puts a smile on my face."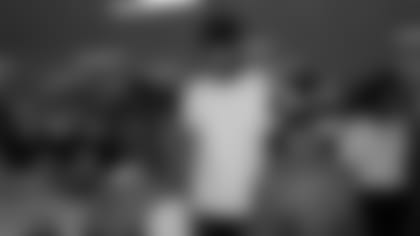 Hyde might be a role model for Kentrel, but the flag football quarterback was ready to go head-to-head on the gridiron after Hyde described to the offensive-minded 9-year-old what an interception was.
The families in attendance are residents of the Salvation Army's homeless family shelter. Director of Development Laurie Krajna thought the event was a success based on the families' reactions.
"I usually measure everything in smiles and tears, and all I saw was smiles today," Krajna said. "The music was great, the haircutting, the photos, Micah was wonderful, the volunteers were great, I think everybody had a great time and more importantly everybody got stocked backpacks and back-to-school outfits. I can't thank the community and the foundations that helped here enough."
There are plenty of ways to get involved with each organization from today's event. IMagINe for Youth, which provides kids with opportunities to live healthy, active and educated lives, accepts donations at this link. Salvation Army has many ways to volunteer and also accepts donations.
Hyde will have a busy week. Not only will he continue to prepare for the 2023 season, but he is throwing the first pitch at Tuesday's Buffalo Bison's game for Mystery Ball night. Over 500 baseballs autographed by stars like Hyde, Josh Allen, Vlad Guerrero Jr. and even Jay Leno, will be up for grabs with proceeds going directly to IMagINe for Youth.
On Thursday, Hyde is hosting a meet and greet at Northtown Porsche Volvo, where he will announce the date of the 2024 Micah Hyde Charity Softball Game. Tickets to the meet and greet can be purchased here.
Scroll to see photos from Micah Hyde's Back to School Backpack Drive at the Buffalo Salvation Army.