139.6 = NFL-leading fourth quarter passer rating
His completion percentage might be a bit behind the league's best. His touchdown to interception ratio is an even 1:1, and he's averaging just 220 passing yards per game. But even Josh Allen will tell you, he's all about the 'W's, which is why when the game is on the line the Bills quarterback is at his best.
Prime evidence of that comes in the measure of Allen's play come the fourth quarter.
Allen currently leads the league in fourth quarter passer rating with a mark of 139.6.
The next closest players, who have appeared in all of their team's games this season are Atlanta's Matt Ryan (130.5) and Houston's DeShaun Watson (116.9).
So does Allen have a clutch gene?
"I think there are guys that definitely rise up and Josh has done a good job to this point in his short career of being able to respond in adverse situations," said offensive coordinator Brian Daboll. "A long way to go, but I think his preparation and his work ethic leads to some of those things that happen later on in games whether it be the fourth quarter or the second half. He's a young player who prepares himself well and when he's put in the moment he's done a good job of executing."
Allen's completion percentage in the fourth quarter jumps more than five percent from his season total as he's completing close to 69 percent of his passes (68.8%). His yards per attempt of 9.75 in the fourth quarter also leads the league and his touchdown percentage of 12.5 percent also leads all quarterbacks who have started all of their team's games thus far.
Buffalo's lead signal caller has four touchdown passes in the fourth quarter against no interceptions. Two of those fourth quarter touchdown passes happened this past Sunday in what wound up being Allen's fifth fourth-quarter comeback in just 17 starts.
It put Allen in a tie with Joe Ferguson (5 in 28 starts) for the most fourth quarter comebacks by a Bills quarterback in their first two seasons.
"He's pretty cool, composed throughout the entire game," said Daboll of Allen. "He doesn't get too high or too low. He executed well this past Sunday and didn't put the ball in jeopardy. Obviously, we'd all like to have a few plays back. But he's tough, smart, a hard worker, good teammate, good leader."
1 of 2 wide receivers in the NFL to achieve this feat
On a Buffalo offense that is still working to put together a complete game start to finish, their top receiver has been the NFL's version of a mailman. Every time out he has delivered.
John Brown, who leads the team in receptions, receiving yards and receiving touchdowns, is one of just two players in the league to have at least 50 yards receiving in every one of his team's games so far this season. The other is New Orleans wide receiver Michael Thomas (credit: Field Yates).
Brown's 50 receiving yards or more in all six games to open the season makes him the first Bills player with such a streak since Lee Evans did it in 2008 for the first seven games that year.
He has been the number one target of Josh Allen for good reason, he gets consistent separation in man coverage.
"I've got a lot of trust in John and what he does just because of how hard he works," said Allen. "The results he has in the game, he's a guy who is going to work and get open for you."
Brown currently ranks eighth in the AFC in receiving yards (473) and third in the conference in third down receiving yards (172) trailing only L.A.'s Keenan Allen and Denver's Courtland Sutton.
Buffalo's top wideout however, believes there is still much ground to cover for him and the Bills offense.
"We've got good chemistry," said Brown of his on-field rapport with Allen. "It could be better. It's just things I have to work on as far as route running to get better, just us as receivers as a whole group."
Despite being new to Buffalo's offense and Josh Allen, Brown's production puts him at the top of the list in receiving yards by players on new teams in 2019, as he's trailed closely by Odell Beckham Jr. (436).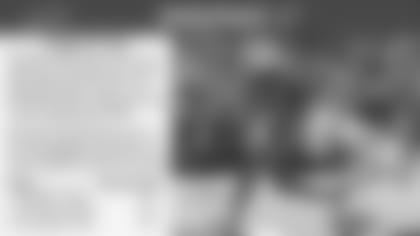 6-2 – Buffalo's win-loss record in games in which Tre'Davious White has an interception. Eight of White's nine career interceptions have come at New Era Field.
68.8% – The Bills red zone touchdown percentage (11-16) ranks second in the NFL to Minnesota.
18 – By allowing 381 total yards on Sunday, Buffalo's defense now has a league-leading 18-game streak in which they have allowed less than 400 total net yards of offense.
+16 – The turnover margin in the last eight meetings between the Bills and Dolphins in Buffalo. With Tre'Davious White's two takeaways, Buffalo now has 18 in their last eight home dates with the Dolphins, while Miami has forced just two turnovers in that span.
91 – Buffalo's points allowed marks the fewest surrendered by a Bills defense through six games since 1993 (77).
40 – The number of consecutive games in which Buffalo's defense has not allowed a touchdown pass of 40 yards or more. The last time was against Cincinnati on Oct. 8, 2017 when A.J. Green had a 77-yard touchdown reception.
305 – The total net yards by the offense made it seven straight games in which the Bills have crossed the 300-yard plateau dating back to last season's Week 17 finale. It's the longest streak by the Bills since a seven-game streak in 2011-2012.