Josh Allen pointed to the sky as he jogged to the sideline following his second touchdown pass on Sunday afternoon. Less than 24 hours before the Buffalo Bills quarterback played one of the best games of his life, he learned his grandmother, Patricia Allen, had died unexpectedly at the age of 80.
Sean McDermott called his quarterback on Saturday night to offer condolences and see where his head was at. 
"He said he wanted to play," McDermott said. "We just felt like he was going to have to compartmentalize for the better part of 24 hours in order to get through the game and that's what he did, and then it was emotional after the game. Not an easy thing to play through."
With that emotional weight, all Allen did was go toe-to-toe with an MVP favorite and turn in a performance that earned a mention alongside names like Brady, Manning, and Mahomes. 
Here are three takeaways from the Bills' 44-34 victory over the Seattle Seahawks, beginning with the brilliant performance from their quarterback.
1. Allen dominates in emotional outing
Allen's final line on Sunday: 31 completions on 38 attempts for 415 yards, three touchdowns, and a 138.5 rating. It was his second game this season with 400-plus passing yards, three-plus passing touchdowns, no interceptions, and a rating of at least 130.
In the Super Bowl era, here are the quarterbacks with two such games in a season:
Josh Allen. That's the list.
The only quarterbacks with two such games in their careers are Tom Brady, Peyton Manning, Drew Brees, Aaron Rodgers, and Patrick Mahomes.
Allen also ran for a touchdown, giving him 14 career games with touchdowns scored both passing and rushing. That's a new Bills team record, breaking the previous mark set by Jack Kemp, and second in NFL history by a quarterback through his first three seasons (Cam Newton, 20).
"Josh is a soldier," said left tackle Dion Dawkins. "He's a battler and he has the will of a champion. Every time Josh touches that field, he lays it all on the line every play. He's a leader. He's our leader."
Buffalo ended up passing on eight straight plays to open the game, seven of which were completions.
"I think the last few weeks, we've been moving the heck out of the ball," Allen said. "We just haven't been putting many points on the board. It was good today. We got some touchdowns instead of field goals. Still left a lot of meat on the bone though, and I truly mean that.
"It's gonna be fun to watch this one and still learn from it and try to get better from it. We're moving the ball around, we've got weapons outside that I'm not sure too many people can keep up with those guys so I've got to make good decisions and put the ball in their hands and let them make some plays."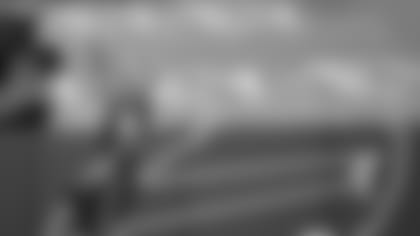 2. Bills improve to 7-2 with signature win
The last time the Bills were 7-2, Meat Loaf had the number one song in the country and Tim Burton's "The Nightmare Before Christmas" was ruling the box office, not airing nightly on Freeform. That was November 1993, during the era of Jim Kelly and the Super Bowl Bills.
So, what does that record mean to this Bills group?
"It really doesn't mean anything," Dawkins said. "I don't want to compare ourselves to Jim Kelly's era. Jim Kelly's era, Thurman Thomas, those guys are legends. We are far from them. They hold the crown. They are the kings. It just shows that, once again, we are capable of doing what we want to do.
"We have all of the pieces here and we just have to continue to do things right on and off the field. It's never perfect. None of us are perfect. We all make mistakes. But we just have to stay one foot in front of the other and keep climbing. It'll go well for us if we just keep that mentality up."
One of McDermott's mantras is to treat each opponent with the same amount of healthy respect, be it a last-place team or a conference leader. Bills players echoed that approach Sunday, treating the victory just as they did their recent wins over the Jets and Patriots.
And yet, to the outside world, it's easy to see why the victory will be considered a statement come Monday morning. During their 10-6 run to the playoffs last season, the Bills only earned one win against an opponent that would go on to make the playoffs (at Tennessee in Week 5). Of Buffalo's six wins this season, only one came against an opponent that was in playoff position entering Week 9 (against the Los Angeles Rams in Week 3).
Seattle, meanwhile, entered the game atop the NFC at 6-1 behind an MVP candidate in quarterback Russell Wilson.
Levi Wallace said the win simply affirmed what the Bills already knew.
"We're a good team," he said. "We know we're a good team. It's just about our execution. When we come out and execute how we're supposed to do, how we're trained to do, how we do each and every day, it shows on the field. We're not surprised by this win. So, hats off to Coach McDermott."
Dawkins, meanwhile, echoed Allen in suggesting that the impressive win left room for improvement.
"I just take that we're capable of doing it," he said. "It wasn't perfect. It could have been better. We shot ourselves in the foot a couple of times and there's a lot of room for growing. The Seahawks are a great team. Let's not shy away from that. They're a great team, offense and defense. But I just feel like it's all on us. We have to continue to get better and not shoot ourselves in the foot and find room to grow."
3. Defense brings the pressure
Wallace said that playing "offense on defense" became a common refrain from the coaching staff during the week. In other words, the Bills were seeking to convert turnovers into points.
"We have a goal on defense that we want to score as much as possible, try to get 10 for the season," he said. "So, we haven't started yet, but I can see we're getting close."
Buffalo created four turnovers: a Jordan Poyer interception in the end zone, a Tre'Davious White pick returned to Seattle's three-yard line, and a pair of fumbles forced by Jerry Hughes and A.J. Klein.
Though it might not look like it in the final score, Buffalo's aggressive mindset on defense helped keep the Seattle offense in check for much of the game. The Seahawks' 10 points at the half represented their second-lowest output of the season. Wilson, who was tossing touchdowns at a near-record pace through seven games, was held without a passing touchdown until the fourth quarter.
Defensive coordinator Leslie Frazier dialed up pressure throughout the game to keep Wilson off balance, which led to some of the game's biggest moments. Wilson was forced out of the pocket and shadowed by Hughes on the play that resulted in Poyer's interception.
"We just wanted to bring everything," said Quinton Jefferson, who joined the Bills this season following four years with the Seahawks. "I don't think he reacts well to pressure in his face. He's a shorter quarterback, it's harder to see outside the pocket, and that was the biggest thing. You just want to come at him. Don't let him sit in the pocket and just pick us apart. Go after him."
The pressure resulted in a big game for Klein, who accumulated 2.0 sacks and four quarterback hits. His forced fumble occurred on a third-and-2 play with six and a half minutes remaining and the Seahawks looking to come back from a 41-27 deficit.
Klein came off the edge unblocked and knocked the ball loose, securing possession in the Seattle red zone and all but clinching Buffalo's seventh win.
"It was amazing to see," said linebacker Tremaine Edmunds, who had a team-high 11 tackles. "We preached it all throughout the week. Just to see it come alive on game day when we needed it, man, it was a good thing to see."