Before the first week of OTA practices came to a conclusion this week Buffalo got their entire 2014 draft class under contract. The Bills signed second-round pick Cyrus Kouandjio on Thursday. The offensive tackle was the last of the team's seven draft choices to agree to terms.
Kouandjio has been lining up in OTA practices at right tackle this week. He's been sprinkled in with the first unit over the first two days of practices as it appears he'll be in direct competition with incumbent Erik Pears for the starting role.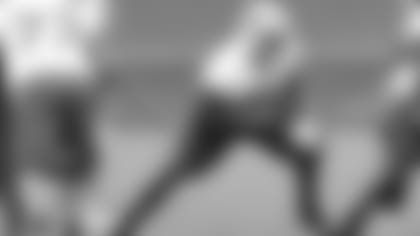 "I'm always ready to compete and I do have respect for the guys that are already here," he said. "But I'm going to compete."
Bills head coach Doug Marrone made it clear that he thinks Kouandjio is ready for line play at the NFL level.
"When you feel someone's ready to go from the standpoint of knowledge where they're not going to get anyone hurt, throw them in there," said Marrone earlier this week. "I've had a lot of success by taking young guys and once they know what they're doing, throw them in there with the first group and see what they can do. I think you'll see a lot of that as we look forward in camp."
Kouandjio started 27 games at Alabama at left tackle, but is being trained on the right side with Buffalo, something that the rookie does not see as an issue.
"I will play left, right, in and out, it doesn't matter," he said.