Big things were thought to be in store for Buffalo's defensive interior when Marcell Dareus was made the third overall pick in the 2011 draft. With veteran Kyle Williams fresh off his first Pro Bowl and Dareus the highest pick for Buffalo since Bruce Smith (1985), Bills fans thought everything would be changed for the better. It may have taken longer than some had hoped, but Williams and Dareus have become one of the most disruptive defensive tackle combinations in the NFL.

Standing first and tied for third in total stops among defensive tackles (Dareus – 37, Williams – 28 – ProFootballFocus.com) Buffalo's interior tandem has been instrumental in one of their defense's most productive seasons.
Their individual talent level has been well documented, but what has enabled Dareus and Williams to deliver big, and sometimes game changing plays, is their ability to play off one another during games.
"I think it's important knowing how he's going to play a certain block, knowing how I'm going to play a certain block," Williams told Buffalobills.com. "Knowing what they like to run, where I may be against a power play or a stretch play and Marcell knowing that he can play over the top faster because I've eliminated the cutback, or he can play flatter because he knows I'm going to make the ball cut back. And vice versa. He does things that I know are benefitting me. It's just about getting comfortable. I think you've seen that the way we've been able to play this year."
Aware of Williams' elite get-off time at the snap, Dareus can sense when his line mate is in a groove and adjusts his play accordingly to benefit the front.
"I know when Kyle gets that roll going, I know that I can just sit on the center and guard and play into a double team," he said. "I can come off a little slower than I normally would and it gives him a little leeway. He can make two decisions. He'll get off on a guy so quick and when he gets rolling, on a pass play I know he's going to get off and the guy gets beat so bad, he's trying to jump and catch (Kyle). Sometimes he'll make an inside move, so I delay the center some so Kyle can kind of do his thing."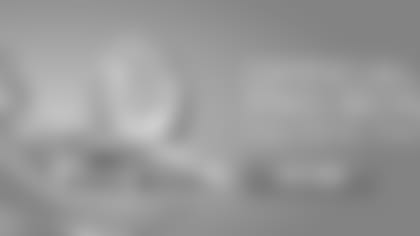 ](http://www.buffalobills.com/probowl)
The two defensive linemen also credit the latitude they're afforded within Mike Pettine's defensive scheme, which they feel allows them to adjust on the fly as the game unfolds.
"He takes the collar off and lets us play football and lets us go," said Dareus of Pettine. "We've just got more freedom to just play ball and get the plays and go have fun. We kind of make our changes while we're out there and just kind of know how to play off each other."
Williams has largely remained a productive player the past two seasons despite being plagued by Achilles problems in both heels. He's successfully come off surgery again this season to be a difference maker up front.
"He was always quick off the ball, always had a good inside move," said head coach Doug Marrone. "Tough to get your hands on him. Doesn't give you a lot of body surface. Has very good power. Even though the leverage from a height standpoint may not be where it is, but he plays with great power.  Low to the ground, moves, hustles, makes plays side to side—very good pass rusher for someone that's not the longest or the tallest but shoot, every one of us will take him."
Dareus has flashed elite level ability from the time he was a rookie, but the prevailing message from his mentor and line mate was consistency. Williams knew Dareus was capable of being a top flight player week in and week out, so he leaned on him a lot his first two seasons.
"I would just say coming in with Kyle's work ethic and working with him, he just demands that you go out and do the best you can, and if you're not he's still going to do the best he can," said Dareus. "And you just feed off that and I just know the type of player I want to be. I just strive to do the best I can, and that's just how it is. We just demand perfection from one another and we just know we're going to get it when we're on the field."
Dareus calls Williams a "coach on the field," and believes his tutelage has helped put him on a path to being a true professional.
"He's been helping me to improve my game to where I can just watch film and know what I need to do," said Dareus. "It's just being a total NFL football player. He's been helping me along the whole way. It's just natural now."
"I've given him a hard time since he's been here, but when you need to be the leader of the dynamic duo or something like that like Batman and Robin or something like that you've got to prod those guys to do what they need (to do)," said Williams with a wry smile and Dareus within earshot. "We have fun, but we take it very, very serious and from the first time he's been here you lay odds on him and for me you see what the back end could be. He cares, he's got lots of talent and from the time he got here it's really just about helping him along. I knew that if he could get to where he could be it's going to help us."
Help the Bills it has. They're not the sole reason, but their interior presence in Buffalo's defense is a major reason why the unit is poised to finish with their best overall NFL ranking in almost a decade. It's sparked some Pro Bowl talk for both players. Of course the workmanlike Williams isn't ready to pick his head up to survey their progress.
"The only thing that I'm worried about is putting my nose down," said Williams. "We've got a month left in our season here. I'm making all the plays that I can to help our team win. Anything that comes from that (individually) is secondary compared to us winning either a division or getting in the playoffs and making a run. There are so many guys that I think rely on me and rely on Marcell that deserve our best. That's the most important thing."
Dareus isn't doing much evaluating either, but he does believe there is still a higher level their play as a tandem can reach.
"The fact is that the sky is the limit with us," said Dareus. "If we stay healthy, do what we're supposed to do, take it one day at a time, nobody knows. There's no telling…"