There was more than one reason why former New England linebacker Brandon Spikes chose to sign with the Bills as a free agent. He clearly wanted to start fresh with a new club and Buffalo had almost the same defensive scheme he lined up in at the University of Florida. What may have cemented the decision for Spikes was the presence of a certain assistant coach on the Bills staff.
"I got to reunite with the great Pepper Johnson so I was definitely happy about that," said Spikes earlier this week.  "I feel like it's going to be fun and I'm down for a challenge. I want to help change things here."
Johnson won't be coaching Spikes directly. He'll be handling Buffalo's defensive linemen, but he was Spikes' position coach in New England the past two seasons. Their relationship as player-coach however, began a year prior in Spikes' second season with the Patriots.
"I liked his style and his attitude and how he went about playing, but it wasn't until his second year when we became fond of each other," Johnson told Buffalobills.com. "He really did his background check on me and vice versa and I got to sit down and have conversations with him just talking football and his knowledge of the game and how much he wanted to know the history of the game."
Having watched a lot of Spikes college game tape Johnson saw a bit of himself in the hard-hitting linebacker.
"He kind of did the same things I did because he could go from an inside linebacker, that 'mike' linebacker and then also rush as a defensive end," said Johnson. "There aren't many guys that can do that, but he did that at the University of Florida. And not just in blitz and pressure situations, but he lined up at defensive end in base. I didn't do that in college, but I did it at the professional level."
Of course there are also aspects of Spikes' skill set that Johnson feels are superior to those that allowed him to play for 13 NFL seasons.
"He might be a tad more reckless than I was. As a player I wish I did have that knack of being a hard thumper," said Johnson. "I don't know if I had his strength, but I love his attitude about the game. He just wants to play football. I know that was a lot of what I was about.
"When I was drafted by the Giants and I finally realized that they were going to pay me to play football I sat back and just smiled. He's the same type of guy. I don't know that a salary makes a player to him and that's how I was. Those are lot of the conversations that he and I have."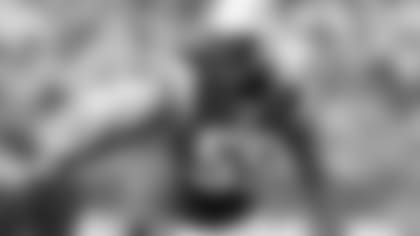 Spikes after doing some research on Johnson's career developed a hearty respect for his position coach while in New England. A 13-year veteran who earned a pair of Super Bowl rings as a player and three more as an assistant coach, Johnson is an obvious subject upon which a fellow linebacker would model his game. The subsequent conversations between the player and coach only deepened Spikes' reverence.
"Oh man, a great coach, a great inspiration for the game," said Spikes of Johnson. "He loves the game. He's definitely what I want to be down the road, a great ball player and coach. He just knows the game and I respect him as a man and as a coach."
Those that do not know Spikes as a player or a person might view him as a player who aims to intimidate. As Johnson sees it, Spikes fulfilled a role that every defense would love to have on their side of the ball, a role that other players might not always embrace in today's game. For Spikes it's his respect for the game that allows him to filter out the criticism.
"I've always played aggressive and watching all the older guys who played way before us those linebackers just all the old school throwback backers," Spikes said. "I just molded my game after them and it just stuck with me the whole time. I'm just playing. Just go all out and be relentless and play every play like it's your last. That's how I play every time."
"The game is being overshadowed by salaries, by money, by the negative publicity and at times positive publicity. To a true football player none of that stuff matters and to him it's all about what happens between the lines," said Johnson. "It's that person that's in front of him and the thrill of defensively stopping the opponent from scoring. And offensively even when they know what you're going to do and they still can't stop you.
"Those things are largely overshadowed now so when people look at today's game they don't see that. They don't get it. What makes him tick and what makes him go. In my mind it's obvious being a former football player. That's why all the other stuff that comes with the game now doesn't really resonate with him."
Johnson sees those qualities of being a pure football player as Spikes' greatest asset when it comes to blending into Buffalo's locker room.
"I think he's going to be a tremendous asset. He has a character about him where teammates gravitate to him," said Johnson. "They seek him out and they appreciate what he does on the field and how he goes about it and how he challenges everybody.
"He's not going to be the guy that's leading the sprints, but he's not going to be last either. He's going to be in the pack and make the underachievers push more and make the guys running in front of him know they better stay four or five steps in front of him. If they slide back to him there's going to be a problem."
The role on defense that Spikes is given by defensive coordinator Jim Schwartz is immaterial to him now. He's fine with earning a job. For now Spikes is just satisfied knowing he has a new team to play for.
"I'm a professional and a football player and I've been playing the game since I was four," said Spikes. "I fit in where I fit in. Whatever they need me to do I'm going to do it at a high level. It's just that simple no matter what situation it might be."