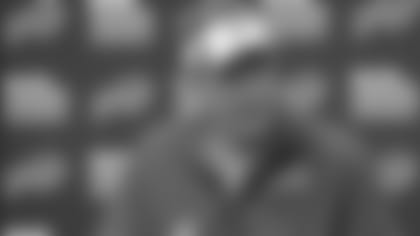 Just a day after informing the Bills medical staff of a sore foot defensive end Mario Williams was not at practice Monday. Head coach Doug Marrone explained why.
"He's going to be evaluated by our doctors so he's off campus being evaluated and I have not heard anything or any report back," said Marrone following the team's Monday afternoon practice.
When asked if Williams had returned to Buffalo, Marrone only repeated that he was not on the St. John Fisher campus. Buffalo's head coach was hesitant to provide many details as he was concerned about violating the Health Insurance Portability and Privacy Act (HIPPA) which protects an individual's identifiable health information.
"I tend to get a little nervous with what I'm allowed to say," said Marrone. "His foot was sore. We're not going to make any mistakes about it. We're going to make sure that everything is fine and our doctors are evaluating him. Where he is and where he goes I'm not going to talk about that."
Williams was initially held out of Sunday night's opening practice of training camp after reporting a sore foot to the athletic training staff.
"If someone's foot was sore or someone was injured they go see the doctor and get evaluated and the doctor tells me and I either put him out on the field when the doctor says he's cleared," said Marrone. "If the doctor says he's not cleared he's off the field. I really try not to concentrate a lot on that. My focus is with the players on the field. Now that doesn't mean that I'm heartless or have no empathy towards people, I obviously do. But the people that are here I have to get them ready."
No word if Williams is due back on campus Tuesday, but Marrone says when he knows how long Williams will be sidelined he will pass the information along.
"I just basically ask the doctor when is he coming back. Do we have him for practice? That's really all I do," said Marrone. "When the doctor tells me how long he'll be out I'll be able to tell you."