No. 9 – T Jonah Williams, Alabama
I wrote Wednesday that I just love the match between Williams and Buffalo. He could play guard or tackle.
No. 9 – T Jawaan Taylor, Florida
Option 1 is trading out, and Option 2 is drafting Oliver. But assuming neither comes to fruition, the Bills need to keep quarterback Josh Allen clean. The Buffalo offensive line is undergoing a major overhaul, and Taylor would give the unit a building block for the future.
No. 9 – T Jonah Williams, Alabama
Many have called Williams "the safest pick" in this entire draft. An absolute gamer who wants to play tackle at the next level but may make more sense as a guard. One of the most competitive players in this class, he'd immediately add toughness and smarts to the Bills' offensive attack.
No. 9 – T Jonah Williams, Alabama
Buffalo would love to trade down, but their offseason has been all about trying to support Josh Allen. Williams is a steady, solid player who will help keep the QB upright.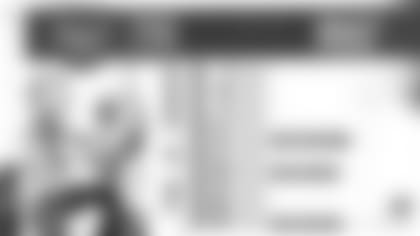 No. 9 – T Andre Dillard, Washington State
Quarterback Josh Allen needs more protection, and Dillard is a highly skilled pass protector. I even heard one rumor that Allen has been pushing for the team to draft Dillard.
No. 9 – T Jawaan Taylor, Florida
Now that the Bills have a big-arm, downfield-throwing quarterback in Josh Allen, they can finish shoring up his pass protection after landing Mitch Morse, Spencer Long and Ty Nsekhe in free agency. Taylor (6-5, 312 pounds) offers agility, smarts and technique to handle most athletic edge-rushers. He has been rising up boards as scouts realized he is not just relegated to right tackle and can thrive better than anyone else in this class on the left side.
No. 9 – TE Noah Fant, Iowa
Allen, Buffalo's second-year quarterback, suffered from a dearth of weapons during his rookie year. Fant, a flex tight end, can get downfield and take advantage of Allen's arm while potentially becoming the most targeted member of this passing game and a guy who gets 80 to 90 catches annually.
No. 9 – TE T.J. Hockenson, Iowa
He's the best blocking tight end coming in from college in a long time. This kid is a beast. He'll help block for Josh Allen, the second-year quarterback. This is a home run pick for the Bills – a blocking tight end to elevate your running game to protect Josh Allen and he can also get downfield.
No. 9 – T Jawaan Taylor, Florida
The run of six defenders ahead of this pick makes the Bills lean toward the offensive line, which remains an area of long-term need. General manager Brandon Beane said signing six linemen in free agency does not make it less likely the Bills will draft one and that good options are available. Taylor could start at either tackle spot. … (Mike Rodak)
No. 9 – DE Montez Sweat, Mississippi State
GM Brandon Beane was in Carolina when the Panthers made Julius Peppers a cornerstone of the franchise. I'm not exactly calling Sweat the second coming of Peppers, but the Mississippi State product shares some of those freakish qualities and could be a valuable edge presence for years to come.
No. 9 – DT Christian Wilkins, Clemson
The Bills might be another team that wants to move down. We've seen Sean McDermott insert his identity on this defense, namely with signing Star and drafting a fast linebacker in Edmunds. Still, they lack an interior disruptor, and Wilkins fits that.