Below is the 11th edition of Mock Draft Watch – a rundown of the latest mock drafts compiled by Buffalobills.com via local and national NFL reporters.
April 14 – Peter King, Sports IllustratedNo. 8 – G Chance Warmack, AlabamaAnalysis: The Bills figure they can get their preferred QB in the second round, and they're right. Warmack will be the long-term heir to Andy Levitre.
April 23 – Peter Schrager, FOX SportsNo. 8 – LB Alec Ogletree, GeorgiaAnalysis:  Buffalo has needs all over and though there seems to be a lot of positivity around Tarvaris Jackson and Kevin Kolb, I wouldn't be shocked if they still went with a quarterback. Numerous off-the-field concerns, including a four-game suspension at the start of the season and DUI charge in February, could ding Ogletree's draft stock. However, I don't think he escapes the top 10. He plays inside  and outside, and can maneuver in either the 4-3 or the 3-4. Buffalo's loaded up on its front four in recent years. It's time the franchise addresses the linebackers. This might be met with head-scratches at Radio City and in Western New York, but I think it's a great fit.
No. 27 (via trade w/ Houston) – QB Matt Barkley, USCAnalysis: Our biggest trade in the evening comes here. I'm told that the Bills, linked by everyone to be hot on Syracuse QB Ryan Nassib, are quite interested in Barkley, as well. In my draft, the Bills trade up from the second round to get into the end of the first, giving up their second-rounder this year and their second-rounder next year. Though the shoulder and cold weather might be a concern for some, Barkley has eight years of experience as the starting quarterback between Mater Dei High School and USC. He's a wizard on the blackboard and a natural-born leader. He could give Kolb and Jackson a challenge for the starting job.
No. 71 – TE Gavin Escobar, San Diego StateNo. 105 – WR Aaron Dobson, MarshallNo. 143 – G Hugh Thorton, IllinoisNo. 177 – S Shawn Williams, Georgia
April 23 – Sal Capaccio, WGR 550
No. 8 – S Kenny Vaccaro, Texas
Analysis:  I've wrestled back and forth with this pick for the week or so I was putting this mock together and, in fact, still think the Bills can go in many different ways.  Of course QB seems to be the position the Bills are zeroing in on, according to reports, but I don't think the team sees much of a gap between the top four or five quarterbacks as far as talent level or overall grade.  That means Buddy Nix knows several signal-callers he's comfortable with will still be available in the 2nd round.  I've heard for a while now they like Vaccaro a lot.  Watch his film, it's incredibly impressive.  Especially in run support.  Also, the Bills have been getting torched by opposing tight ends for years and right now their only answer is (still) Bryan Scott, a player switching positions in Aaron Williams, or a third-year player who still has plenty to prove in Da'Norris Searcy.  Vaccaro is clearly the best fit of any player in this draft to match up with opposing tight ends.  Generally, #8 is too high to pick a safety, not to mention Donte Whitner was also a #8 overall selection and many Bills fans are still upset about that choice.  A safety may very well be too high to pick here, I have no issue with that argument.  The Bills would probably be better served to trade down or take one they like later.  But since my mock has no trades, and Vaccaro is clearly the highest rated player at a position they are looking to upgrade, I'm going with him as their pick.
April 23 – Jim Lang, Sportsnet.ca
No. 8 – QB Geno Smith, West Virginia
Analysis:  Geno Smith (QB, West Virginia) – Assuming he's still on the board, there is no way the Bills should pass on Smith. With Kevin Kolb in the fold, coach Doug Marrone will be able to allow Smith to learn the offence and how to play quarterback in the NFL.
April 23 – Jeff Simmons, Sportsnet.ca
No. 8 – QB Ryan Nassib, Syracuse
Analysis:  I don't buy Geno Smith going here and the Bills instead go with a quarterback the coaching staff is very comfortable with and already is used to the climate in western New York.
April 23 – Geoff Lowe, Sportsnet.ca
No. 8 – G Chance Warmack, Alabama
Analysis:  There's no need for the Bills to take a quarterback this high, but don't count it out. The bigger need is on the offensive line after the loss of Andy Levitre and Warmack's size and skill make him a smart pick.               
April 23 – James Walker, ESPN.com AFC East BlogNo. 8 – WR Cordarrelle Patterson, TennesseeAnalysis:  Steve Johnson plays a lot in the slot. Patterson is more of an outside receiver that Buffalo needs and has a lot of upside. Chance Warmack was my first pick but he was off the board.
April 23 – Jeff Saukaitis, Sports NetworkNo. 8 – QB Ryan Nassib, SyracuseAnalysis: Maybe this will seem a bit too early to some, but if the Bills believe they have found their franchise quarterback, he would be well worth the No. 8 selection. Nassib just seems too perfect a fit to not end up in Buffalo. After all, the Bills' head coach and offensive coordinator held those same positions at Syracuse, so Nassib knows their system inside and out.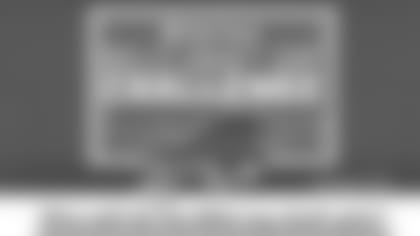 ](http://www.buffalobills.com/fans/mtbank-draft-day-challenge.html)