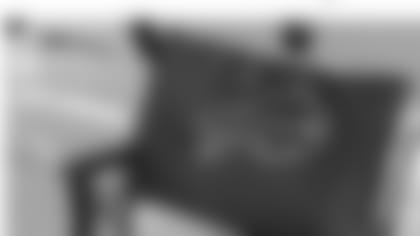 Bills games are getting a little more comfortable this fall with the introduction of the Buffalo Bills Seats program.
Season Ticket Members will have a new in-game option as IMG Seating introduces the seat cushion program. Season Ticket Members can reserve a Bills Seat before the season starts and have it permanently installed at their seat location for the entire 2014 season for just $50.00.  Bills Seats are maintained by the IMG Seating staff, which will be present on game day to assist fans.
The Bills Seat Program features two different seat models.  The Premium Flexback model features three inches of foam cushioning on the bottom seat area and two inches of padding along the back of the seat, providing relief from the bleachers and an extra layer of protection during games with inclement weather.  This design allows the padded back section to conform to the contours of a fan's back. Alternatively, the Bills MVP Seat model features two-inches of foam cushioning for both the seat and the back in Ralph Wilson Stadium's fold-down seating areas.
Both seat cushion options are blue with a Bills logo.  For more information on the Bills Seat program, click here or call 1-800-730-5461.
Season tickets for the 2014 season remain on sale, providing fans with significant savings on individual game prices as well as exclusive benefits. Season tickets can be purchased online, by phone at 1-877-BB-TICKS, or in person by visiting the Bills ticket office at Ralph Wilson Stadium.