And down the stretch they come—the Bills and 31 other NFL teams. The Bills head to Kansas City with six games left on the regular season schedule and their playoff push still alive.
Here are some notes to keep an eye on this weekend as the Bills head to KC:
1. SCOREBOARD WATCHING SEASON
Priority one for the Bills this weekend is to snap out of their slump. Beyond that, with a playoff berth within reach, they can block out some time Monday night to keep an eye on the Baltimore Ravens.
Baltimore has moved ahead of Buffalo in the AFC Wild Card chase with a 4-3 Conference record next to the Bills 3-3 mark. The Ravens have six games left, including Monday night's matchup at home against Houston.
Four of the Ravens final six games are at home, including the last two. And Baltimore is riding a strong defense to their playoff contention.
Trey Wingo of ESPN says the Ravens are a sleeper team to watch.
"The Ravens are certainly less than ideal offensively, but they do have three shutouts on the board already this season," Wingo says. "Granted, you could make the argument they weren't against the stiffest of competition, like Brett Hundley (Green Bay) and Andy Dalton (Bengals) in week one, and Matt Moore (Dolphins)."
"Whatever the Ravens are going to be its mostly about their defense," Wingo continued. "And they have a chance. If they can keep games close and ugly, they have a chance to win just enough to sneak in."
Other teams in the hunt include – Los Angeles Chargers: 5-6 (beat Dallas 28-6 on Thursday), Miami Dolphins: 4-6 (at New England, 1 pm), New York Jets: 4-6 (vs. Carolina, 1 pm), Cincinnati Bengals: 4-6 (vs. Cleveland, 1 pm), Houston Texans: 4-6 (at Baltimore, 8:25 pm Monday) and Oakland Raiders: 4-6 (vs. Denver, 4:25 pm).
A WHIFF OF DESPERATION IN THE AIR**
There will be desperate teams on both sidelines in Arrowhead Stadium Sunday. The Bills have suffered through a three-game losing streak. The Chiefs have lost four of their last five to drop from the top of the AFC standings to the fourth seed in the conference—from home field throughout the postseason to playing on wild card weekend if the playoffs started this week.
What's been the problem in Kansas City? It seems to be on the offensive side of the ball.  The Chiefs went from averaging 33 points per game in the first five games to averaging 20 points per game in the last five. They went from the highest scoring team in the league in the first five games of the year to the lowest in the last five.
Trey Wingo, the host of ESPN's NFL Live says Kansas City has come up dry on offense, especially in the run game.
"The gimmicks and the things they were relying on have been figured out," Wingo said this week, in an appearance on The John Murphy Show."Kareem Hunt certainly looks like he's hit the rookie wall. In the first five games, he was averaging 122 rushing yards, over six yards per carry. In the next five he's averaging under 3 ½ yards and has no rushing touchdowns, about 53 yards per game."
Close observers in Kansas City compare this year's Chiefs slump to their epic collapse in 2013. That year, the Chiefs started the year 9-0 and then went 2-5 down the stretch thanks to an underachieving defense. They gave up 45 points to the Colts in a wild card playoff loss to end Andy Reid's first season as Kansas City's coach.
There's little doubt the Chiefs will be looking to arrest their current slide this weekend with their first home game in four weeks.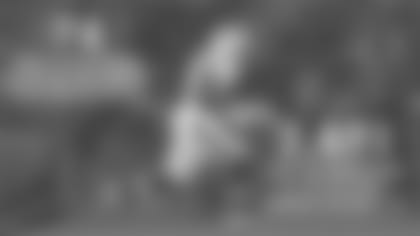 Last Sunday's loss in Los Angeles had one silver lining—114 yards on the ground for LeSean McCoy and two touchdowns. It was Shady's first 100-yard rushing game in three weeks and just his third of the year.
With 9,663 career rushing yards, McCoy is just 337 yards away from the 10,000-yard mark. When he gets there, he will be the 30th player in NFL history to hit the milestone.
In his third season with Buffalo, McCoy is just 129 rushing yards away from 3,000. And if he gets there this Sunday, he would become the fastest Bills running back to run for 3,000 yards. Shady would do it in 38 games. Travis Henry accomplished the feat in 39 games, the fastest in franchise history.
There were high hopes invested in LB Reggie Ragland by the previous regime at One Bills Drive. But because of a devastating training camp knee injury, Ragland never hit the field in the red, white and blue.
He's been the Chiefs starter at inside linebacker for the last seven games and Ragland is more than holding his own. He'll line up Sunday coming off his best performance as a pro. Ragland led the Chiefs with nine tackles, one of them for a loss, in their loss at the Giants last Sunday.
Kansas City traded a 2019 fourth round pick for Ragland at the end of training camp three months ago. When he put Ragland in the Chiefs starting lineup back in early October, Head Coach Andy Reid said there's a lot to like about Ragland. "We sure liked him coming out of college, and obviously Buffalo did, too," Reid said. "We understood why they took him –– he brings good leadership and a physical presence about him."