Tyrod Taylor was a very successful college quarterback during his days at Virginia Tech. Over his last two seasons he threw 37 touchdowns against 10 interceptions and routinely made something out of nothing thanks to a pair of feet that could buy him time. He led the Hokies to an ACC Championship win over Florida State on the way to being named ACC Player of the Year. But five years ago in the 2011 draft, most NFL clubs viewed Taylor as an athlete first and a quarterback second. It's largely why he wasn't selected until the sixth round by Baltimore.
Fast forward to 2016 and the term 'mobile quarterback' carries a much different connotation now than it did even five years ago. That shift in thinking provided Taylor with an opportunity that has him poised to be a franchise quarterback in Buffalo.
"A mobile quarterback now doesn't have a bad stigma," said Bills GM Doug Whaley. "In years past a mobile quarterback was a running quarterback that was a thrower. Now you've got passers that have mobility."
Taylor is one of the latest examples. His opportunity with the Bills last summer in training camp was rooted in a simple fact that made head coach Rex Ryan sit up and take notice before he was even available as a free agent. He made plays, and not all of those plays were made with his legs. Taylor had a strong arm and displayed signs that he could make plays in the passing game.
Despite the lack of starting experience at the NFL level Taylor performed to the point where Buffalo is now committed to him as their offensive leader for 2016, and potentially beyond.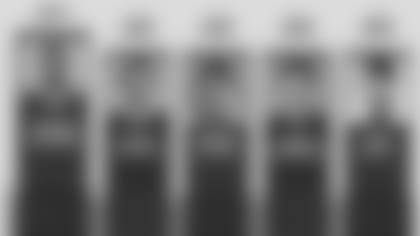 Taylor has given the Bills plenty to be encouraged about regarding his on field performance and leadership. But the club's outlook moving forward has been reinforced by the mobile quarterbacks of today like Russell Wilson, Cam Newton and Colin Kaepernick, who have led their teams to the Super Bowl each of the last four years.
It's opened the eyes of NFL talent evaluators, personnel chiefs and offensive coordinators that you can go far with an athletically gifted signal caller.
Changing the perceptionCam Newton was the first pick in the 2011 NFL draft. Despite being a Heisman trophy winner and national champion he had more than his share of critics when it came to projecting his game and skill set to the pro level.
"I'm not a Cam Newton fan," said former NFL GM and NFL Network analyst Charley Casserly prior to the 2011 NFL draft. "If you like Vince Young and you like Tim Tebow, they were first rounders, then you're going to like Cam Newton. I wouldn't have taken either of those guys in the first round and I wouldn't take Newton in the first round."
Past history was part of the problem for a lot of draft analysts and some NFL general managers and scouts. Newton's skill set however, was far superior to both Tebow and Young. Physically he was an Adonis and even though it was a spoon-fed spread offense, Newton completed 66 percent of his passes in his single season at Auburn with 50 total touchdowns (30 pass, 20 rush) against just seven interceptions.
Still, there was reluctance for some, but Carolina was the only team that mattered at the top of the draft in 2011. They didn't hesitate to make Newton the top pick.  
All Newton did in his rookie season was set records. Yes, he broke the all-time record for rushing touchdowns by a quarterback in one season with 14, but he also set the record for rookie passing yards eclipsing Peyton Manning's 3,739-yard total. And he did it with 83 fewer pass attempts. Newton also shattered the mark for total touchdowns by a rookie with 35.  
The Panthers went just 6-10 that season, but they effectively made use of Newton's abilities as a rookie and committed to cultivate and expand his game as he gained more and more experience.
"Cam is a good example of that mobile quarterback evolution," said Whaley. "They said, 'He's good at this. Let's start him here and we'll keep tailoring him to be able to make plays from the pocket as well.'"
Panthers head coach Ron Rivera credits offensive coordinator Mike Shula for what finally reached critical mass for Newton in 2015 after five NFL seasons as Carolina won the NFC title.
"This guy has a specific skill set," said Rivera of Newton. "I mean, why make him do something that's not advantageous to us? He's really developed into a quality passer, he stands tall in the pocket, and at the same time his ability to get outside the pocket and move around. I think using his ability to run as a threat helps us in terms of our run game production.
"He has a certain skill set that Mike sees and feels and he really goes with it. So again, I think it's about playing to his strengths as opposed to anything else."
Pocket progressOther mobile quarterbacks in the league have followed suit. Most notably Seattle QB Russell Wilson and Buffalo's Taylor. Wilson has always been a pretty solid passer, but diagnosing NFL defenses as a first and second-year starter sometimes proved tricky, prompting him to take off and run for yardage instead.
Wilson and his offensive coaching staff were committed to helping him improve as a pocket passer. Season after season his passing yards per game improved, and this past year his completion percentage jumped up to 68 percent from the low to mid-60's in his first three seasons.
"Obviously there were times earlier in the season when we (wish we could have) protected him better," said Seahawks GM John Schneider of their 2015 campaign. "But he did a great job. Just being able to be in that flow of just slowing everything down despite being under all that pressure. Just being able to push his way through it mentally. His eyes and his feet were on fire so we're very excited."
Year one for the Bills with Taylor as their starting quarterback showed similar signs of a mobile signal caller who can capably make plays in the pass game. In fact after Taylor won the starting job following the three-man competition in training camp he stated that the area of his game he wanted to show most was that he could make plays from the pocket.
By season's end the Bills were far and away the league leaders in points scored from outside the red zone with 194, more than 90 points above the league average (103). Taylor was tied for seventh in the league in passer rating (99.4) with Newton. Wilson led the league with a 110.1 rating.
"I think I grew each and every week from Week 1 to the end of the season," Taylor said. "I definitely displayed that I can throw from the pocket, pocket awareness, pocket presence and just going out there and beating teams from the pocket."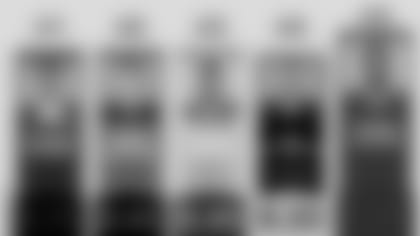 Run by designThe "new" generation of mobile quarterbacks have always had the ability to escape the pocket, take off and run for positive yardage when a called pass play breaks down. As much as that can be an asset, it was often seen by some talent evaluators as a detractor.
The common refrain was that the running quarterback will never commit to learning how to work through his progressions in the passing game because they can tuck it and run instead. The other criticism was that it exposed the quarterback to greater risk of injury.
The advent of the read option game however, spawned by the explosion of the spread offense in college, has given offensive coordinators a more conventional way to make use of a mobile quarterback's legs without exposing them to as much danger in the open field.
"Now you can have these designed runs with the quarterback and he's an extra player you have to account for in the defensive scheme who is not just going to be sitting in the pocket all the time," said Tennessee head coach Mike Mularkey. "He's capable of making plays from there and hurting a defense that way, but defenses have to account for the designed runs that teams are using now as well."
Mularkey, who after serving as Titans interim head coach late last season was named head coach this past January, is in favor of having his quarterback, Marcus Mariota run more moving forward. He intends to have a run package for Mariota in a scheme designed to take advantage of the second-year quarterback's athleticism.
"I stated very early on that I don't have a problem if we're going to design runs for Marcus, because I think you can protect yourself better as a runner than you can as a pocket passer," Mularkey said. "You're exposed more. Again, how much more? It'll probably be more, because of the injuries he sustained last year, we really did not run him as much as we would have liked to."
Knowing Taylor was familiar with read option concepts having run a version of the spread at Virginia Tech, Bills offensive coordinator Greg Roman made use of his quarterback's legs in a similar fashion when he felt they were presented with favorable opportunities.
"Some of them were designed runs," said Taylor. "Some of them were me going out there and making a play. We've won when I haven't run the ball at all and we've won when I had 14 runs. So whatever it takes. It's kind of week by week."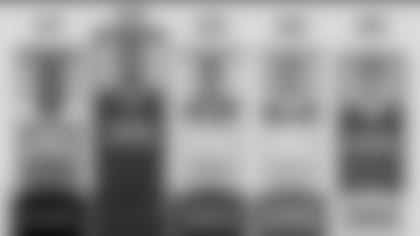 New era and planning aheadA good number of NFL general managers admit that in today's game the definition of the mobile quarterback has shifted. What has never changed is the need for plays to be made through the air.
"You have to be able to throw the football from the pocket in this league," said Houston GM Rick Smith. "The ability to move and be mobile is an added dimension that really stresses the defense. So, I think what you see now is more pocket-passers with mobility. You do see some guys that have that dual threat, whereas before, you just assumed the dual-threat guy couldn't throw the ball from the pocket. Now you have more quarterbacks who can do both and who are really effective at both. That's the evolution of the position."
And that evolution will benefit quarterbacks in this year's draft class like N.C. State's Jacoby Brissett or Mississippi State's Dak Prescott.
"Tyrod Taylor, Cam Newton, Russell Wilson they've all opened the door for the mobile quarterbacks, guys who are making throws from under center, in the pocket, doing the things they need to within the pocket but also stretching the defense and using their mobility to really hurt the defense," said Prescott. "I think Cam and Russell Wilson and Tyrod Taylor are showing you can be athletic, but as long as you're smart and know what you're doing it can work to your benefit."
The Green Bay Packers, who have proven to be experts in grooming their next starting quarterback, have taken a step in the mobile direction. Though Aaron Rodgers is arguably the most accurate passer in the league, he is also very mobile. That description however, doesn't stick to him as it does other quarterbacks.
This offseason the Packers allowed backup Scott Tolzien to sign elsewhere as a free agent to elevate 2015 fifth-round pick Brett Hundley to the number two role. Hundley still has a lot to learn about making plays from the pocket, but he'll be learning from one of the best.
"Brett Hundley, yes, I'm excited about Brett," said Green Bay head coach Mike McCarthy. "I think if you go back and watch him play in the preseason, it speaks volumes. He did a heck of a job. He's really come on fast. He's doing what you're supposed to do. He's taken every note from Aaron and Scott. He has really dove into the offense. Very bright young man. Very athletic. Boy, I'm glad we have him."
And as set for current and future success as the Packers might be with mobile quarterbacks, general manager Ted Thompson doesn't believe that's the only kind of quarterback you can win with. At the same time he only sees the current trend continuing because there is a steady stream of athletic signal callers coming from the college ranks.
"I do (think mobile has become mainstream)," said Thompson. "It doesn't necessarily mean that you're always going to have a mobile quarterback. It also doesn't mean you're always going to put the quarterback at risk no matter how mobile he is, but I do think you see it all in college and it's made its way into the NFL. I think you'll continue to see mobile quarterbacks take advantage of their ability to move around, and at the same time be an offensive player."
It's that dual type talent that Buffalo's Taylor intends to run, and pass, with in 2016.