A six-year old boy is sitting on a couch in the basement of his suburban Cincinnati home next to his father. The lights are low and the videotape his mother shot of his most recent Pee Wee football game is playing on the screen through the family camcorder. Armed with the remote, Preston Brown's father Mike Brown has his son focused squarely on his footwork as he tries to tackle a ball carrier in the game. Sitting alongside his dad with a pencil and a notebook Preston Brown in the fall of 1998 may have been the youngest football player in the country reviewing game tape.
"I would sit there and watch it and I would take notes, not that I would fully understand what was going on," he said chuckling. "We still have the old films in the basement and the old camcorder is still hooked up to the TV. I would write things like 'run faster,' but I was down there making sure it looked like I was doing something. Reviewing film has kind of been in the family."
To some the scene might sound funny, perhaps even ridiculous. Preston still laughs about the film sessions now, but Mike Brown knew how to best deliver the basics of the game to his six-year old son.
"The main thing was feet," said Brown. "You could show him a play whether he was blocking or tackling where he would make contact with somebody and his feet would stop. The thing I was trying to teach him and I exaggerated a little bit, but I said, 'That's why they call the game football because you're supposed to play with your feet. Your feet are supposed to move through the ball carrier or through the block.'
"So I would show him how his feet would stop and he would end up on the ground. When he did keep his feet moving I said, 'Look at how he ended up on the ground and you ended up on top of him because your feet kept moving and his stopped.' So it was all about the feet.
Knowing how visual kids are today, Brown just used the means he felt would sink in best. A high school football coach who had tried to reach the NFL level himself, but lasted only nine days with the Denver Broncos as an undrafted linebacker, Brown was just trying to teach his son the fundamentals sooner rather than later.
Not surprisingly, the proper way to tackle came naturally to Preston. The son of a linebacker, the younger Brown began his football career as an offensive and defensive lineman due mainly to the fact that he was one of the biggest kids in his age group. By age eight he was a running back and linebacker and fully aware of his dad's playing career.
"I knew he did play because I would sit in the basement and watch old films and read old newspaper clippings and see what he did," said Preston. "So it was always in the back of my mind that I wanted to be a linebacker like my dad. That's kind of how it happened."
Before Brown turned 10 his dad had also volunteered to be one of his little league football coaches, but Mike Brown made such an effort to treat his son like everyone else on the team that it was over a year before Preston's teammates knew their coach was his dad. Of course that didn't keep the two from putting in extra work after practices had concluded.
"I'd keep it as simple as I could and I made it as fun as I could," said Brown. "We would stay after practice and go through some stuff. All the kids would be gone and he'd still be working on the sled. It never was a grudge kind of thing. It was always fun and he was very coachable. We just always had a good time. It was our time together. It's just been that way forever."
But it wasn't always easy. Being one of the biggest kids in his age group Preston was often too big and heavy to face kids his age. He wasn't a giant, just more thickly built than the rest of the kids. So Mike Brown began training his son to get him under the weight limit, at age seven. The day started early, but Preston was more than willing.
"We used to run through our neighborhood," Brown said. "I had to be at work at 7:35 so we would get out at about 5:30 and be running and the other people that worked at my facility at the juvenile court center in Cincinnati and they would see us jogging through the neighborhood. It was part of his life.
"I never said he had to play football or anything. He wanted to play and he's a kid that has fun playing. It's fun for him to hit somebody. He doesn't have to be mad or hate the world or had a real rough upbringing to be a physical player. He just enjoys the game."
No more football?At age 10 however, Preston had a moment of contemplation about just how passionate he was about the game. Following a few very successful seasons in little league Preston was suddenly considering the idea of not playing football anymore. He didn't mind having his dad as one of his coaches and he was one of the best players in the league. It was shouldering the mantle of being the team's MVP that left him unsure.
"When he was around 10 that's when it changed for him a little bit," said his father. "He was feeling the pressure of having to be the man. He was a little league legend for a while because big kids didn't run that fast. The first play of the game we would always get him the ball and he would always score a touchdown even though you knew it was coming. It just didn't even matter.
"So I think it just stopped being fun for a second and he was thinking before he turned 10 that he wasn't going to play. I told him, 'That's fine.' His mother was a little more bothered by it than I was. Then his head coach gave him a call and he went back out and played."
As league football gave way to modified football in junior high, and then high school football, the time spent on the practice field with his dad wasn't as frequent. Mike Brown was busy coaching high school football at his alma mater. Preston maintained the connection by joining his dad in the basement while he watched his high school team's game tapes.
"I'd watch my dad's high school team that he was coaching at the time," said Preston. "We'd sit there and watch the film so I'd pick up lingo and stuff so I've really been football talking for a long time."
ReunitedContinuing his success as a productive running back and linebacker at Northwest high, it wasn't until Preston's senior year of high school ball that he and his dad spent time on the football field on a daily basis.
"I was thinking about him transferring to my school or me going to his school to coach, and I ended up going over there his senior year," said Brown. "Most of his teammates pretty much knew me because the kids would stay over our house so it was an easy transition."
To learn the Northwest high defensive playbook, Brown gathered up players from his son's team on Sundays in the summer and run through the plays. Serving as the team's linebackers coach father and son were again working on the field together.
"It started out great. We won our first four games and we were on a roll and Preston was leading the state in rushing and scoring after the first two games," said Brown. "In the third game he sprained his knee a bit and we never were the same and then his ankle got sprained. But our relationship was really great and it was because we were both so happy to be together."
Of course it wasn't all smiles on the practice field. Sons of coaches know they're usually going to be coached the hardest.
"I knew what I was in for," Brown told Buffalobills.com. "He was real tough on me in high school. He didn't want to make it seem like I was getting any special treatment from him. So he was always rough on me in practice and made sure anything I did was blown out of proportion. As soon as we got home we would laugh about it because it was just that way with football. When we were back home we were still father and son."
"It could be rough sometimes," his father admitted. "I knew he could do more than what he had been doing. He was talented, not that we didn't have other talented guys, but he could do something and it looked real good, but he could've done a little more. That was all I really did was just demand a little bit more and then he started to give more. I was quiet during the games. I would pull him aside. In practice I was a little more beastly."
Though he had verbally committed to the University of Cincinnati by the close of his sophomore high school season, Brown ultimately signed with Louisville where he would play linebacker.
College struggles
Brown's college career looked as though it was going to get off to a promising start. He started his first game as a freshman at outside linebacker, but the game against Kentucky left his head spinning.
"By halftime he didn't play anymore," recalled Mike Brown. "Those guys from Kentucky were just running by him. Randall Cobb in Green Bay now, he caught a pass and ran by him and Preston had probably not seen anything that fast in his life. And they took him out and didn't put him back in. He really was just a special teams player for the rest of the year."
His sophomore season was much better as he finished second on the team in tackles playing outside linebacker. He even earned Big East Defensive Player of the Week honors with seven tackles and two sacks in a 17-point win over Syracuse.
Come his junior season Brown was shifted back to his familiar middle linebacker spot, but in moving back to the middle he had forgotten some of the fundamentals that made him so successful inside. Louisville was winning games, but Brown was not making the impact he wanted.
"It was his second game back playing 'mike' and he just wasn't making that many tackles," said Brown of his son. "There were four guys from his high school team with their girlfriends and a couple of other people that he played basketball with and they came to his game. So after the game he came up to me and put his head down and said, 'I'm sorry I didn't make that many tackles.'"
Everyone within earshot knew Mike Brown. Many had seen how the high school coach was on the practice field with his son. They were expecting the coach to deliver a fire and brimstone speech to his son along with some coaching points and a 'you better do better the next time' conclusion with little concern for who might hear it.
"Everybody was ready for me to go crazy and I said, 'Would you rather make 20 tackles and lose or two tackles and win the game?' He said, 'I'd rather make two tackles and win the game.' I said, 'Well that's what you did. So, go get a shower, your friends are here so you need to enjoy them.'"
Every mouth around the father and son hung agape.
"They all looked shocked, but that's when our relationship started to change because that's when I started seeing him as my son and not my son who is the player."
Still, it was difficult for Brown to see his son disappointed in his game. He trusted the Louisville coaching staff, but the coach in him was convinced he could correct what was keeping his son from making more plays by providing the one-on-one time necessary to make it happen.
Before Brown, his wife Patrice and their daughter made the drive back home up Interstate 71 to Cincinnati he had a suggestion for Preston.
"I told him, 'Just give me a half an hour once a month and we'll fix things,'" said Brown.
Trusting reinforced lessonsThe plan was Preston and his father would meet halfway between Cincinnati and Louisville in Carrollton, Kentucky once a month and they would go over middle linebacker fundamentals to get his game right.
"We would meet at a Burger King and in the parking lot I would set up my cones and we would run our little drills and it helped me because I wasn't around Louisville doing it and having the coaches getting upset by me doing that," said Brown.
"He's a gym teacher so he's got all his equipment with him," said Preston recalling the first meeting in the back of the parking lot. "He'd put down the cones to represent the five linemen."
It was there in Carrollton that Brown's football career had come full circle. Suddenly many of the football lessons he was first taught in his basement off of Pee Wee game tape were laid out on the blacktop of the parking lot in front of him.
"The big thing was coming downhill," said Mike Brown. "So I would just set up cones like they were linemen and I'd have bean bags from the game cornhole. I would just move my arm in one direction with the bean bag in my hand and then I would toss it through the gap and I wanted him to come downhill to make tackles."
"He'd shuffle me and then he'd throw the bean bag through the hole to makes sure I shuffle my feet and run to the ball. It was about getting downhill to the ball."
After playing two years at outside linebacker Brown had become accustomed to being further from the line of scrimmage and taking deeper pursuit angles to the ball. At middle linebacker you have to get to the line much faster if you're going to make a play that limits the gain of the ball carrier.
"When you're the middle linebacker you have to make your tackles at three yards or less, and he was taking improper angles and that's what we worked on and his play improved," said Brown.
"I was excited to get back out there with my dad and get back to the little things," said Preston. "I had been doing that with him since I was five or six-years old working on footwork and getting those quick feet down. It was really simple, but it really helped me throughout my senior year. Ever since I started working with him I was getting more tackles for loss or no gain."
"I think he trusted me to make good suggestions to him," said his father. "He started playing a heck of a lot better."
Brown's senior season he led the nation's number one defense in tackles. That made it a lot easier for Mike Brown to sit back and enjoy watching his son play.
"My dad said he just tried to become my biggest fan," said Preston. "That's what he tried to do the last couple of years."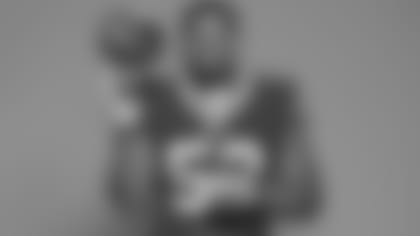 NFL lifeNow an established signal caller at middle linebacker for the Bills, Brown enjoys seeing his mom and dad at most home games despite the seven-hour drive from Cincinnati. This Sunday will be a much easier trip to Paul Brown Stadium.
Brown is living the life his father couldn't quite capture himself.
But Mike Brown is a typical dad. He wants better for his kids than he had. That's why being witness to his son's NFL career is pretty special.
"I'm watching my kid live his fantasy," said the elder Brown. "That's the coolest thing in the world you can have as a dad. He's in a fantasy world and for a dad to be able to watch that because I enjoyed every step from Pee Wee to high school to college…. I never wanted him to see beyond where he was. Just let him be where he was and get the most he could from that time and that level and I watched him through that. It's something I get to watch as a former coach and as a dad. It's great."