With one of the deepest draft classes in years the Bills are bound to get a quality starter with the ninth overall pick this spring no matter what happens. What makes the pick for Buffalo even more exciting is the potential to get a top five talent in the class with that selection.
The Bills pick barely resides in the top 10, but what will be working in Buffalo's favor concerning their pick at nine is the fact that there are some quarterback needy teams sitting in front of them at the top of the draft board.
Four of the teams in the top five of the draft have been pegged as possible suitors of the top quarterback prospects in the 2014 class, and there's another right in front of Buffalo at eighth overall.
"We don't know exactly which way teams are going to go, but if those quarterbacks go before us that's a positive in pushing some of that talent down to us at nine," Bills GM Doug Whaley told Buffalobills.com.
Here's a look at how the quarterback needs of some of the teams picking ahead of Buffalo could push more of the other top flight talent down the draft board.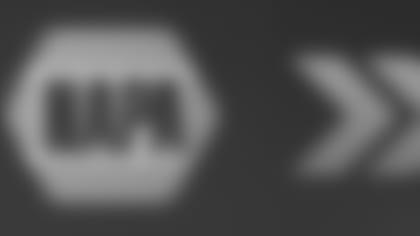 ](http://www.buffalobills.com/news/combine-2014.html)Texans
Houston with the top overall pick clearly soured on now former starter Matt Schaub and Case Keenum and T.J. Yates were not consistent enough in trying to replace him. With a new head coach in Bill O'Brien it's been widely speculated that he'll look to begin his Texans tenure with a new quarterback as well.
Texans GM Rick Smith insists they're still evaluating all positions to see who might be the best fit for their top pick. He claims they haven't even whittled it down to four or five possibilities yet, but O'Brien seems to like Central Florida's Blake Bortles.
"We played against him at Central Florida in the Penn State game," said the former Nittany Lions head coach. "He played well. They beat us and I thought he threw the ball well that night. Obviously I have a connection with (coach) George O'Leary and the (Central Florida) coaching staff thinks very highly of him there. He's a big guy. He's athletic. He's a competitive guy. So it's been fun to watch him play on tape and it'll be good to watch him work out here."
O'Brien coached under George O'Leary at Georgia Tech along with Bills head coach Doug Marrone.
Jaguars
With the third overall pick is Jacksonville, a team in dire need of stability at the quarterback position. Veteran Chad Henne is a free agent and former first-round pick Blaine Gabbert got anything but a ringing endorsement from Jaguars GM David Caldwell this week.
"We'll treat Blaine like any other player," said Caldwell. "We're going to bring him in and have him compete and develop until we think it's not in his best interests or until he gets beat out."
Caldwell confirmed that they will meet with Bortles, Texas A&M's Johnny Manziel and Louisville's Teddy Bridgewater.
"We'll meet with every quarterback, not including the ones at the Senior Bowl," he said.
Browns
At pick four sit the Cleveland Browns under new head coach Mike Pettine. They too have a jumbled quarterback puzzle as Jason Campbell, Brian Hoyer and Brandon Weeden all started games last season with none of them performing to great effect.
Pettine is scheduled to address the media today at 10:15 am at the NFL Combine. With a pretty solid young nucleus of defensive players, Cleveland is expected to address the offensive side of the ball and could very well begin at the quarterback position.
Raiders
With the fifth overall pick are the Raiders, yet another team with a muddled quarterback picture. Terrelle Pryor made just nine starts due to injury and backup Matt McGloin made another six. Drafting a signal caller is not unrealistic.
Raiders head coach Dennis Allen made no commitments regarding the fifth overall pick, but said they'd be evaluating all of the top quarterbacks.
VikingsThey're mentioned the least, but Minnesota might need a signal caller more than anyone at eighth overall. With Josh Freeman and Matt Cassel both free agents and unlikely to return, the Vikings need a new starter with former first-round pick Christian Ponder looking more like a career backup.
"Christian Ponder is our only quarterback under contract right now," said Vikings GM Rick Spielman. "If you look at what he's been through over the last few years, (two) years ago he started out strong, went into a dip. The encouraging thing was he came out of that dip and played very well down the stretch. That last game against Green Bay got us into the playoffs. This past year that consistency or net step forward didn't happen."
More options likelyEven if just three of the five aforementioned clubs take quarterbacks it should push some of the other top talent like UCLA OLB Anthony Barr, Michigan OT Taylor Lewan, UB OLB Khalil Mack, Auburn OT Greg Robinson and Clemson WR Sammy Watkins down the board.
Naturally Whaley and his college scouting department are not counting on three quarterbacks coming off the board, but if they do their choices at nine figure to be even more bountiful.
"We're going to be ready for whatever scenario comes our way," said Whaley. "If the quarterbacks don't go we'll be ready with a pick. If the quarterbacks do go we'll be ready with a pick. Either way there should be someone that we're excited about at number nine."
Buffalobills.com **Combine coverage** is presented by NAPA Auto Parts.  Visit your local NAPA Auto Parts store for NAPA Know How and all your car care needs.