Last year at this time Jeff Tuel was just trying to get a handle on a brand new offense with limited reps in the practice setting in advance of his first NFL training camp. A year later the Bills reserve quarterback is a much improved signal caller, who might be pushing number two quarterback Thad Lewis more than people think.
Tuel looked decisive in the OTA and minicamp practices with his passes in the 7-on-7 and 11-on-11 team segments. On some days he had the best looking pass plays in practice. On the last day of minicamp Tuel had one of the prettiest throws again dropping a 20-yard pass over the shoulder of Chris Hogan for a red zone touchdown. It's all the result of a rigorous offseason where Tuel re-shaped his body and sharpened his game.
"I definitely worked hard in the offseason and feel stronger, leaner," Tuel told Buffalobills.com. "This is the best I've felt physically. Just getting into the playbook with Todd Downing our QB coach about the ins and outs of the concepts and trying to get myself to be really, really comfortable with them and that's where I'll grow the most."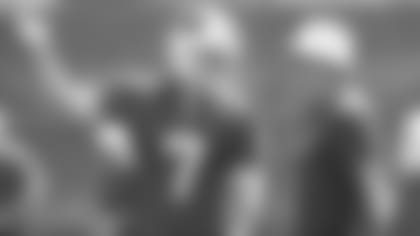 The second-year quarterback also hasn't been shy in sticking a pass into a tight spot in the spring practices. During the last week of OTAs Tuel fired a pass into Mike Williams stomach on a quick slant for a touchdown despite very tight coverage. On the very next play he hit Tony Moeaki for another touchdown on a post pattern.
"That's just confidence honestly. You come in here as a rookie like myself last year and you're kind of testing the waters when you first get here," he said. "But once we started playing I've just got to let it go and let it rip and that's something I've continued to grow with because as a quarterback the worst thing you can do is try to aim the ball and be perfect. I think both EJ (Manuel) and I have grown with that as well coming into our second year just letting it go and just ripping it no matter what."
Having two fellow quarterbacks in EJ Manuel and Thad Lewis, who have been in this offensive system for about the same amount of time, Tuel believes it pushes each of them to keep pace with the others in their individual development.
"It's kind of an all for one and one for all mentality," Tuel said. "We've learned together and learned through all our mistakes. EJ screws something up and we get his corrections in the film room and we learn from that, and when we screw up then EJ learns. So we've really kind of fed off each other and we've grown as a QB group as a whole."
At the same time Tuel is part of a competition for the role behind Manuel, and though most expect Lewis to land the backup job, Tuel is not going to lay down and let him have it.
"We'll support each other whoever it is and we've got EJ's back right now, but we'll push each other as hard as we can," he said. "I'm going to push Thad and he's going to push me and we're all going to push EJ. So it's been really, really good for us."
"Absolutely and it's taken time. In the beginning it wasn't that way so much, but just spending extra time with TD and getting really comfortable with the concepts and knowing when one isn't there and two isn't there who is my number three and knowing he's going to be there. Or based on a certain coverage who I need to alert and just knowing it like that. That's where the quarterback as a whole has grown."