1. Mitch Morse will not play on Friday
Bills head coach Sean McDermott announced that center Mitch Morse will not play in Friday's game against the Detroit Lions.
"He's in the protocol. He continues to progress within the protocol, but the goal is to have a good end of the week and then into next week," McDermott said.
McDermott says the Bills are taking it day-by-day with Morse.
Morse has shed his red non-contact and was a limited participant in practice for the first time since suffering the injury.
"Within the context of the protocol, I though he progressed in that regard," McDermott said.
McDermott also announced that four other players, Tyler Kroft, Cam Lewis, Cory Carter, De'Ondre Wesley, will not practice Wednesday and will not play in Friday's game as well.
2. Dawson Knox making his first preseason appearance
Rookie tight end Dawson Knox is a full-go in practice and will play in Friday's game, says McDermott.
Knox has been dealing with a hamstring injury that has left him as a limited participant throughout most of training camp and has not played in Buffalo's first two preseason contests.
"We'll see how today goes," McDermott said. "With the load he'll have today and then we'll make a determination whether he'll be on a managed count come game time or not. But at this time we expect him to play. How much remains to be seen."
The Bills tight end group has been hit by injuries leaving a rotation of Tommy Sweeney, Nate Becker, Keith Towbridge, Kyle Carter and Lee Smith come game time.
Jason Croom returned to practice on a limited basis as well this week. His status for Friday's game is unknown.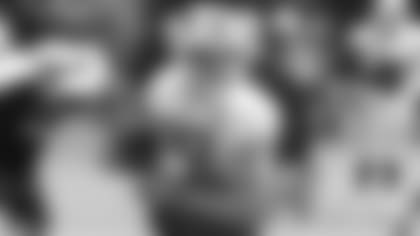 3. Increased workloads for veteran running backs
LeSean McCoy and Frank Gore have each missed a preseason game. McCoy did not appear in the Week 1 victory against Indianapolis while Gore did not appear against Carolina last week.
Both should be on the field this week, according to McDermott.
"Both will get more work than they've gotten before," McDermott said. "We'll continue to communicate about the plan all the way up until game time."
Gore ran the ball twice for seven yards in his only preseason action and caught one pass for four yards as well.
McCoy took four handoffs for six yards and a touchdown last week. He also caught two passes for 11 yards.