Bobby Johnson would take Quinton Spain over a grizzly bear on his offensive line.
As the Bills offensive line coach works to assemble his first-team line, one thing has been a constant. Spain has been the left guard since the start of training camp. The 6-5, 335-pound road-grader has lined up at the interior position throughout the Bills offseason.
"Wherever he [Johnson] puts me I just go," Spain said. "I've been working at left [guard] but you never know what it will be at the next day. I just have to take it a day at a time."
Spain spent some time on the market before signing a one-year deal with Buffalo. Choosing a prove-it deal over something long term came as a surprise to those who have followed his career.
The former Tennessee Titan was undrafted in 2014. Before deleting his twitter account, his handle was "Mr. Undrafted." Spain strives to be the last remaining lineman from that draft class. For the 2019 season he wants to show all 32 teams he can do that.
Throughout his career, Spain has proven that teams made a mistake passing on him after finishing his college career at West Virginia. He's only allowed 17 QB hits on 3,064 snaps played.
"That's my job, protect the quarterback," Spain said flatly.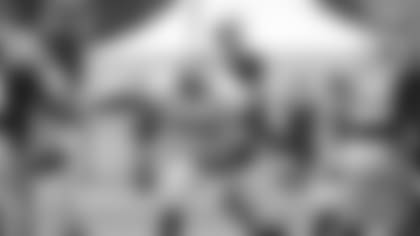 For Buffalo, quarterback security will be a main priority. The Bills allowed 41 sacks last season, the ninth most in the NFL. Hits resulted in injuries to Josh Allen and Derek Anderson. Poor pockets also meant Allen had to scramble more than coaches would prefer to see from their franchise QB.
Spain comes in with familiarity in blocking for mobile quarterbacks having done so before. If Allen decides to scramble, Spain knows how to react after blocking for Marcus Mariota his entire career.
"It's good blocking for a quarterback who can run," Spain said. "It helps with protection. If there is a leak he can get away from it. He's not standing in one spot. It still starts with the protection, but he can help us out a little bit if he can get away from it."
Spain has shown he excels in pass-blocking sets. He works best in tight-spaces because of his sheer mass, but Johnson is comfortable running any set with Spain.
"There's certain things just because of his sheer size he can get away with, but he's also an athlete," Johnson said. "He can move his feet. He can bend. He's got some power. So it's not like he's some big, slow cinder block. He's a big, powerful man."
Spain missed the majority of offseason training activities and minicamp with a thumb injury that required surgery this spring.
While he wasn't on the field taking physical reps, Johnson was impressed by how Spain was able to mentally go through drills. The veteran guard has also been a positive addition to the locker room.
"He's obviously a larger than life figure, but he's got a bigger personality," Johnson said. "His teammates love him. He's great in the locker room. He's great in the meeting room. He's arguably top-two smartest guys in the room."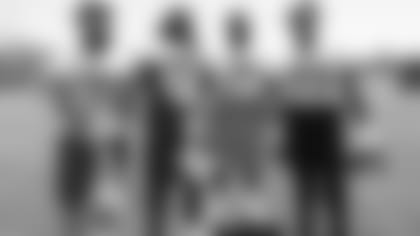 Spain has capably blended into Buffalo's revamped line and worked well with his new line mates. He's been a critical constant for Johnson as he tries to establish his brand of line play in his first-season as the Bills offensive line coach while also nailing down a starting five.
"I think that's been really cool about our room is that nobody's really brought anything with them. They've just added to our style," Johnson said. "We're trying to establish an identity. This is Buffalo football. We're going to be tough, smart, physical, and get downhill on some people."
To play that style, Buffalo will need to have Spain healthy. Offensive coordinator Brian Daboll ran between the guards at the sixth highest rate in the NFL according to Football Outsiders. Despite all their struggles last season, the Bills were successful on 68 percent of their power runs.
According to Football Outsiders, Buffalo ranked last in the NFL in getting runs to the second level of a defense.
When building an NFL team you need to be strong up the middle, Johnson says. The best way to prove that will be to run between the tackles.
When working one-on-one against a defensive lineman, going against Spain has been described as being trapped in a phone booth. If he's able to get his gigantic mitts on a players pads he'll just lock them in place.
Johnson has been asking his lineman to do a lot of different things. Being versatile has been a trait head coach Sean McDermott looked for in his linemen. Players are frontside and backside pulling, double-teaming, working both the outside and inside zone to fit the scheme Buffalo is running.
Spain's long arms and wide body have controlled defenders and that usually means holes for LeSean McCoy to exploit in the run game.
"He has the ability to move the line of scrimmage," Johnson said. "Whether it's a double team or more importantly a one-on-one block. He brings that kind of power to the table."