He was able to walk off the field under his own power Friday night, but veteran DT Kyle Williams will not be practicing for the foreseeable future after head coach Sean McDermott provided a timetable on his potential return to the lineup.
"He's more along the lines of week to week at this point," McDermott said. "I have a lot of confidence in Kyle, both as a player, a person, healing, but for right now, he remains week to week, so we'll take it one week at a time."
McDermott was not going to address whether Williams would be ready for the season opener, which sits three weeks away.
"I know if Kyle can be out there, he'll be out there," he said.
For now, rookie Harrison Phillips will be the one who fills the void at Williams position alongside Star Lotulelei.
McDermott admitted that they cut Phillips' night short on Friday at Cleveland because of the injury to Williams. Buffalo has been shorthanded at the position due to injury and added both Tyrunn Walker and Albert Havili to the roster to bolster the health at the position.
Phillips has performed admirably in his first NFL training camp and is going to get a lot of valuable reps. McDermott has been encouraged by Phillips' play, but he is reminding himself that the third-round pick is still a rookie.
"He's young like a lot of our players. He has to continue to grow and learn from experience," said McDermott.
McDermott said Williams won't need a surgical procedure to address the injury.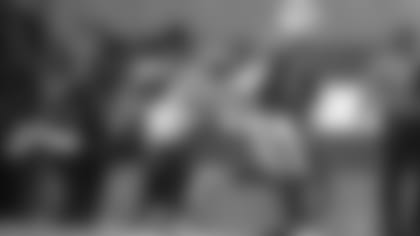 McCarron getting second opinion
No timetable was provided for the shoulder injury suffered by AJ McCarron in Friday night's game. In fact, tests to this point have been inconclusive.
"We had some tests done (Saturday)," said McDermott. "We're going to do some more. He's in the process of receiving a second opinion, but really no further updates at this point."
What we do know is McCarron is not fit to practice. That means the reps going forward will be split by Nate Peterman and Josh Allen.
But at this point, McDermott is not going to let McCarron's inconclusive injury impact the quarterback competition in terms of anyone's status at this point.
"Let's take his health status number one and factor that into it," said McDermott. "We just have to get through this next stage, one day at a time and then go from there. If healthy then we pick up where we left off."
QBs building bond with teammates
One area of the quarterback competition that McDermott did address is the bond they're establishing with their teammates.
When asked specifically about Peterman and Allen, he said both have made strides with their teammates as leaders.
"I have a great appreciation and I think our team does as well for Nate's mental toughness," said McDermott. "He's driven to compete and loves to compete. I think there's a steadiness about Nate that's important at that position, but also one that his teammates can appreciate."
As for Allen, McDermott believes he's made progress with the players around him too.
"I love the fact that he seems to have begun to earn the respect of his teammates and the trust of his teammates," he said. "That's important, not only in the evaluation, but also for that position. The respect and the trust at the quarterback position is huge. That's an important part of the early stages of his development and growth."
McDermott said he understood why outside observers would be excited about what Allen has done to this point, but he said with young players expectations must be managed.