The highly-anticipated return of Josh Allen is seemingly in sight.
Should he be back at full health, the rookie will retake the reins of the offense when the Bills return from their bye week.
"Correct," head coach Sean McDermott confirmed on Monday. "If healthy, [Allen] will start."
Allen has missed the past four games with an elbow sprain, an injury he acquired midway through Buffalo's Week 6 loss to the Texans. The signal-caller returned to practice last week in a limited capacity and has continued to move forward in his recovery this week.
"We're still making progress," McDermott said. "He threw on his rehab again [Monday]. We'll continue to move forward and take it one day at a time."
"Josh is our starter when healthy, and his development is important for him and us as we move forward." Head coach Sean McDermott
Even coming off a massive 41-10 win over the Jets, getting Allen back in the lineup, when healthy, is something that McDermott is eager to do, as the rookie never lost the starting job.
"Josh is our starter when healthy, and his development is important for him and us as we move forward," McDermott said. "Getting experience, you've seen a lot of quarterbacks this season play, and it's important that he gets as many reps as he can get in live game action."
Allen had completed 75 passes for 832 yards and two touchdowns before suffering his injury. The ailment, however, turned out to be a blessing in disguise for Allen, as it allowed him to take a step back and watch the professional game from the sideline.
"The good part about it is Josh had a front row seat the last several weeks to watch Derek Anderson, a little bit of Nate [Peterman], then also with Matt [Barkley] [Sunday]. There's a lot of things you take, just like all of us when you grow and you take that growth mindset of 'Hey, I'm going to be a sponge and take the best I can from the people that are in front of me.'"
McDermott also confirmed that Derek Anderson is still in the concussion protocol. Keeping four quarterbacks on the roster, should Allen and Anderson return from injury after the bye, is an idea that McDermott and general manager Brandon Beane will talk about over the coming days.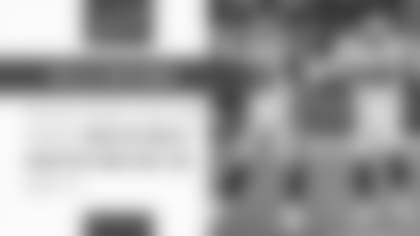 Bills defense building 'a culture'
Overshadowed in Buffalo's Week 10 offensive explosion was the excellence of the defense.
The defensive unit constructed what was arguably its best outing of the season in the blowout, holding New York to just 199 net yards and 10 points. The Bills' defense was a brick wall against the run, allowing only 83 rushing yards. The Jets finished the game with just one third down conversion on 12 attempts.
Head coach Sean McDermott credits the defense's merit to defensive coordinator Leslie Frazier, who has constructed a unique aura around his unit.
"I think Coach Frazier and his staff have done a phenomenal job," McDermott said. "There's still a lot of work that remains, but the growth that they've undergone since those first two games, in particular, the culture that they've started to build on that side of the football, with the discipline and the effort."
To McDermott, Lorenzo Alexander is a player who perfectly encapsulates the culture that the team is trying to build. The veteran defender stuck out to his coach again in Week 10.
"I mean, you watch Lorenzo Alexander, to name just one play of his, where it's the second to last play of the game and he's from one side of the field to the sideline, trying to make a play," McDermott said. "That says a lot about who we are and about what we're trying to do here."
Matt Milano in the concussion protocol
Linebacker Matt Milano left Buffalo's Week 10 contest early in the fourth quarter after laying a tackle on tight end Jordan Leggett. Coach McDermott confirmed on Monday that the second-year defender suffered a head injury on the play.
"Matt is in the protocol, concussion protocol," McDermott said.
Milano's injury ended what was a productive game for the former Boston College Eagle, as he totaled six tackles, one interception, and one pass deflection in the win.
Milano joins quarterback Derek Anderson in the concussion protocol.
Taron Johnson also picked up an ailment in the contest, re-aggravating a nagging shoulder injury.
"Taron, just managing it right now with his shoulder," McDermott said.