Providing participants the exhilarating experience of crossing the finish line mid-field at Ralph Wilson Stadium, the 50 Yard Finish 5K/10K and Kids Fun Run takes place on Saturday, June 27, 2015,beginning*at9 a.m.* Registration is now open for this chip-timed race which is co-presented by the Buffalo Bills, Eclipse Multi-Sport and the Buffalo Niagara Sports Commission. Ingram Micro and Independent Health are event sponsors with proceeds benefiting Brian Moorman's P.U.N.T. Foundation and Buffalo Niagara Sports Development.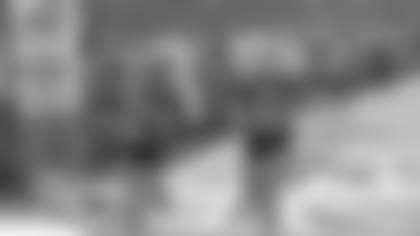 "We're proud to host Bills fans and runners from throughout Western New York and beyond for the 50 Yard Finish, where everyone has the chance to cross the finish line inside Ralph Wilson Stadium," said Andy Major, Buffalo Bills VP of Operations & Guest Experience, "Along with the Buffalo Sports Commission, P.U.N.T. Foundation, and Eclipse Multi-Sport, the Buffalo Bills value the support of race partners, especially Ingram Micro and Independent Health, who help make this community running event one of the best in Western New York."
Spectators will be permitted in the stadium to cheer on runners and the scoreboard will feature the participants as they complete the 50 Yard Finish. The first 2000 race registrants will receive a high tech dry fit t-shirt and the first 125 kids to register for the Kids Run will also receive a shirt. Registration fees prior to the week of June 22 are as follows: 10K is $40, 5K is $30 and $15 for the Kids Fun Run.  All kids who participate will receive a finisher medal.
"It's an honor for the P.U.N.T. Foundation to have been selected as this year's charitable partner for this unique and memorable event," said Brian Moorman, longtime former Buffalo Bills punter and  Founder of the organization which currently runs 6 distinct programs created to help Western New York families dealing with the devastating effects of  pediatric cancer. The Foundation works directly with the staff at Roswell Park Cancer Institute and Women & Children's Hospital to ensure resources are channeled where they are most needed. "Partnerships like this truly sustain P.U.N.T.s  mission and we are very grateful."