Stevie Johnson is unquestionably unconventional. From his route running to his wardrobe to his ever changing self-invented nicknames, there is no debating that Johnson marches to the beat of his own drum. But rarely, if ever, does his individualism stray from what's best for the team to win games. Now set to enter his seventh professional season with his fifth different position coach, Johnson may finally have a mentor in Rob Moore who can relate to most of the challenges the Bills receiver has faced in his pro career.
Johnson has dealt with a lot of change in his six seasons in Buffalo. Three head coaches, three different offenses, and a handful of receivers coaches. In Moore, however, he has a position coach who has personally experienced a lot of what Johnson has been through. It could serve as a valuable coach-player connection for the enigmatic receiver and the offense.
Moore, a former two-time Pro Bowl receiver and first team All-Pro (1997), entered the league as a supplemental draft choice in 1990 with the New York Jets. In 10 years in the league his teams qualified for the playoffs once. It was his second season (1991) where the Jets lost a Wild Card game to the Houston Oilers. Moore never saw the postseason again and after that 8-8 season his teams posted a winning record just once.
Still, Moore maintained his level of production year in and year out posting three 1,000-yard seasons and a few 900-yard seasons as well.
More often than not, Johnson has performed even when the wins didn't come with much frequency in his time with the Bills. It's a trait that leaves Moore encouraged about his top wideout's team-minded approach to the game.
"That's where being a professional comes in. It's your job to always find a way to be motivated to play at the best of your ability," Moore said. "The minute you're not motivated to be the best at what you do it's time to retire. And I know Stevie is a competitor.
"He may not understand the reasons why he doesn't get the ball and sometimes those things can come out as him being disgruntled or selfish or whatever the case might be, but that's just a player who wants to win."
Playing on unsuccessful teams often leads to a lot of coaching turnover, which usually means a change in the offensive system. Moore, much like Johnson, has been through those changes too.
"Playing in various systems, which all require you to be great at different things, it was beneficial, but it was also detrimental at times because just when you got great at something there was a new system coming in," Moore said. "With Stevie it's tough because he got used to doing things a certain way and there was this new offense and now he's got a new receivers coach so I get all that. I'll try to make the transition as painless as possible."
Much like Johnson, Moore also had to play with an ever changing lineup of quarterbacks whether it was his first five seasons with the Jets or the second half of his career with the Cardinals. He played with a dozen different signal callers in his 10 years in the league.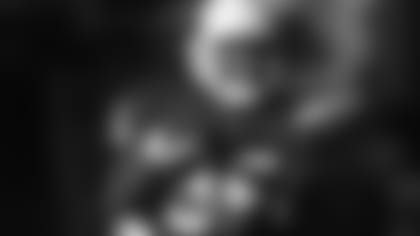 "You have to prepare the same way and that's where discipline comes in," said Moore. "The biggest challenge is you have to spend the time with the quarterbacks. You've got to run routes and play catch with them. They need to get an understanding of what your body language is. It's difficult to do that just in training camp. Those are the things that have to happen in the offseason and also you develop a consistency in the way that you do things. When the quarterbacks see that there's a comfort level they find with that."
Johnson had to get adjusted to a rookie quarterback in EJ Manuel this past season, and help to be a reliable option for him. The Bills top draft choice was learning on the fly last year, something Moore also experienced as a veteran receiver.
Moore was in his ninth season when Arizona drafted local Arizona State sensation Jake Plummer, so he knows what it's like to help bring a young signal caller along.
"I knew as a veteran player that I was going to have to make it look like it looked in practice," he said. "So if I had two yards of separation that's the way it was going to have to look in the game. So I understood that there was going to have to be great definition in my routes and make sure it looked the same to Jake and make sure I came out of it the same way. If he wasn't comfortable with it in practice we would work on it after practice until he felt good about it.
"That's part of being a pro and doing whatever you can to win football games. Playing with young quarterbacks can be frustrating at times, but towards the back end of it it's extremely rewarding."
Knowing Johnson and Manuel both missed time on the field with one another due to injury last season, Buffalo's new receivers coach is hopeful they make up for lost time on their own this offseason.
"They're just going to have to find some time to spend together," said Moore. "I know he had some injuries last year, EJ was injured last year. So they're going to have to put some time in and get to know each other again. The benefit that these guys have is it's going to be the same system, so they should be a bit better than they were with it last year."
While Moore believes in making things consistent for a young quarterback as a receiver, he doesn't want to stifle a wideout's creativity, an element upon which much of Johnson's game is based.
"I think the thing you have to do with players like Stevie is tell them, 'These are the things I want to see. This is where I need you to be on this particular play at this particular time. And how you get there I'll live with it as long as the timing works and all those other things,'" Moore said. "One thing you don't want to do as a coach is make players robots and take away their ability to be creators. You don't want to do that.
"You want to help them be creative, but yet work within the offense and what those expectations are. I know as a player I didn't care for coaches telling me how to run routes and all those things. As long as I got open and it was in the proper timing and depth of the route I'll be fine with that."
While some might only measure Johnson's future seasons as successful if he returns to the 1,000-yard season production he put up between 2010 and 2012, Moore looks at receiver productivity differently.
"You compete. You love football and you want to be good at what you do. I don't think that ever changes. We all define what that measuring stick is for ourselves, and it's not always statistics," said Moore. "What's a good season? What's not a good season? We all get measured by statistics, but I had some great seasons, and didn't go over 1,000 yards.
"We should all be defined really based on winning or losing and I think that's probably the ultimate definition of how we should view ourselves and how others view us. I don't think Stevie has ever gotten to the playoffs and I think he'll have a great appreciation for it once he does get there."
It's also likely that Johnson will soon appreciate having Moore in his corner.