She was his best friend and a person he looked up to and respected. Not just because she was family. She was his only sibling. Robert Woods' older sister, Olivia, was a model student, a quality softball pitcher and well-liked by anyone who knew her. For Robert she was a role model and a confidante, but at just 17-years old Olivia Woods was uttering the last words she would ever speak to her younger brother. She was now confiding in him.
Diagnosed with synovial cell sarcoma in her leg at age 12, Olivia had reached the end of a courageous five-year battle that included chemotherapy, radiation and a leg amputation. Meanwhile Robert, two years her junior, was emerging as a budding football star at their high school, Serra, in southern California.
Even from the confines of her bed Olivia reminded Robert to stay humble, but in April 2007, knowing the next words she would speak would be among the last she uttered in the physical world, Olivia had to let her brother in on the conversation she often had with her mother.
"She was a role model for him and she always told me that Robert was going to be special," said Sharon Woods of her daughter. "I remember Robert telling me that his sister was special, but she really meant it when she would tell me, 'No, he's really going to be really something special mom.' I always was taken with her conviction with what she said."
In her home with her family by her bed side for the last time she would give her brother some words to live by.
"Her last words to me were that she wanted me to be a model," Woods said. "And I said, 'Model? What do you mean?' So she said it again, 'I want you to be a model.' And then it clicked that she was maybe seeing something that I couldn't. So I took it as, be a role model. Always be positive. Be positive in life. Those were her last words to me. So I guess the whole time here with us she kept me humble, humble, humble and then her last words she put it on me."
Not a surprising request from an older sister who was as selfless as they come. After having her leg amputated and returning to school as an early teen, Olivia didn't want anyone to know she was walking around with a prosthetic leg. Her family adhered to her wishes. She didn't want any extra attention because she was battling cancer.
When she went to get a summer job she told her mother there would be no mention of her medical condition. She wanted to get the job based on her skills not pity.
"She just wanted to make her own way," said Mrs. Woods. "She learned how to swim again. In high school she was elected school secretary of state. She was on yearbook committee. She was a real go-getter. We just honored her that way by letting her be herself."
Being a first-hand witness to all of Olivia's fighting over those five years only strengthened Robert's own resolve in everything he put his mind to.
"Robert was the same way," said Sharon Woods. "He saw her work so hard and fight. She was a strong fighter. I think that rubbed off on him as he got older."
Pursuit of perfectionLong before Olivia's struggle however, Robert was a pretty self-motivated kid. It didn't matter what the activity was. Whether it was tee ball, checkers or school work the Woods' only son didn't take on any challenge, he attacked it.
"He wasn't very quiet, he always smiled and laughed. He was always an overachiever," said his mother. "He always wanted to do things perfectly. He always wanted to be first."
Woods' competitive nature sometimes got the best of him when it came to trusting his teammates. Playing centerfield in little league there wasn't a fly ball he wasn't going to try and run down.
"In baseball when he was young he always wanted to cover everybody else's position," said Mrs. Woods. "We would tell him, 'You stay there.' But wherever the ball would go he wanted to go get the ball."
"Pretty much the whole outfield was mine whether it was left field or right field," Woods said smiling. "If the ball was in the air I'd try to go and get it."   
In the fall Woods would play in the very competitive park football league in his hometown of Carson. To illustrate how competitive it was, Woods played on a roster with four other talents who also currently play in the NFL.
"The majority of the teams had a lot of talented players," said Woods father Robert Jr. "And Robert's team was talented. Paul Richardson, who was a rookie receiver this past year with Seattle, and Dion Bailey also with Seattle were on his team. Marqise Lee, who plays for Jacksonville. Shaq Richardson now with Pittsburgh was on that team. So as a result there were a lot of kids that had to touch the ball on his team."
That would prove to be an adjustment for Woods, who wanted to do as much as possible to help his team win.
Touches for touchdownsWoods was making a lot of plays to help his team, but maybe a few too many. Other parents weren't thrilled with all the opportunities Woods was getting with the ball, often at the expense of other players who were just as talented. Woods' parents quickly made Robert understand the value of teamwork.
"We impressed upon him that other players on his team had to get chances with the ball too," said Robert's father. "So we told him he had to share the ball with other players."
The ultra-competitive Woods wasn't thrilled with the idea, but his father had a solution to appease his son.
"I came up with a phrase for him called 'touches for touchdowns,'" said Woods. "When you get it you're going to have to score. He was happy as long as he had two touchdowns a game. So in Pop Warner he would average about 20 touchdowns a season in a 12 to 14 game season depending on whether his team made it to the 'Super Bowl.'"
That phrase led to a ritual developed by his parents to keep their son's mindset in the right place before every game thereafter.
"The night before games we would try to come up with a new slogan for him for that game the next day," said Robert Woods Jr., who played his college football at Grambling. "And if we didn't do it he'd ask for the new saying for that game. So we'd try to give him a confident quote to motivate him for the game."
"Being a Christian family we would make use of faith-based quotes as well," said his mother. "It helps keep him focused and uplifted. He looks for that text message from us even now and the day of the game we always text him in the morning and remind him to have fun."
Goals and prioritiesGoal setting was encouraged by Robert's parents. While Woods was clearly self-motivated, Robert and Sharon Woods wanted to ensure their son's energies had the proper direction. Hanging by the door in his room was a white marker board. On it were his goals as he got ready to begin high school.
"The board was right by my door so when I'd leave my room I'd see it every day," said Woods. "So I'd write my goals down for the season and I had my GPA up there. I wrote down everything I wanted. Then I would write under it how I was going to accomplish those goals. Then I'd cross them off as I achieved them and write new ones down."
Woods chose to attend Serra high school, which had a small enrollment of just 600 kids. It wouldn't put Robert on as big a stage as some of the larger area high schools, but his mind was made up two years prior when his older sister chose to attend high school there.
Unfortunately the siblings only got to spend one semester at the school together because Olivia soon became too sick to attend school. Robert, who knew how much his sister enjoyed the social scene at Serra, would report to her every day as soon as he got home from school.
"He would run up the stairs and go up to her room," said Mrs. Woods. "The first thing he would do is go see her and tell her about his day. They were very close. That was a very emotional time for all of us, but especially for him."
"She was really my best friend," said Woods. "So when I'd come home I'd tell her about everything that was happening at school, who asked about her and events that were going on at school, how games went.
"It would put a smile on her face because she was missing it. I was her connection to that social life for her. She was probably the most popular person in our school. People to this day remember her birthday. She touched so many lives and everybody would come up to me and talk to me about her so I would come home and spread the word to her."
Robert would talk to her about how his football season was going. As a freshman on JV he quarterbacked his team to an undefeated season, and then was called up to varsity at the end of the year. As a safety he intercepted a pass in a playoff loss, and returned it 90-plus yards for a touchdown.
Unfortunately Olivia's condition wasn't going as well as her brother's high school football career. Forced to stay in the hospital for treatments the Woods' family simply made Olivia's hospital room their home.
"After school he would head to the hospital to spend the evenings with her," said Mr. Woods.
"He did his homework in the hospital in the evenings," said Mrs. Woods. "So he was a big part of the support system that we had there."
"We were there so much every day, after school and after practice," said Robert. "We would go right to the hospital and spend the night with her. It was like we were at home. The doctors would come and visit, but when they left we would talk, watch TV, play games. We weren't really in the hospital in our minds. We were just trying to make it family time."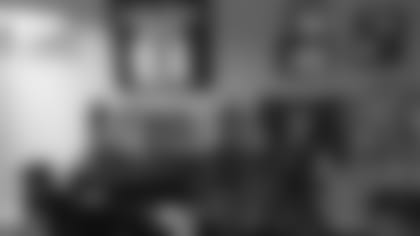 TributeRobert's sister never heard about or saw her brother's sophomore season when he made the Cal-Hi Sports All-State Sophomore team. She passed on April 19, 2007. Their high school was closed on the day of her funeral so the student body could pay their respects.
"We had a very large funeral for her," said Mr. Woods. "There were about 1,500 people who attended. People from our places of work, family, friends and students. The doctors from the hospital, the nurses were there. They planted a tree for her at school."
"She touched a lot of lives and I think she was just an amazing girl that I will never forget," said Mrs. Woods. "Robert was very strong amazingly through her passing. He was very, very strong."
Woods would go on to post eye-popping statistics in his junior and senior season at Serra. He rolled up more than 1,700 yards receiving with 19 touchdowns and two more touchdowns on returns on defense his junior year. By his senior season Woods was a USA Today All-First team member and a Parade All-American among dozens of other accolades.
He chose to attend USC with fellow high school teammate Marqise Lee, where he took quickly to the college game. In his sophomore season he had 111 catches for almost 1,300 yards and 15 touchdowns in a 13-game season.
Throughout his college career, Woods paid tribute to his sister by drawing a giant letter 'O' on his wrist tape with a black marker. Such a gesture would get Woods fined in the NFL, so instead during pre-game warmups he kneels and says a prayer.
"I always run down to the corner of the field and say a prayer and do a little 'O' up," said Woods touching the tip of his thumb and index finger together to shape the letter 'O'. "I go out there and play for her and play for my family. Some plays I feel like she's right there with me making those plays. I've always felt like that since high school where I say to myself, 'Yeah my sister was with me on that one.' So she's had a big role and a big impact on my game."
Living by her wordsWoods still feels his sister's presence and he and his parents still talk about Olivia.
"No matter what she's always my sister," he said. "Yes, she passed away, but I'll always remember her and always acknowledge her. I think it does make them proud that I play for her and still acknowledge her when I play."
"Robert is a person who needs to know exactly what he has to do," said Mrs. Woods. "He wants to know where he needs to improve and what he can do differently to accomplish that. He aims to please and always wants to do the right thing to get better. I think that coaches recognize that in him."
In addition to taking his NFL career to the next level, Woods is now three classes shy of getting his degree from USC in public policy development with a focus in real estate. Next offseason he'll officially graduate.
"I think she'd be very proud of me just because I'm in a good position being here in the NFL, but it doesn't last forever," said Woods of his sister. "I'm still working to get my degree and finish what I started. I know Olivia wanted to go to college and wanted a college degree and everything, but just to finish up what I started would be something she always preached herself. If you start something, finish it."
All part of being a role model.