When Greg Roman was hired as Buffalo's offensive coordinator by Rex Ryan, the positional makeup of the roster was destined to change. With Roman's propensity to use multiple tight ends and a fullback the needs on offense will experience a shift. With free agency less than two weeks away and the NFL draft soon to follow, Buffalo's personnel department now must address those positional requirements.
"Yes, we're going to have to expand on tight end," said GM Doug Whaley. "Greg Roman is a big tight end guy. He likes to use three to four tight ends so we're going to have to add some tight ends. We're also going to need to start over at fullback."
The free agent class of tight ends offers an interesting mix of experienced veterans as well as some young vets coming off their rookie contracts. The Bills have said they'll be a player in free agency. Just how heavily they intend to invest in the tight end position remains to be seen.
Among some of the more attractive free agent options that won't break the bank include Miami's Charles Clay, Cincinnati's Jermaine Gresham, Arizona's Rob Housler and St. Louis' Lance Kendricks.
As for options in the draft the Bills made a point of sitting some tight end prospects down at the NFL Combine.
"There are a few. We interviewed a couple and I think it's a deeper tight end class than it was last year so we're excited about that," said Whaley.
When Roman first took over the San Francisco offense in 2011 he had a game-breaking tight end in Vernon Davis and a do-everything tight end in Delanie Walker as his two primary options. In their two seasons together they combined for 17 touchdowns.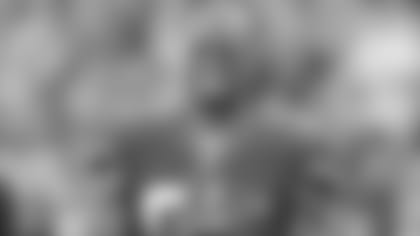 Duplicating that type of combination could prove difficult, at least right away. The focus is acquiring the kind of talent that fits the offense most effectively.
"It impacts our roster because of how many tight ends we'll need to carry going to training camp more than anything," said Director of Player Personnel Jim Monos. "The coaching staff will obviously have final say on their 46-man roster for how many they want to dress on game day."
Monos is open to pursuing talent through all possible avenues, while also projecting how the current talent at the position on the roster would fare in Roman's system.
"At the end of the day I think we have some good tight ends on the roster who are comparable to a lot of the guys in the draft," Monos said. "There's also free agency."
The multi-faceted tight ends are becoming harder and harder to find in the college ranks. Most are detached to serve in the passing game, which also has its place in the pro game, but in the NFL versatility is coveted. It makes an offense more unpredictable.
"When you're evaluating tight ends the guy needs to be good at one or the other so we know what that guy brings to the offense," said Monos. "If they're good at both they're hard to find and they're usually high-priced free agents or high draft picks."
"There are a lot of tight ends and they're all different," said ESPN NFL draft analyst Mel Kiper of the 2015 class. "Some can be in line, some can be flexed out, some are move guys, some are glorified receivers, like (Devin) Funchess (Michigan) who is a wideout/tight end. Maxx Williams coming into this draft early from Minnesota. (Tyler) Kroft at Rutgers, (Jesse) James at Penn State, Nick O'Leary from Florida State, (Jeff) Heuermann at Ohio State."
Heuermann is a possible versatility option, who is still developing. Another is Delaware's Nick Boyle.
"The in-line tight end that's a great blocker and also receiver is getting more and more rare. That helps the kid from Delaware," said NFL Network draft analyst Mike Mayock. "Nick Boyle is a 270-pound guy who I thought had a better Senior Bowl week than he actually had during the season. He played tight end, he played H-back, he played fullback all Senior Bowl week. I think he opened some eyes. I think he showed a little more athleticism.
"I don't think he's Brent Celek as far as getting down the field and catching the football. I think he's limited in the pass game. But because he's got such an upside as an in-line blocker, H-back, fullback, I think he's a valuable commodity. Where could he go? Opinions are all over the board on these tight ends. I think he's probably plus or minus going to go in the fourth or fifth round."
Michigan's Funchess is a potential wild card, especially if a team projects him as more of a tight end than receiver knowing he played both in college. He reportedly wants to be a receiver in the league, but having not yet turned 21-years old there are clubs that believe he will continue to fill out physically and transition more to the tight end position.
"Will he gain 15 pounds in the next couple of years? Will he be more Jimmy Graham, which would be fine also," Mayock asked rhetorically. "So I think you have to look at him as a mismatch and evaluate him that way."
Buffalo also had a couple of younger talents on the roster behind starter Scott Chandler in Chris Gragg and Marqueis Gray. How and if they all fit will be up to the offensive staff, but suffice to say some additions will be made in the coming weeks.