Quarterback Kenny Guiton took off his practice jersey at the close of Sunday's practice session and the state of his undershirt would make one think he was a wide receiver or defensive back. It's not normal for quarterbacks to be drenched in sweat from top to bottom. As the only quarterback participating in Buffalo's rookie minicamp, however, he's getting a workout like he's never had before.
Guiton, the backup quarterback to Braxton Miller at Ohio State, is Buffalo's tryout quarterback this weekend and he's throwing every pass on the script. Over the first two days of the rookie minicamp he's averaging 140 passes a practice. That's six more per day than he had in his entire college career (134).
"I can't remember the last time I had 140 throws especially within 30 or 45 minutes of a practice," Guiton told Buffalobills.com. "I can't remember the last time I've done it and it's taken a toll on me, but at the same time it's a great opportunity and I'm trying to take advantage of it."
Provided with few starting opportunities at Ohio State, Guiton isn't going to let a heavy workload prevent him from taking every snap in these three days with the Bills. He's icing his shoulder down every day so he's ready for the next practice not knowing when the next chance will come to be on an NFL practice field.
"It's a great opportunity," Guiton said. "I came in hoping to take advantage of a great opportunity and that's what I'm trying to do every day is learn and get better and hopefully impress the coaches and hopefully I get a chance to stick around."
Bills head coach Doug Marrone made it clear to Guiton and the other 21 rookies in the camp when they arrived that how they got here is immaterial.
"I don't care if you were drafted. I don't care if you were signed in an open tryout," Marrone said. "All I care about is what you're going to do now that you're here. Everyone has a shot, even the guys that have tryouts. They might not stick now, but down the road we have some injuries we want to know what we have so we can bring them back.
"It's like our quarterback situation, we brought (Kenny Guiton) in, is he going to stick? I don't know, but we want to work with him and we want to see him. God forbid something happens to one of our quarterbacks, we are able to bring him back in here and he's an option for us."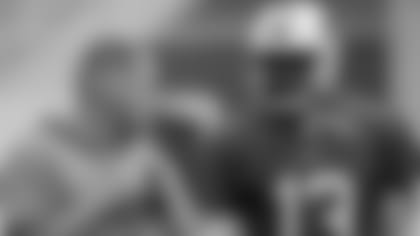 Guiton has relished the one-on-one coaching he's gotten from quarterback coach Todd Downing. It's the type of individual handling that often doesn't exist in the NFL.
"Coach Downing is great," said Guiton. "He's a guy who comes ready to work. He comes wanting to coach me. Having him here has been a great experience. He's given me things to work on. He's given me things every day to just focus on something small. He's not throwing too much at me or change my throwing motion or anything like that. He's helping me out, he's a great coach and I can tell he's enthusiastic about the game too and I like that a lot about him."
One thing Downing is harping on with Guiton is stepping up into the pocket after his drop backs. Like most college quarterbacks who have played most of their career in the shotgun, dropping back and then stepping up is a concept that still needs refinement.
But Guiton is eager to learn and believes the amount of football knowledge he'll have in his back pocket after their final practice on Monday will be hard for him to measure.
"I know in three short days I can go a long way because I feel I have already after two days," he said. "It's hard to actually get everything down in 90 minutes in two or three days, but just some of the things that he's taught me and taking in coaching and having that one-on-one coaching, it's a blessing."
Guiton felt his timing was a lot better on day two of the practices with the receiving corps.
Position drill focus
Among the areas of focus for the various position groups secondary coach Donnie Henderson was a stickler about the plant and drive technique of his defensive backs. He was on every DB that took a gather step on their drive out of their backpedal. Players were adjusting as they went along.
The linebackers have been drilled heavily on proper footwork from linebackers coach Fred Pagac.
"We do that every day, at least 20 minutes a day," said seventh-round pick Randell Johnson. "We take the footwork thing very serious."
Fortunately for Johnson he had a veteran coach his freshman year in college who emphasized a lot of the same fundamentals. He and Buffalo native Jimmy Gaines showed good explosion out of their pass drops.
Johnson looked fluid with his footwork and did a good job of transferring his footwork into power once the linebackers started hitting the sleds. His long, angular frame looks like it could work at either outside linebacker position. For now he's been lining up at the weak side spot.
Defensive linemen were working on their 'get off' at the snap of the ball. Receivers were working the route tree and offensive linemen were working on hand placement.
One-on-ones
Toward the end of the practice session there were some one-on-ones with receivers and defensive backs and offensive and defensive linemen.
Sammy Watkins made a few solid catches winning on most of his routes. The most noticeable thing about Watkins is the ball doesn't make a sound when it hits his hands. He also catches everything away from his body. Then his explosiveness and acceleration up the field after the catch is a step above everyone else practicing.
UB product Fred Lee pulled in a 50-yard touchdown after getting behind one of the defensive backs on a deep route. Guiton hit him down the right sideline for the long scoring play.
Second-round pick Cyrus Kouandjio fared well lining up at right tackle in one-on-one pass rush drills. His technique may not have been perfect on every play, but his strength and arm length puts pass rushers on a wide looping path to the pocket. It simply takes too long for pass rushers to get home going against him.
Schedule
The Bills close out their rookie minicamp on Monday with a late morning practice. Buffalobills.com will have full coverage of the final session.