When the Bills drafted Tyler Bass in the sixth round of this year's draft, they knew he had a chance contribute a lot to this team. 
With the release of long-time veteran Stephen Hauschka on Thursday, the Bills rookie showed coaches enough in training camp to earn the starting kicker spot.
Bass has had to work for what he wanted all his life since growing up in Irmo, SC. This is especially true when it comes to his football career. That has helped shape his mentality as he entered the competition for the starting job in training camp. 
"My mentality started when I was in high school," Bass stated. "I didn't have a whole lot of offers coming out, actually I didn't have any offers coming out, so I had to walk-on to Georgia Southern. I had to earn everything I had there, nothing has been handed to me in life, and I had to earn that. I came to camp with the same mentality, I knew I wasn't the number one guy coming in, and I had to earn that right and the respect. Now that I have the job, I still feel like I haven't proven anything, I've haven't even played a game yet. I'm still going to do everything I can to be the best I can be to help this team and take it one day at a time."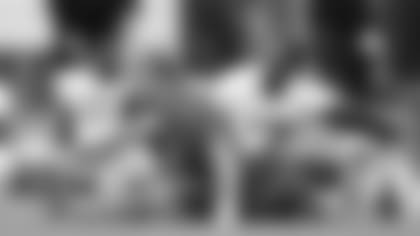 "All she told me to do was kick it far and keep it straight, and still to this day that's probably the best advice I've ever had." Tyler Bass
BASS'S INSPIRATION
The kicker's biggest inspiration, and the reason he started playing football, is his "Mamaw". Bass' grandmother Rebecca Lusk did so much for him throughout high school and college. She brought him to practices, games, providing snacks, and even retrieved balls that he would kick. She was diagnosed with breast cancer when he was a senior in high school. Even with the cancer diagnosis and receiving chemotherapy she was still very involved in his life and football career. Lusk has since beat cancer, and Bass has gifted her with lots of Bills gear. Bass said seeing what she went through, and her still being there for him has taught him that he can do anything.
"She's the best," Bass explained. "She actually was my coach throughout high school, she got me into football when I was in high school and I start playing until ninth grade. She was there for my first try out, and she was there in practice. All she told me to do was kick it far and keep it straight, and still to this day that's probably the best advice I've ever had. It means a lot knowing somebody, no matter what you go through, ups or downs, that she's going to be there for me. She's been through a lot. She battled breast cancer and ended up beating breast cancer. That's what motivates me because if she can do that, she told me I could do anything. She's very valuable, and you can't replace her for sure."
GETTING ON THE BILLS RADAR
In college, Bass connected on 79.4 percent of his field goal attempts over the course of three years there. He kicked a touchback on 73.9 percent of his kickoffs and was a first or second team All-Sun Belt player all three years. He also impressed Bills coaches at the Senior Bowl where we went 2-2 kicking field goals with a long of 50 and was 4-4 on extra points. Special teams coordinator Heath Farwell got to know Bass back in April and believes that he can be a great player for this team. 
"I've got to know this kid really well since I went down and worked him out back in April," Farwell added. "I've got a great relationship with him; I have a really good understanding with him and what he's about and what's important to him. I just trust him out there, he does everything right and we're going to have some ups and downs throughout the season, that's a part of football. He earned the job; he worked his butt off and we take everything into account when picking this position and he won the job. Nobody handed it to him, and we made it as hard as we possibly could. He excelled at everything we did and everything we evaluate."
Now that Bass will be the starting kicker for the Bills he will have to be as consistent and perform as well as any other player on the team. Farwell knows that Bass has a big leg but wants to see him be consistent in his kicks especially in the 40-49-yard range.
"I've had this conversation several times with him," Farwell explained. "he has the big leg and of course as a young player, he wants to hit all these long kicks. I say that's not what wins you the job, and that's not what's going to keep this job. It's what you do from 40 to 49, that's always been the emphasis and that hasn't changed he since he got the job on day one."
The rookie does have a big leg with 50 yards being his longest field goal made in a game, but he has made some from 60 yards in practice. Bass knows that he needs to be consistent with all his kicks, no matter the distance of the attempt. 
"It's important," Bass said. "and I want to emphasize that from 40 to 49 yards and even from 30 to 49 yards, those are going to be the majority of your kicks. They all know distance is good but you're not going to have as many kicks from 35 as you will between 40 and 49 yards. So, the only way for me to be better, and to do my job is to be consistent from there."