Last week, Ryan Fitzpatrick announced his retirement from the NFL after 17 years in the league.
Since he isn't active on social media and played for nine different teams, the former quarterback didn't know how to go about his retirement announcement. On Monday, Fitzpatrick decided to go on The Adam Schefter Podcast and have his unofficial retirement press conference. He and Schefter went over his career, why this was the time to retire and what he plans on doing post-retirement.
"I'm gonna stay busy," Fitzpatrick said about life after the NFL. "I'm a full-time chauffeur right now with seven kids. We've got soccer, soccer is about to wrap up and we're about to wrap up school. In Virginia right now getting ready to move to Arizona. So, the next week or two will be very busy with that. Packing up getting things situated, a couple of family vacations for the summer, and then start all over again in Arizona. I'm looking forward just to being a dad for a little bit and then figuring out what's to come."
As Fitzpatrick begins his life post-NFL, he's had some time to reflect on the players and teams whom he's shared fond memories with. Fitzpatrick told Schefter that Fred Jackson is his favorite teammate of all time. The former QB also shared why Buffalo is so special to him.
"I don't know that I've ever felt more at home in a stadium or with a fan base than, and I was in Buffalo for four years, but those are my people," Fitzpatrick stated. "I feel like I understand them, and they understand me. And it was one of the great pleasures of my career playing there in Buffalo."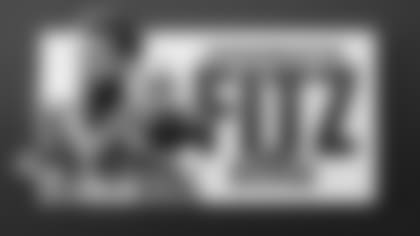 Fitzpatrick felt so at home here that he decided to come to the Bills' Wild Card playoff game against the Patriots with his two sons and decided before the game that they'd all take their shirts off. He could have sat in a suite or the broadcast booth, but Fitzpatrick wanted to be among the fans that adore him so much and whom he loves in return. The former Bills quarterback didn't expect that image of him shirtless would go viral but he's glad he got to have an experience of a lifetime.
"I think it was after the seventh touchdown," Fitzpatrick said. "It was such amazing energy and feeling in that stadium. I think it was after the seventh touchdown of the game, that I felt like it was time. So, me and my boys threw the shirts off. Then a couple of people around us did the same thing. I lasted maybe three or four minutes and after about 10 minutes, I had to tell my boys to put the clothes back on because frostbite was coming soon. But it was a great experience, one to share with my boys that I'll never forget."
Another thing he'll always remember from that night was how incredible Josh Allen played. Fitzpatrick was asked if there was a quarterback currently in the league that he admired the most, and his answer isn't that surprising.
"Josh Allen's my favorite because it looks effortless, he's so talented, and he still doesn't know how good he is," Fitzpatrick shared. "He's just gonna continue to get better but it doesn't hurt also that he plays in Buffalo. Doesn't hurt that he fits that city to a T just in terms of the way he is, and his demeanor. And I think a lot of it for him is he doesn't even realize how good he is. And he's so humble that the work is always going to come, and his teammates are always going to play hard for him."