As a seventh round pick and the third offensive lineman the Bills chose in the 2014 draft, Seantrel Henderson knows he has something to prove.
"It gives me a lot of motivation," Henderson said. "I feel like I have to prove myself to everybody: coaches, teammates, and myself. I feel like I will work as hard as anybody else here, and I feel like I'm one of the best tackles on this team, and I'm going to show that."
Before he made his way to the University of Miami, Henderson was regarded as not only the best high school tackle in the country but its best overall player.
Henderson was an USA Today high school All-American as a junior in 2008 and then was named Offensive Player of the Year by the same publication in 2009. He led Cretin-Derham Hall to a state championship in Minnesota as a senior, only the second state title in school history.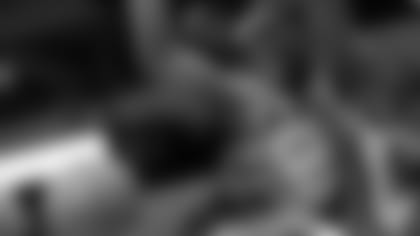 That is surprising, considering just how many successful athletes have come from Cretin-Derham Hall. Cardinals WR
Michael Floyd, Ravens C Matt Birk, Texans OT Ryan Harris, Heisman trophy winner Chris Weinke and former Bills OL Corbin Lacina are all former Raiders. New York Rangers defenseman Ryan McDonagh, Minnesota Twins catcher Joe Mauer, and Hall-of-Fame second baseman Paul Molitor are also Cretin-Derham Hall grads. So it is no surprise that Henderson has made his way to the NFL.
"I haven't talked to Mike [Floyd] since when he first got drafted and I went back home," Henderson said. "Ryan Harris is a little older than me so I only see him when he comes back [to Minnesota] to see his sister. But I know those guys are doing pretty good right now."
One thing that makes Henderson stand out is his freakish athleticism for a man of his stature – 6-foot-8, 345 pounds. He has shown an ability to get to the second level of a defense with ease and can wall off opposing edge rushers weighing 100 pounds less than him. Henderson attributes much of this athleticism to his experience playing high-level AAU basketball - he was a teammate of Golden State Warriors forward Harrison Barnes (pictured). Even though he was destined to play football in college, he still received scholarship offers from Marquette, Minnesota, Villanova, and a few others for basketball.
Henderson was also a track-and-field star, winning gold medals in discus and shot put events in middle school before the commitment started to conflict with his basketball and football schedule.
"After my sophomore year in high school I didn't really consider it too much more," Henderson said of playing basketball at the next level. "People kept telling me, '6-8 guys come a dime a dozen in basketball, we feel like you have a better future in football' and I kind of felt the same. I didn't really want to believe them because that was my dream, to be a basketball player. But I knew in my heart that I could go further in football."
Now that Henderson has officially signed his rookie contract with the Bills the football path looks to be the right choice. He lined up at left tackle in rookie minicamp practices while fellow 2014 draftee Cyrus Kouandjio manned the right side, but do not be surprised to see the two competing for the same starting position once training camp starts. The two have already been competing with each other during individual drills as the only two tackles in the rookie camp.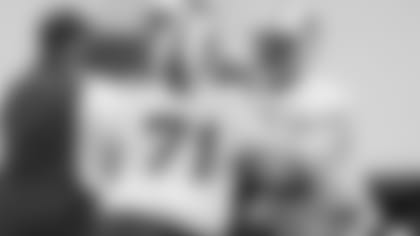 If not for some of his well-documented missteps at Miami, Henderson could have been just as highly regarded as Kouandjio during the pre-draft process. Some pundits have already penciled in the Alabama product as the starter at right tackle this year for the Bills, but it should not come as a surprise if Henderson were to unseat him as the heir-apparent at the position.