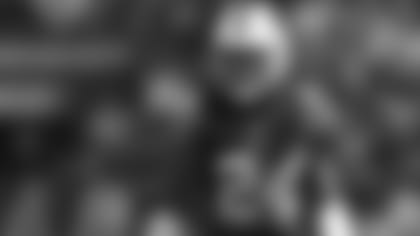 The Bills will see the health of their secondary improve with the return of Jairus Byrd this Sunday. They're hoping to also have Stephon Gilmore return from a broken wrist suffered in the preseason, but his status for Sunday's game against Cincinnati will be determined 90 minutes before kickoff. He and Stevie Johnson are both game time decisions.
Head coach Doug Marrone provided the update on his top receiver and top cornerback following Friday's practice.
"I think that Stevie and Gilmore are both going to be game time decisions on Sunday," Marrone said.
Both players are listed as questionable.
Johnson missed the entire week of practice due to a death in the family. The Bills top receiver traveled back to his native California to grieve with his family. He's due to arrive back in Buffalo early Friday evening. He's also trying to rebound from a lower back strain that he suffered in the first quarter of last Thursday night's game at Cleveland.
"We've been working with Stevie during the week and talking to him to see how he's feeling both physically and mentally," Marrone told Buffalobills.com. "We just have to get him here face to face so our doctors can look at him and I can sit down with him and see where he's at from a mental standpoint."
Marrone has had receivers coach Ike Hilliard working with Johnson by phone all week.
"We've been communicating with him on the game plan and he has all the film," said Marrone. "The one good thing about the I-pads is we have all that available for our players. It's not like out of sight, out of mind not here. Ike (Hilliard) is working with him, making sure he's looking at the stuff and knows the game plan, which he does. It's a matter of physically can he go? And mentally."
Gilmore meanwhile has practiced on a limited basis all week. He's had his surgically repaired left wrist wrapped in protective brace. That's then wrapped in athletic tape forming a club at the end of his arm giving him no use of his hand.
"Stephon has been out there and he's playing and we're just looking at him day to day," said Marrone on his weekly radio show Friday. "It's just a matter of how he's feeling and pain tolerance."
Spiller questionableJoining Johnson and Gilmore as questionable for Sunday's game is C.J. Spiller. The Bills feature back is still nursing a badly sprained ankle suffered in the team's Week 4 win over Baltimore, but played on short rest last week at Cleveland.
After 10 days to recuperate, he's expected to play even though he's not 100 percent.