Here's a look at seven-year NFL veteran Scott Chandler, by the numbers:
515
Chandler's 515 receiving yards in 2013 rank 7th among Bills TE single-season records.
125
His 125 receptions now rank 5th among Bills TEs. Moved past Keith McKeller (124) and is 2 behind #4 Reuben Gant (127). Others higher on list: #1 Pete Metzelaars (302), #2 Jay Riemersma (204), and #3 Lonnie Johnson (153).
82
Of Chandler's 125 catches, 82 (65.6%) have given the Bills a first down.
56
Chandler needs 56 receiving yards to equal his personal season high (571 in 2012).
43
His 43 catches in 2013 match a personal season high (also had 43 in 2012)
31
Reuben Gant's club-record for consecutive games with a catch stands at 31 (from 1976-78), just two ahead of Chandler's current streak.
8
Chandler is one of only 8 TEs in franchise history with at least 100 catches. Just 42 players in Bills history have at least 100 career receptions overall.
2nd
Chandler's 29-game streak with at least one catch is the 2nd-longest among TEs in team history. He has a catch in 41 of his last 42 games, including a career-high 29 straight. With a catch in each of the next two games, he could tie Gant's club-record (above).
1st
Chandler became the first TE in Bills history to post 500+ receiving yards in consecutive seasons. He also became the only TE in club history with multiple 500+ yard seasons, having booked 571 on 43 catches in 2012.
CAREER CAPSULE
Claimed off waivers by Buffalo on December 3, 2010…Originally a 4th-round draft choice (129th pick overall) our of Iowa by the San Diego Chargers in 2007…Waived by the Chargers on April 27, 2009…Signed by the Dallas Cowboys on May 28, 2009…Waived by the Cowboys on Sept. 5, 2009 and signed to the practice squad…Signed by the Giants off the Dallas practice squad on Dec. 23, 2009… waived by the Giants on Sept. 4, 2010 and re-signed to Cowboys practice squad, before being elevated to active roster on Sept. 24, 2010.
COLLEGE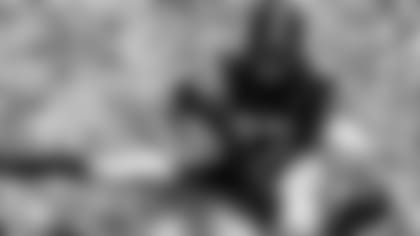 Finished collegiate career at Iowa ranked second in school history among tight ends with 117 receptions for 1,476 yards, including 46 for 591 yards and 6 touchdowns as a senior…Led the team as a junior with 47 catches for 552 yards and 2 touchdowns…Spent his freshman and sophomore seasons as a wide receiver before converting to tight end as a junior.
PERSONAL
All-district and honorable mention all-state as a senior at Southlake Carroll High School in Texas…Helped lead team to a 16-0 record and the Class 5A Division II state title… Caught 68 passes for 1,203 yards and 18 touchdowns for the title team…Also lettered in basketball…Majored in marketing at Iowa. He and his wife, Alissa, have three daughters: Lyla, Vayda, and newborn Ivy.