It wasn't the move that outside observers were expecting, but after a weekend of researching other options, the Bills have chosen to promote from within naming Thad Lewis their starting quarterback for Sunday's home game against Cincinnati.
Bills head coach Doug Marrone confirmed the move during his weekly interview on Bills flagship station WGR Sportsradio 550.
"We have decided that we are going to call Thad Lewis up from our practice squad and he will start at quarterback for us this Sunday," Marrone said.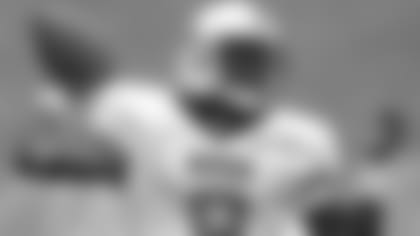 ](http://www.buffalobills.com/photos/photo-gallery/Thad-Lewis-Career-in-Photos/18ee1509-5666-4530-99d7-b1d21819f978)Starting QB EJ Manuel will be sidelined for at least a few weeks after sustaining an LCL sprain in his right knee in last Thursday's loss to Cleveland. Fellow rookie Jeff Tuel replaced Manuel in the lineup last week, but struggled. It prompted Marrone and his offensive staff to pursue other options.
Marrone confirmed that they had free agent QB Pat White in for a workout. There were reports that free agent QB Dennis Dixon also worked out for the club over the weekend. But as Marrone and his staff see it, the signal caller that can step in an execute the offense is a week's time was already in house.
"Thaddeus has been with us the whole time, knows the system now, has been practicing with us and traveling with us," said Marrone. "So at the point where we are now he gives us the best opportunity. He has experience. He has played in games. He knows the system."
Lewis, who was signed in late August just days before the team's final preseason game, has been through this kind of roster promotion before. While on Cleveland's practice squad last season, Lewis was called up and plugged into the starting lineup against Pittsburgh in the team's season finale.
He went 22-32 passing (68.8%) for 204 yards with a touchdown and interception and a passer rating of 83.3.
"The situation now is Thad gives us the best chance," said Marrone. "I think we'll play to his strengths and he does know the whole playbook now. He can extend plays. He can run. He can throw it. We're happy with what he's done in the practices here that we've watched him. So now we're going to give him an opportunity to see what he has.
"I'm a big believer if someone is on your roster and you keep him around and you see us do it with the practice squad bringing guys up, you've got to put them out there to see where they are. The one thing you want to do is know what you have. I'm very comfortable with Jeff (Tuel) developing and with Thad I want to see what we have."
Tuel will again serve in a backup role this week, but it's clear that the Bills were looking for a player with a bit more experience and athleticism a bit closer to the skill set of Manuel.
Marrone would only commit to his starting quarterback this week, but he's very interested to see what Lewis can do for Buffalo's offense.
"He has a great arm. He really does," said Marrone. "You've got to create opportunities to see what he has and he has a great opportunity for himself."