Upon arrival at One Bills Drive on Tuesday, the players picked up their playbooks and began offseason voluntary workouts, as is usual on their first day back in Buffalo. But in more ways than one, it wasn't the "usual" first day back.
A new set of coaches and their new culture greeted the players, as well as new iPads to take the place of 3-ring binders full of plays on paper; even the once-staple playbook distribution wasn't "usual."
"This is a first for me," said Bills SS Da'Norris Searcy. "I thought we were going to get those thick binders again. I walked in and they said stop right here, pick up your book bag, and pick up your iPad."
Though not the first NFL club to use team-issued iPads for football information, the Bills are ahead of the curve in the shift to an app-based playbook.
"We have our playbooks on the iPads now," said Bills Center Eric Wood. "It's a little more cutting edge I guess around One Bills Drive. I like it."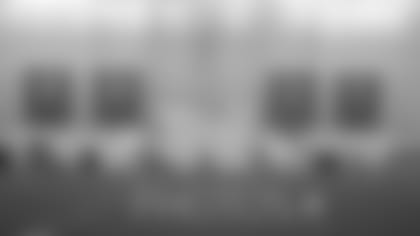 ](http://www.buffalobills.com/media-center/photo-gallery/Culture-Change-at-One-Bills-Drive/f23eeb65-6805-4efd-892a-e8b0d7962313)
Through the app Game Plan by Global Aptitude, customized for the Bills, players can view the x's and o's, game strategies, coaches memos and check their practice schedules digitally – all done previously on paper. Perhaps the biggest advantage is the video capability of the new device. Wireless technology was used last year to enable game and practice tape viewing on personal devices, but the move to team iPads and the Game Plan app will seamlessly integrate the playbook with game film and any applicable video, instantly improving the teaching capacity of coaches and the enhacing the learning capacity for players.
"They can import plays to you," said Wood. "They can write you a note and say check this out before you come into the building tomorrow. You can watch practice before you come in. So it's almost daunting at times knowing you have the film right there next to you. But it definitely makes it really convenient. It allows you to come in prepared each day."
Not only can coaches send notes through the app, but they can send personalized quizzes to double check that a player understood an assignment correctly. Backend technology allows coaches to control the information Wood and his fellow Bills can see – crucial for wiping previous game info to help players move on mentally to the next opponent, win or lose. Each week's playbook will be set to expire shortly after the game to keep momentum moving forward as a tangible piece of an unmistakably positive attitude Head Coach Doug Marrone and his staff have already sought to impress on their team.
"The energy, I like the energy," said WR Stevie Johnson after the team's first meeting with their new coach. "He could have been saying blah, blah, blah, but it was up-tempo. It felt good to me. I am pretty sure the vibes were throughout the room as well. We're going to be up-tempo and have attitude."
Though the Information Technology department at the Bills had planned on moving in this digital direction in 2013 regardless of the coaching staff, Coach Marrone placed emphasis on having all things "new" at One Bills Drive – from coaching moves to new décor in the Fieldhouse to the iPad playbooks – positioned and ready for immediate use by the April 2nd player arrival date.
With an onboarding process that most comfortably takes up to 90 days, from initial bulk iPad purchase to player distribution, this meant speeding the process along to ensure a quick and seamless transition from paper to touch screen. Taking the "book" aspect out of the "playbook" meant a full-scale modification to the technological infrastructure at One Bills Drive, with access points and cables added to strengthen wifi capabilities and ensure easy use of the Game Plan app. Dirty work finished in time, the iPads were ready to greet the players on Tuesday, complete with personalized cases by number.
"I think it's going to be fun," said RB C.J. Spiller. "It'll give guys the extra ability to get ahead to see what will be going on and break stuff down."
"It'll make it really convenient for us to have everything in a tablet-size deal instead of a playbook that's 6-inches thick," said Wood. "The technology gives you a pretty good advantage."
"Plus, I guess we're trying to save the planet so we're going paperless now," Spiller added jokingly.
Environmental benefits aside, the Bills have made a shift from 3-ring binders to streamlined iPads, mirroring efforts to change the culture and usher the team into a new age under Doug Marrone.