1. Red zone provides highlights
Even by Sean McDermott's admission, the offense is trying to nail down consistent timing and execution. On Monday, they made some plays during red zone work in 11-on-11.
John Brown pulled in a Josh Allen pass for a touchdown on the first play during the red zone period, though Micah Hyde appeared to pull up to avoid contact and in a live situation may have broken up the pass.
Two plays later, Allen avoided pressure from Star Lotulelei and found Tommy Sweeney in the left side of the end zone for a touchdown.
Allen hit Sweeney again, who was wide open in the end zone on a blown coverage during the same series, for another score.
For Sweeney, he's essentially been the top passing option at the tight end position since Dawson Knox went out of the lineup with a hamstring injury and Jason Croom and Tyler Kroft still sidelined. All his time on the field has helped to shorten Sweeney's learning curve, who is making plays on a daily basis.
"It definitely has helped being out there playing against the ones, but I've learned just as much on tape and being around Lee (Smith) and (Tyler) Kroft in OTAs, older guys who have been around and played a lot of ball. Then coach Rob (Boras) has been a big help, but yeah playing out here that's how you get better, playing the game."
Ray-Ray McCloud got good separation on a crossing route underneath and reached the end zone on a pass from Matt Barkley. On the very next play, Duke Williams caught a tough fade pass on his back shoulder despite tight coverage in the end zone for a touchdown and made an emphatic spike after the play.
"I was just making a play for our team," said Williams. "Coach put me in and trusted me on that route and I'm just trying to earn my teammates' trust and I do that by making plays like that. I'm just here to work and help this team win. That's my game, see ball, get ball."
It may have been a close call if there were live tackling, but it looked like Robert Foster would've reached the goal line as he took a completion on a crossing route to the front left corner of the end zone.
TE Kyle Carter had a touchdown catch under the goalposts on a throw from Barkley and WR David Sills caught a touchdown pass in almost the exact same place on a pass from Tyree Jackson.
Late in practice, Allen scrambled out of the pocket from pressure and threw one of his better passes of the day to Andre Roberts in the back right corner of the end zone for a score.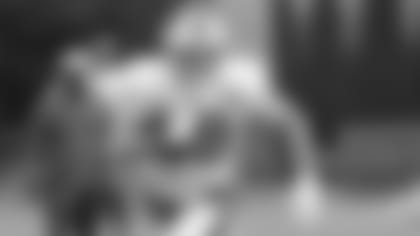 2. Ed Oliver sees more first team reps
It's far from official, but top draft choice Ed Oliver is no longer getting sprinkled in for first team reps. The defensive tackle is getting the majority of them.
At Monday's practice, 10 days into camp, Oliver was getting the first two reps of each series early in the team periods. Then Jordan Phillips would come on for the third rep of the series. But there were series where Oliver was lined up next to Star Lotulelei on the defensive interior.
Oliver has been a playmaker in the team setting and it's been difficult to ignore his consistent penetration into the offensive backfield.
It appears the defensive staff is moving in the direction of moving him to the starting lineup on a more regular basis, but nothing is set in stone just yet.
"Every position on our team has to earned and that's the way we want it," said head coach Sean McDermott. "The guys buy into that, so that'll be a good competition to continue to watch."
Guards Jon Feliciano and Spencer Long returned to practice, but both were limited. Long did not get any team reps and Feliciano was used sparingly. Mitch Morse is still in the concussion protocol.
So the starting offensive line left to right was Dion Dawkins, Quinton Spain, Russell Bodine, Cody Ford and Ty Nsekhe.
After not getting a single rep in the slot in the nickel package on Sunday, Kevin Johnson did see some slot work on Monday. It was partly due to the absence of EJ Gaines, who is sidelined with a groin/hip injury.
Taron Johnson, Siran Neal and Cam Lewis also saw snaps in the nickel role.
Andre Roberts is being consistently rotated in with the first unit at receiver along with the likes of John Brown, Cole Beasley, Zay Jones and Robert Foster.
"He's done a good job," said McDermott of Roberts. "We've had some injuries there so he is very willingly stepped up and shown what he has. I think he's been more than a returner over the course of his career if you go back to Arizona, having gone against him. He's a great teammate, positive guy, great energy, puts the team first and I think he's done some nice things from the line of scrimmage too."