1. Josh Allen shows patience
As a rookie there were a good number of times where Josh Allen was a 'see it and throw it' quarterback in his first handful of starts, and if the first read wasn't there he was rolling out or scrambling to buy time. Now in his second season, Allen is already demonstrating an improved level of patience.
With third down being the bulk of the team work in practice Friday, Allen faced a good number of blitz calls from the defense. For the most part he and the offensive line handled them well.
Allen rolled out to buy extra time on only two or three occasions. Most of the day he hung in the pocket and got to his second and third reads most of the time.
"We are just trying to look to improve and get better, and every day we are going to go out there and learn something new about each other," Allen said. "They are going to learn stuff about me. I'm going to learn stuff about them. We are going to talk about it, communicate and hopefully apply that to the game field."
One of his better-looking throws came on a strike over the middle late to Robert Foster in tight coverage for a 15-yard gain, and Foster was his third read on the play. He also did a good job feeling the rush off the edge and stepped up in the pocket to deliver a dart over the middle to Cole Beasley.
"Yeah that's good for a young guy to have confidence in the O-line up front and know that he has time and has multiple guys who can separate," said Beasley. "If the first read is not there, there's no need to panic. We have other guys who can move and get open and he knows that and he's doing a good job finding them."
"He's a quick learner," said John Brown of Allen. "He knows where everyone is going to be, so we just have to trust him and continue to run our route."
Brown turned in another strong day as he has probably been the most consistent receiver in terms of getting open on his routes through the first two days. Brown had another four receptions Friday.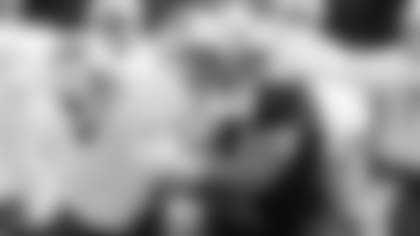 2. Offensive line shuffle underway
It wasn't a dramatic shift in the starting lineup for the offensive line, but there were changes to both the first and second units Friday.
Spencer Long was the lone change on the starting O-line as he manned the right guard spot in place of Jon Feliciano who swapped with him and played right guard with the second unit.
Everyone else that was with the starting group on day one stayed the same, LT Dawkins, LG Spain, C Morse, RT Ford.
For Spencer Long, he doesn't concern himself with the lineup decisions. He's just trying to get in as many good reps as possible.
"The important thing is to have the communication be continuous," Long told Buffalobills.com. "We should pick up on things with both groups the same. But that's why we meet and walk through and go over things so everybody is on the same page when we're out there. That way all our calls can be carried from one group to the next and they're all consistent."
Long echoed Dion Dawkins sentiments on Thursday that the offensive line unit feels like they're ahead of the game with their communication, which in turn is helping with their execution of calls and assignments.
He points to the fact that just about all the new offensive line additions with the exception of rookie Cody Ford have a good deal of NFL game experience.
"I think that has helped us jell a lot faster than we anticipated," said Long. "This is one of the tightest groups I've been around with as little time as we've spent together since I've been in the league. Having guys with similar experience and time in the league. We've really picked things up quick."
Long said he felt this group was more disciplined in the spring than the unit he played on last year was in the regular season.
"We still have a lot of work to do, but it's good to have this kind of foundation to build off of from here," he said.
In addition to getting Feliciano, the second unit also had the two tackles flip sides. Ty Nsekhe flipped over to the left side, while LaAdrian Waddle went to right.
"They're putting us in situations so we can master our technique," said Nsekhe. "I'm ready for anything."
The other interesting thing that the offensive coaches did was after the first three reps were taken by the starting offensive line, they would rotate the second line in for the fourth rep with Josh Allen and the rest of the skill position starters. They would repeat the practice when the second unit was in, rotating the third offensive line in with Matt Barkley and the second stringers.
Some of the linemen said it was partly to get everyone used to the quarterback's cadence and to get linemen used to playing with different guys.
There were a couple of changes on the defensive side of the ball Friday. Rookie S Jaquan Johnson was rotated up from the third to the second unit as he got some reps in place of Dean Marlowe and Kurt Coleman at times. Johnson had a pass breakup over the middle that led to an interception by Marlowe during team work.
Meanwhile Coleman rotated in late in practice for both Jordan Poyer and Micah Hyde with the first team defense. Head coach Sean McDermott spoke glowingly of Coleman, with whom he has a long history having coached him in both Philadelphia and Carolina. By the looks of it, Coleman would be the first safety off the bench in the event of injury to either Hyde or Poyer.
Ed Oliver and Harrison Phillips were both given some first team reps late in practice in place of current starters Jordan Phillips and Star Lotulelei. DE Shaq Lawson did the same in place of Jerry Hughes and LB Corey Thompson rotated in for Matt Milano.
Click through to see the best photos from Day 2 of 2019 Buffalo Bills Training Camp, presented by Connors and Ferris.