Day 1 of training camp saw a lot of short and underneath throws with a full day of red zone work. Day 2 again had a short passing game focus with mostly 3rd-and-short to medium down and distance work. But on Day 3 the ball was up and going deep.
Offensive coordinator Brian Daboll had his quarterbacks looking to go long whenever the opportunity presented itself and they were happy to oblige.
Bills fans at today's session quickly learned why John Brown's nickname is 'Smoke.'
On the third play of 11-on-11, Josh Allen hit Brown with a deep throw down the left sideline for 40 yards.
One series later Matt Barkley hit Robert Foster deep down the right sideline with an anticipation throw that beat the blitz for another 30.
The play of the day went to Allen and Brown, who hooked up on a 60-yard touchdown on a deep post that drew the loudest roar from the fans in attendance.
Though it's still very much in the early going in terms of chemistry between Allen and Brown, it's clear that the timing is syncing up between the two.
"It's coming along good," said Brown of his on-field chemistry with Allen. "We've still got a lot to learn. But it's been great and I love working with him. He carries himself like a veteran. And when we don't get things right we go right to the next play and try to get better."
Allen would later hit Brown on a shot deep down the middle on a crossing route. The Bills quarterback deftly stepped up in the pocket to elude the rush off the edge and gunned the pass in to a wide-open Brown for a 25-yard pickup.
Robert Foster, who made his own share of big plays for the Bills as a rookie, was glad to be running deep routes again. But he was even more excited to be learning from a veteran deep threat like Brown in practice.
"I loved it. Today was good. I was happy to get back to running full speed," said Foster. "But I was more excited to watch 'Smoke.' I think that's going to help me and all of us, just watching him and learning how he gets separation and putting everything together.
"I'm learning about body lean, hand-eye coordination, tracking the ball. I'm a lot taller than 'Smoke' so I try to base it all on how he runs his routes. He's quick and fast, so I'm going to be studying 'Smoke' all season."
Cam Phillips turned in the last big play for the offense with a 50-yard reception down the left sideline from Tyree Jackson.
The defense did have a couple of nice pass breakups on some deep balls as well. Levi Wallace made a good breakup on a 50-yard bomb to Foster on a deep post that Wallace knocked away at the goal line.
Kevin Johnson also had a pass breakup in the end zone on a deep pass from Barkley that was intended for Foster as well.
Another defensive player who looked good in coverage was Tremaine Edmunds, who had a pass breakup on a throw intended for Cole Beasley underneath from Josh Allen. Edmunds was also strong during a run fit segment.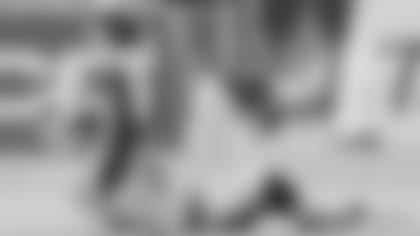 2. Trent Murphy leads pass rush
Of course with a lot of deep passing comes a greater opportunity for the Bills pass rush to get home and get 'tap out' sacks. No one benefited more from the deeper drops and longer plays on Saturday than Trent Murphy.
Murphy unofficially had three sacks and two other quarterback hurries as he looked strong off the ball. The veteran pass rusher seemed to have his greatest success with a nifty inside move that he used with regularity against rookie right tackle Cody Ford.
"It's a great competition," said Murphy. "I love Cody. He's a great young buck. Super talented. He's competing and giving me everything I've got to try to get some wins. So I look forward to that matchup and making each other better. It's fun."
Murphy's pass rushing repertoire looked awfully strong on Saturday, but by his standards he's not there yet.
"It's still early. I'm super rusty to be honest. I've got a lot of room for improvement. I made some rookie decisions today myself. So I'm excited to keep improving."
What is clear is Murphy's burst and power looks a lot more like it did a couple of years ago when he logged nine sacks for Washington. Last season with the Bills was largely a recovery year for Murphy coming off the ACL injury, but now he looks primed to make a difference up front.
"Trent is a great player," said Ford. "He has a lot of tools in his toolbox. So going against him is helping me out a lot."
Murphy, who is as selfless as they come among NFL players, isn't worried about hitting sack numbers like he did a couple of seasons ago. He's more focused on making this defense as successful as possible this season.
"I think ultimately offense dictates opportunity," said Murphy. "Our goal is to just be a sound defense. If my number is never called I'm okay with that because I'm going to do my job regardless and take my opportunities as they come."
He certainly did that in Saturday's practice.
Among some other players credited with sacks were Siran Neal on a blitz and Jerry Hughes.
Day three brought another switch on the offensive line. The starting unit remained largely the same, but again the right guard position was flipped. Jon Feliciano, who was the starting guard on day one, was back at right guard with the first unit Saturday. On Friday, Spencer Long rotated in with the first group.
Late in practice, as was the case at other positions as well, Nsekhe and Long rotated in for Dion Dawkins and Quinton Spain at left tackle and left guard respectively.
"We definitely have some new faces, different skill sets, but we have guys that are smart and guys who work," said offensive coordinator Brian Daboll. "(Offensive line coach) Bobby Johnson has done a fantastic job with (Assistant offensive line coach) Terry Heffernan and (offensive coaching assistant) Ryan Wendell. Those guys have to see the game through the same set of eyes. How we get them together will be based on this good competition, but with the pads going on today, it kind of starts today."
On the second-string offensive line, Long replaced Feliciano at right guard and for the third straight day the offensive tackles, LaAdrian Waddle and Ty Nsekhe flipped. Nsekhe went back to right tackle, where he was on day one, and Waddle went back to the left side.
There was a change on the third line too as recently signed Isaac Asiata got reps at left guard in place of Ike Boettger, who flipped to right guard. That moved veteran Vladimir Ducasse out of the lineup. He had been running with the third team, but didn't see much, if any action, in team segments Saturday.
Boettger lined up at center with the third unit on day one, but has since been at left and right guard. Undrafted rookie Garrett McGhin manned the center spot with the third unit the last two days.
Click through to see the best photos from Day 3 of 2019 Buffalo Bills Training Camp, presented by Connors and Ferris.