1 – Robert Foster turning into Bills No. 1 WR
On an offense starved for a number one wide receiver, Robert Foster has put together a pretty impressive rookie season for an undrafted player. Coming into the game leading all NFL rookie receivers since Week 12 with 82.5 receiving yards a game. On Sunday, the receiver known by his teammates as 'Big Play Rob,' upped the ante providing the Buffalo offense with the go-ahead touchdown in the fourth quarter and his third 100-yard receiving day of the season.
"The line stayed real good in protection. Our outside post took his guy, he ended up falling," said Josh Allen. "Robert was running away from his guy and I put it up and made a real good play and catch on the ball and some yards after the catch and got in the end zone. It was big play for us."
A big factor indeed as it proved to provide the game-winning points after Stephen Hauschka put the point after attempt up and through with just over 10 minutes left in regulation.
"It was beautiful. It was a perfect pass," said Foster of his 42-yard scoring play. "That's what practice is for. We practice it that over and over and over again and we came down with it in the game and it played a big factor."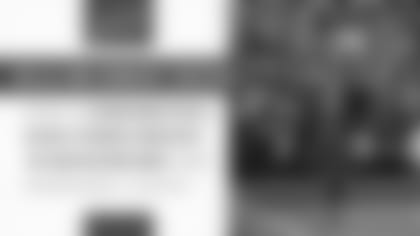 Foster had four catches for 108 yards on Sunday to surprisingly up his yards per catch average to an incomprehensible 24.6 yards per catch.
The rookie receiver also had a major hand in the team's first scoring drive of the game. After pulling in a 28-yard catch down the right sideline from Allen to move the Bills into Detroit territory, he drew a 43-yard pass interference penalty on the next play. It set Buffalo up for a 1st-and-goal at the Lions four-yard line. Two plays later, Josh Allen scrambled into the end zone for his sixth rushing touchdown of the season.
"That was a deep 'V' route and Josh put it out there where I could go get the ball and I got held, and it led to the penalty," Foster said. "So that was a play that helped the team."
Foster has gone from making the 53-man roster in September, to getting cut in October, to being signed to the practice squad, to being promoted back to the 53-man roster to turning in three 100-yard receiving days in the span of five games.
"I needed it," said Foster of getting cut. "(Receivers) coach Terry (Robiskie) always pressed me to work on my craft and I'm going to continue to do that and hopefully I continue to get better every day and make plays for my teammates."
"We let him go and he came back and maybe it was a wake-up call where he began to understand what it takes to play in this league," said head coach Sean McDermott. "The preparation you've got to put in to earn the right to be on the team, but also be productive for us."
"Coach was talking about carrying each other," said Foster. "Carry somebody on their back and that's what we tried to do. If somebody was down I told them we're just going to carry each other regardless of who it is. If it's a lineman, a quarterback, we just wanted to come out and make plays and that's what we did."
On a day when Buffalo's passing game had just 195 net yards, and he provided 108 of them and a game-winning score, we know just who did the carrying on Sunday.
2 – Lorenzo and Shaq spearhead defensive effort
The Bills were able to make 14 points hold up in one-point win due in large part to a defense that put the clamps on Matthew Stafford and the Lions. With 2:21 left in the first half, the Buffalo defense put Detroit on lockdown.
On the Lions final seven possessions, Buffalo's defense forced six punts and a missed field goal.
"I thought coach Frazier and the defensive staff, and the players executed extremely well," said McDermott. "Tremaine (Edmunds) did a great job. We were using Lorenzo (Alexander) a bit in some different positions than what he's played this year to this point. To be able to do that, I thought he did a phenomenal job there. I thought we continued to apply pressure to them and got the ball out fast and tackled well. We tackled better in the second half than we did in the first."
When the defense forced five consecutive punts by the Lions, Lorenzo Alexander and Shaq Lawson were among the most disruptive players.
Alexander had a pair of quarterback hits, two tackles for loss and a pass breakup, while Lawson had two quarterback hits, a tackle for loss and a pass breakup as well over that span.
"Guys executed and made the plays when we needed to," said Alexander. "We were still looking for that interception or fumble recovery to get in the end zone, but very proud of our guys. The last couple of weeks we haven't been able to shut out teams when we had that lead. So it felt good to be able to close out the game and allow our offense to finish."
"I love the energy that Shaq brought," said McDermott. "He's one of our juice guys in terms of just the energy he brings to practice and the game field. I'm really proud of the way he's grown this year. Still work to do obviously. I thought it was a great team win."
Alexander had to play off the ball a bit more as he helped to spell Matt Milano, who was lost for the season after suffering a broken leg last week.
"I was trying to fill in for Matt Milano the best I could," he said. "So just out there trying to lead by example, flying around and playing hard like I like to do every single week. You always find your way to making plays when you do it that way."
3 – Injury bug bites again
The Bills went into Sunday's game shorthanded at the running back position. That depth was tested even further during the game. Marcus Murphy left the game with an arm injury after he was tackled hard from the back side late in the first half.
Diagnosed with an arm injury, Murphy did not return to the game, leaving Keith Ford and FB Pat DiMarco as the only available ball carriers.
In the second half, Ford had to leave the game for a period of time, before returning later. It left the offense as thin as they've been all year in the offensive backfield. DiMarco even had to come in and handle a carry, which went for nine yards and a first down.
"Luckily the bleeding stopped a little bit," said McDermott. "Pat (DiMarco) went in and carried the ball for us and did a great job. I had been calling for that play for a couple of years now to get him the ball. He did a good job when he had it. Guys stepped in and stepped up. If we're out of backs then we throw it or do something else with it. I don't know, but we moved the ball when we needed to move the ball.
Buffalo also lost a pair of defensive starters to injury in the second half when Micah Hyde and Tremaine Edmunds left the game on successive defensive series. Edmunds limped off and Hyde exited under his own power.
Meanwhile WR Isaiah McKenzie, while filling in for Hyde on punt return, suffered a non-contact leg injury on a third quarter punt return and was carted off the field. Miraculously, McKenzie returned to the game.
"From what I know he's fairly healthy," said McDermott. "I'm sure he's a little banged up. You don't see that every day when a guy goes off on the cart only to be brought back. So whatever our docs did with him and he was able to do, I'm going to get some of that."
Both Edmunds and Hyde were also able to return and finish the game.
Frey Electric Electrifying Play of the Game