Week two and it's a matchup of two teams that found success on Kickoff Weekend in the NFL. The Bills haven't started a season with back-to-back wins since 2014. Carolina stumbled at the start of the 2016 season, going 1-5 and never recovering after their NFC Championship year. Here are the top seven storylines leading to Sunday's game in Charlotte:
There are plenty of connections between the Bills and the Panthers, but the most obvious one is with Sean McDermott. He came to Buffalo eight months ago after spending the previous six years as the Panthers defensive coordinator.
McDermott has already been asked about returning to Carolina, and he's been reluctant to approach this week from a personal standpoint.
"I really appreciate the time that I spent there," he said Monday. "There are great people around that organization, and it'll be a huge challenge for us to go down there. It's their home opener. But I also know the work we have to put in this week, so that's where my focus really is right now."
But it's not just McDermott. New Bills General Manager Brandon Beane spent his entire professional career with the Panthers (19 years) before coming to Buffalo in May, and he's a native of Stanly County, NC, about an hour outside of Charlotte.
Current Bills players Leonard Johnson, Mike Tolbert, and Joe Webb were all with the Panthers last year also.
This week's matchup features two of the top three defenses in the NFL after one week of the regular season. Buffalo is ranked second, Carolina third. The Bills gave up one touchdown to the Jets last Sunday. The Panthers surrendered only 3 points at San Francisco in their opener.
Obviously, it's early in the season and both teams expect much tougher challenges in the weeks ahead. But for the Bills especially, seeing the defense get off to a fast start is especially encouraging, after underperforming on that side of the ball for the last two years.
3.   CAM IS STILL THE MAN
It has been an inauspicious start to the 2017 season for Carolina quarterback Cam Newton. Coming back from offseason shoulder surgery, Newton only played two series in preseason for the Panthers and attempted two passes.
Last week in San Francisco, Newton got off to a very slow start, completing just five of his first 15 passes. His head coach, Ron Rivera, said Newton was "a little rusty." So it will be interesting to see how much better the 2015 NFL MVP is in week two.
Newton has one career start against the Bills. Four years ago in Orchard Park, Mario Williams had 4.5 sacks and the Bills dropped him six times in all in a 24-23 comeback win over Newton and Panthers.
4.   A NEW "TOY" FOR NEWTON AND THE PANTHERS
He was the eighth overall pick in the draft in April, and much of the NFL world is intrigued by the possibilities Panthers RB Christian McCaffrey presents.
In their opener last week, Carolina used McCaffrey a lot. He was on the field for 70 percent of their offensive snaps, more than anyone other than their offensive linemen and Newton.
And he lined up all over the place. He was used as a running back, a fullback, a wide receiver, and a slot receiver.
"It's like getting that new toy at Christmas," Panthers Head Coach Ron Rivera told the Carolina media this week.  "You open up the box and there's what you'd hoped for. But you also have to be wise and smart about when you play with it and when you don't, because you don't want to wear the batteries out. You don't want to break it."
The Bills goal is to keep the wrapper on McCaffrey for at least one more week. But it won't be easy.
5.   THIS LOOKS FAMILIAR**
The Bills rushing attack has spent the last two seasons on top of the hill in the NFL. So it should come as no surprise they're right there again, ranked number one after week one in 2017.
The Bills steamrolled the Jets with 190 yards on the ground last Sunday. LeSean McCoy's chase for 10,000 career yards is off to a great start after racking up 110 yards in week one. The challenge this week could be tougher, with the likes of Star Lotulelei and Kawann Short anchoring the middle of Carolina's 4-3 defense, and All-Pro linebacker Luke Kuechly going sideline to sideline.
McCoy has one career game played against the Panthers. In his rookie year, with Philadelphia, he produced 46 yards on nine carries.
6.   PRESTON BROWN'S ROLE MODEL ACROSS THE FIELD
Bills LB Preston Brown was arguably Buffalo's best defensive player in preseason. With a new commitment to conditioning, and a return to the mike linebacker spot in Sean McDermott and Leslie Frazier's defense, Brown is poised for his best year as a pro.
And when he looks at the Carolina defense this week, he'll see a veteran linebacker to emulate. Panthers Pro Bowl regular Luke Kuechly has two years on Brown when it comes to NFL experience, and five more years of experience working with McDermott.
Brown and Kuechly are natives of the Cincinnati area, and they spent some time this offseason comparing notes on what it's like to play in this defense.
"Well, he just told me the defense is linebacker-friendly," Brown told reporters at Bills camp last month.  "The linebackers in this defense have played well and have gone on to have great success to help their teams win championships so that's what I'm trying to do."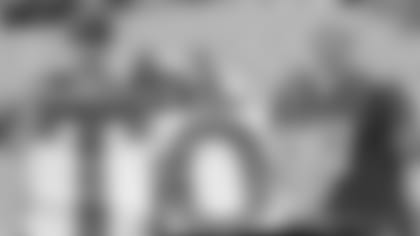 7.   THIS FEELS LIKE HOME
Whenever the Bills play in a Sun Belt town, there's always a large contingent of former Western New Yorkers in the stands wearing the red, white, and blue. But nowhere is that Bills Nation stronger, it seems, than in Carolina.
Buffalo is 2-0 on the road in Bank of America Stadium and if it feels like they're being cheered on by a Buffalo crowd, it's because they are.
The Charlotte Observer recently did an analysis of migration to that area using IRS data on zip code changes. And they found that the Charlotte area (Mecklenburg County, NC) is the number one out-of-state destination for people leaving Erie County in New York. It's the number two destination from Monroe County (Rochester, NY).
So if it looks and sounds like Bank of America Stadium is Orchard Park South this Sunday—it's because it kinda is.