It's not as if the Bills have been putting off their day of reckoning with the Patriots. They knew it was coming. And they know it'll be two matchups with the Patriots over a one month period.  Here it is, the Bills-Patriots part one. New England in its' usual spot, riding high with a seven-game win streak. The Bills heading down the home stretch trying to lock down a playoff spot.
Here are the top seven storylines for this week's Bills-Patriots game:
1.   SEAN MCDERMOTT'S FIRST KICK AT THE PATRIOTS CAN
Having spent most of his assistant coaching career in the NFC, there's not a lot of familiarity between the Bills first year head coach and his counterpart in New England. Or with Patriots quarterback Tom Brady either.
In his eight years as defensive coordinator, in Philadelphia and Carolina, McDermott's defense has only faced the Patriots once – that was November 2013, when Carolina held off New England with a 24-20 win in Charlotte. Tom Brady went 29 for 40 in that game for 296 yards, 1 TD and 1 INT.
McDermott knows all about New England's recent history. But his exposure to the Patriots has not been extensive.
"It's been very limited," he told Mike Schopp and the Bulldog this week on WGR Sportsradio 550. "I have a healthy respect for what they've done, both of them, and their entire team. And what they've been able to accomplish-that's hard to do. But overall, very limited in terms of my exposure."
2.   FINDING SOME BIG CHUNK PLAYS**
The Buffalo offense regained its footing last Sunday in the win at Kansas City. But one component of the Bills attack has been MIA for the last month—big plays in the passing game.
The Bills have 16 pass plays for over 25 yards so far this season. But only three of them have come in the last four games. In their six wins this year, Buffalo has hit on a total of 14 "big plays" in the passing game.  In their five losses, they have a total of two.
The 2017 Bills will never become an aerial circus, but it's clear they're more successful when they stretch the field and take occasional deep shots.
3.   WHY DO THEY DO THAT?
McDermott's direct exposure may be limited, but he's got plenty of players in the Buffalo locker room who know all about New England. Veteran center Eric Wood says one of the maddening things about facing the Patriots is that they'll cross up their tendencies and tailor different defensive looks for each opponent they face. That makes film study and anticipating what to expect extremely difficult.
"A lot of what New England does, is they game plan specifically for that opponent," Wood said this week in an interview on WGR Sportsradio 550.  "You may get into a game against them and there's only so many defenses you can play – we're familiar with most of those. But they might get into a look that we hadn't seen of them on film. It's game plan specific to you."
To make things worse, Wood says when New England gets a comfortable lead, they will deliberately play different defenses to put a new wrinkle on tape for future opponents and skew the computer generated tendencies their opponents will use.
"They'll do stuff with a more than a two-score lead, they'll show you a blitz, a pressure that you don't have to prepare for," Wood says. "When they have a lead on us, they've brought pressures that we've never seen before, trying to get them on film."
4.   THE HITS KEEP COMING ON BRADY**
Theories about how to slow down Patriots QB Tom Brady have been debated around the NFL for most of his 18-year Hall of Fame career. One of the more popular theories says knocking him around; delivering clean hits on Brady, is one way to do it.
Last week, the Dolphins hit Brady eight times in Foxboro, en route to losing again to New England. The 40-year old quarterback admitted on his radio show Monday he was "a little sore" after the Dolphins game.
Earlier this year, Brady was hit 32 times in New England's first five games. That pace slowed down until the Dolphins delivered punishment last Sunday.
ESPN research shows that Brady has been hit 59 times in the first 11 games this season. That's just about the same pace he's been hit in each of the last four years at this juncture of the season.
So the hits aren't slowing down. And Brady isn't either.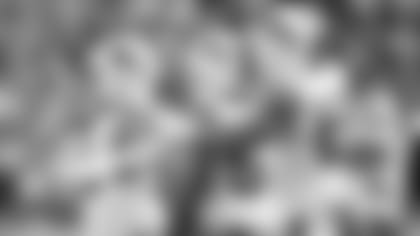 5.   BILLS YOUNG DEFENDERS BRING THE "JUICE"
After three straight dismal performances on defense, the Bills mixed it up against the Chiefs last week. They got some new starters on the defensive line—Eddie Yarbrough and Cedric Thornton. And there was an overall upbeat, high energy vibe to their defense against the Chiefs that served them well.
The new approach was visible even on the sidelines, when Buffalo's defensive linemen danced and celebrated during time outs while the offense was on the field.
"The energy is an important part for our team. Especially when you play on the road, but any time for that matter,' Head Coach Sean McDermott said this week. "The fact that the energy was there, the 'juice' was there, as our guys like to call it and that we were able to sustain that through four quarters, was big."
6.   SLEEPING WITH THE ENEMY
There's a sizable contingent of recent Bills alumni on the Patriots roster that will be returning to Orchard Park this weekend. The group includes former Buffalo first round draft pick Stephon Gilmore who left for a huge free agent contract last spring.
Gilmore has played eight games this year for the Patriots. He second on the team with two interceptions, and ninth on the team in total tackles.
WR Chris Hogan has missed the last three games with shoulder injuries. RB Mike Gillislee has been inactive for the last three games and fourth on the RB depth chart.  DT Alan Branch is in his fourth year as part of the Patriots DL rotation, and DE Eric Lee was just signed off Buffalo's practice squad a week ago and played against the Dolphins.
New England's record of dominance over the Bills is staggering. The Patriots have recorded 70 wins all time against the Bills, including a 15-game win streak from 2003 through 2010.
It hasn't been much easier for the rest of the AFC East either. Since Bill Belichick took over in New England, the Patriots are 80-28 against divisional rivals.
With two matchups in a four-week span against New England; with a new coaching staff and football department, and a roster filled with newcomers, the time is ripe for the Bills to open a new chapter against their longtime tormentors from Foxboro.