It's been decades since there's been a game like this in Orchard Park — two teams going head-to-head with playoff seeding implications on the line. As a matter of fact, the last time Buffalo played a home game this late in the season when both teams had win percentages above .733 was on December 22, 1991 when the Bills (13-2) played the Detroit Lions (11-4).
Currently, both the Bills (three-game win streak) and the Ravens, winners of eight in a row, are two of the hottest teams in the AFC. Both teams are led by a pair of first-round quarterbacks from a year ago in their first-ever head-to-head matchup as starters.
Meaningful December football. Bills fans have waited forever to see it. It's here with some compelling storylines to consider this week:
1. BILLS CLINCH A PLAYOFF SPOT IN WEEK 14?
Two years ago, it happened on the last play of the last game on the last Sunday of the regular season. Now, the Bills can claim a playoff spot in the first week of December.
Pretty simple – first, Buffalo needs to beat Baltimore. Then also at 1 pm Sunday, Denver must beat Houston, Tampa Bay must knock off (or tie) the Colts and finally, at 4:25 pm, Tennessee would have to beat (or tie) Oakland and then the Bills are in.
Baltimore can also clinch a playoff berth with a win and can clinch a AFC North title with a win and loss or tie by Pittsburgh.
2. NOT SO FAST—AFC'S TOP TEAM WITH MVP CANDIDATE IS THE OPPONENT
Baltimore brings a 10-2 record and an eight-game win streak to Buffalo Sunday. And they bring the league's top candidate for MVP with them, as well.
Quarterback Lamar Jackson has thrown for more than 2,500 yards and run for 977 already this year. He completes 67 percent of his passes with 25 touchdowns and only five interceptions. He's run for seven touchdowns also.
But the numbers don't tell the story. Jackson's combination of size (6-2, 212) and speed have made him the NFL's top playmaker in just his second season. He's being viewed as a transformational talent.
Bills defensive coordinator Leslie Frazier knows he's got his hands full with Jackson.
"He's a little bit of a Houdini back there with the football and really so deceptive, whether or not he's handing it off or he's keeping it or potentially passing it," Frazier said this week. "But he runs the offense extremely well and probably as good as anybody at our level who has run this style of offense. You just don't see it very often, so it's different. But he does a very good job of running the RPO system."
3. RAVENS OFFENSE – A THROWBACK OR TREND-SETTER?
Thanks to Jackson, the Ravens offense is the talk of the NFL. They're second in the league overall, first in rushing – averaging 208 rushing yards per game. No team, since the creation of the 16-game regular season, has rushed for 200-or-more yards per game through an entire season.
They average 5.6 yards per rushing attempt. If they finish the season at that pace, they'd finish second all-time to the 1963 Cleveland Browns.
"They're a powerful running team," says Brian Baldinger, former NFL offensive lineman and now a color analyst on the NFL on Fox. "They can run power at you. They can run read-option at you. They can run misdirection at you. They're really good. "
Baldinger told One Bills Live Bills defenders have to expect Jackson and the Ravens will hit some big plays.
"The one thing you cannot do is you cannot be discouraged," he said, "because Lamar is going to make plays. He's going to 'wow' you. He did it against the 49ers, there are things he's just going to do. You cannot get demoralized, you can't hang your head after a big play—you just gotta play the next play."
The architect of the Baltimore offense will be in familiar territory Sunday. Greg Roman was Buffalo's offensive coordinator in 2015 and two games in 2016, before Rex Ryan fired him.
With the Ravens the last two years, Roman has found a way to accentuate Lamar Jackson's spectacular skill in a traditional, power-run offense.
That's no surprise to Eric Wood, former Bills center, who played in Roman's offense in Buffalo.
"Greg Roman is one of my favorite coaches I ever played for," Wood told One Bills Live. "I think he is extremely smart. I have a ton of respect for him. He started as an offensive line coach, so he truly understands offensive line play. Not all offensive coordinators do."
Wood, the current analyst on the Bills Radio Network, says Roman is a master of the run game.
"His run schemes have always been phenomenal. He puts guys in great positions up front – he gives you great angles. He may go down as the best offensive coordinator for mobile quarterbacks in the NFL. He is willing to adjust what his traditional concepts are. He's a power-run game, quick pass game, rub routes – that's all his bread and butter. But what he's done is take concepts from any offense, any age."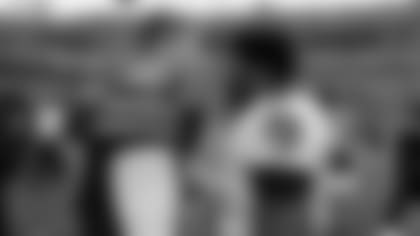 5. BEST TWO QUARTERBACKS OF 2018 DRAFT?
It's another matchup this week between two of the five first round quarterbacks from the 2018 draft. Josh Allen and Lamar Jackson played against each other in the 2018 opener, both coming in as backups in the Ravens 47-3 victory.
Sunday will be the first time they've gone head-to-head as starters. Allen has gone up against two of the other 2018 first rounders—he's 1-1 against the Jets' Sam Darnold, 0-1 versus Cleveland's Baker Mayfield.
Darnold and Mayfield are having up-and-down years. Josh Rosen is strictly a backup for the Dolphins. You could argue that Jackson and Allen, the third and fifth quarterbacks chosen last year, are the top two from the class.
Judy Battista of NFL.com says if the quarterbacks in the 2018 draft were re-drafted, the order would be changed.
"Obviously, Lamar Jackson would be the first one chosen, he would probably be the number one overall pick. And I think you could make a pretty good argument, if you were just going by what we've seen so far, that Josh would be second. How do you argue with that? He's certainly had much more team success than Sam Darnold has had, or Baker Mayfield. I would say certainly Lamar and Josh would be one-and-two if you re-ordered it."
It's a couple of top 10 defenses in the NFL this week in Orchard Park. And the Bills and the Ravens are in the top five in points allowed — Buffalo gives up 15.7 points per game, the Ravens give up 18 points per game.
Both defenses are getting better as the season moves on. In the last five games, both the Bills and the Ravens give up an average of 13 points per game.
When the Ravens throw it this week, they may risk getting Lamar Jackson hit. The Bills pass rush is heating up. Buffalo has recorded 15 sacks in the last three games – the most of any NFL team in that span. The Bills have 37 sacks on the season surpassing last year's total of 36. The sack production is a new factor in what's been a great Buffalo defense for almost two seasons.