Is there really a need to identify storylines?  It's the season kickoff. It's the start of the journey that goes until New Year's Eve, if not longer. It's a division rival with issues of their own to deal with. It's back to football for the Buffalo Bills, and the friendly confines of New Era Field will be rocking again this Sunday.
Here are seven of the top storylines heading into this week's matchup with the Jets
The Bills have their quarterback ready for the opener with Tyrod Taylor cleared from concussion protocol. He'll start his third season under center for the Bills with 15 wins in 29 starts.
Taylor has been remarkably healthy in his first two seasons as the Bills quarterback. He missed two games two years ago with an injured knee, but those are the only two games he's missed due to injury.  He had limited work in preseason this year, with just 29 pass attempts in three games.
Now he gets down to business with a completely revamped receiving corps. Only Brandon Tate returns and he caught a total of eight passes from Tyrod last year. It will be interesting to see how developed the chemistry is between Taylor and the likes of Jordan Matthews, Zay Jones, and Andre Holmes.
2.    MCDERMOTT ERA BEGINS
He's never been "the man" on the sidelines for an NFL regular season game. But 43-year old Sean McDermott looks like he can handle it, based on the four preseason games.
McDermott and the Bills made it through four preseason games without any "mechanical" issues concerning game management. They worked through replay challenges, time outs, clock management, and other issues seamlessly with what appeared to be an orderly approach. There were no penalties for too many men on the field, and no instances where they had less than 11.  It's not advanced coaching strategy, but it's encouraging.
Bills Wall of Famer Steve Tasker, in an appearance on The John Murphy Show,talked about how McDermott's game management was flawless in preseason.
"I was impressed with the way the staff handled the sideline management during the preseason. I noticed it. I noticed the way they used their time outs. I noticed when they forced Detroit to use a challenge," Tasker said. "I noticed when they worked the clock. They just seemed on it. Nothing caught them off guard."
3.    BACK TO THE FUTURE ON DEFENSE**
If you think fans are eagerly waiting to get a look at new defensive coordinator Leslie Frazier's plan—think how excited the players must be. We get our first look this week against the Jets.
For many of the players, it's a return to the 4-3 scheme that flourished under Jim Schwartz in Buffalo three years ago.
Defensive end Jerry Hughes, headed into his eighth year in the league, has been sporting a wide smile since training camp began. He repeatedly talks about how comfortable he is playing defensive end as opposed to outside linebacker.
"I've been a defensive end all four years in college," Hughes says. "To be put back in that situation, to pin my ears back, put my hand in the ground, to be back hanging with my buddies in the trenches, it's so much fun for me. That's what I call home.  That's where I feel the most comfortable."
4.    IT'S ALWAYS SHADY IN BUFFALO
LeSean McCoy has had two productive seasons in Buffalo.  But is there another level? He gets a crack at a Jets rush defense that ranked 11th in the league last year. And Shady does it with his eye on some career milestones at age 29 – he needs 1,046 rushing yards to reach 10,000 for his career.
With the passing game working in some new faces at WR, look for the Bills to feature the run game again this year, especially early in the season.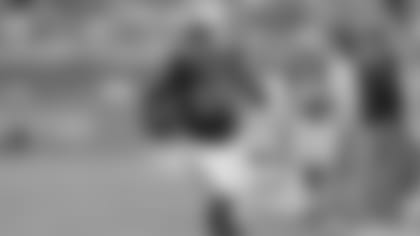 5.    FEET (AND HANDS) OF CLAY
There could be an expanded role for tight end Charles Clay in this year's Buffalo offense. In three games against the Jets over his two seasons in Buffalo, Clay has averaged six catches per game.
But with the turnover at wide receiver, and the familiarity Tyrod Taylor has with Clay, there's a chance the big tight end might play a more prominent role in Buffalo's passing offense beginning Sunday.
Clay told The John Murphy Showearlier this week he's got a feeling the coaches want him to play a big part in the aerial attack, especially downfield.
"From the time that I spent with this coordinator and this staff I kinda feel like they feel the same way," Clay says. "Getting me in space where I can catch the ball and run with it. I feel like that's my strong suit."
Clay has dropped five-eight pounds from his playing weight last year in an effort to run better and make his way downfield. We'll see Sunday if that's the plan.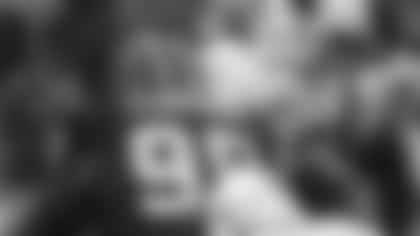 6.    MCCOWN A BIT OF A STRANGER
At age 38, in his 15th season in the NFL, you'd think the Bills would have bumped into Jets QB Josh McCown more often. But Sunday will mark just his second start against the Bills.
His first game 13 years ago, on Halloween, McCown was under center for the Arizona Cardinals in a game against the Bills in Orchard Park. He went 9-24 for 109 yards and 1 touchdown in that game. He was also sacked three times, in Buffalo's 38-14 win over the Cardinals.
McCown came close to being a Bills quarterback himself. Two years ago, Buffalo brought in the then free agent for a visit in February 2015 and got down to contract talks.  McCown elected to sign with Cleveland instead. And the Bills went on to sign Tyrod Taylor in free agency and trade for Matt Cassel.
7.    KEEP THE BROOMS HANDY
The Jets won just five games in 2016. Two of them came against the Bills. In fact, last year's Jets' sweep of the Bills ended a five-game Buffalo win streak in the series. The Bills swept the matchup with the Jets in both 2015 and 2014.