When Scott Kelsey got the call that he had won Bills season tickets, he almost didn't answer the phone.
"I was in the middle of gutting my bathroom when I got the phone call," said Kelsey of Corfu, NY. "A lot of times I won't answer my phone if I don't recognize the number but I happened to answer it and I'm pretty glad I did."
Kelsey had entered the Uncle Bob's Self Storage 2014 Bills Season Ticket Giveaway and was chosen as the winner, out of more than 44,500 total entries, of four 2014 Jim Kelly Club season tickets.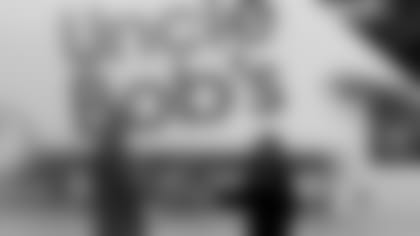 "It's hard to put into words," he said. "It's something that you don't think about because you might not remember entering the contest. Then all the sudden you get this call, and it's awesome."
He said he's excited to go to more than the usual one or two games he previously attended each season. His dad has been a season ticket member for years, and Kelsey plans to join his dad's tailgate and start a new tradition.
Fans were able to enter the contest both online and at Uncle Bob's Self Storage locations.
"It's been amazing," said Tina Close, Uncle Bob's Store Manager. "We've had so many people come in and inquire about storage from it and to fill out the forms. It's been great."
When Kelsey was presented his season tickets he also had his father and son with him to celebrate the occasion.  They are all looking to make the 2014 Bills season one to remember.
"It's nice because we're a Buffalo-based company," said Close, echoing Kelsey's excitement for the season. "To be able to support the Buffalo Bills and make somebody happy by presenting  them with something like this was great."