Day one of the NFL Draft is in the books and all eyes are on rounds two and three on Friday night. The Bills currently have the 61st overall selection (round two) and the 93rd overall selection (round three).
The excitement of the NFL Draft begins with round two starting tonight at 7:00 ET. The Bills have many options when it comes to their day two picks. This is what the writers over at The Athletic and Sports Illustrated predict the Bills will do with those picks.
61. Buffalo Bills – Paulson Adebo, CB, Stanford
93. Buffalo Bills – Michael Carter, RB, North Carolina
The Bills are looking to add more fireworks to the backfield and Carter is one of the most elusive running backs in the draft class.
61. Buffalo: Tommy Tremble, TE, Notre Dame
The Bills came up empty in their search for a tight end in free agency, but Tremble could become the answer. He was underused as a receiver at Notre Dame, but his athleticism suggests untapped potential as a pass-catcher, and he will play with an edge as a blocker.
93. Buffalo: Trey Smith, G, Tennessee
While Cody Ford develops at right guard, Trey Smith can come in right away and compete with Jon Feliciano at the left guard spot. The Bills cannot afford to lose that sense of harmony up front, especially as Josh Allen's confidence in his play extension ability grows.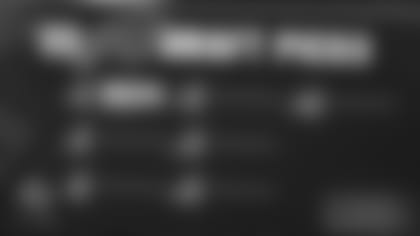 NFL Network's Charles Davis joins Bills Draft Special at 6:30 pm tonight
Be sure to tune into the Bills Draft Special tonight starting at 6:30 to hear Chris Brown and Maddy Glab talk about the newest addition to the Bills, Greg Rousseau, and go over their thoughts on what the Bills should focus on throughout rounds two and three.
They will be joined by special guest and NFL Media analyst Charles Davis who had the Bills taking Rousseau at No. 30 in his latest mock draft. The Bills Draft Special will be streamed live through the team's Twitter and Facebook pages and the Bills website and Bills App.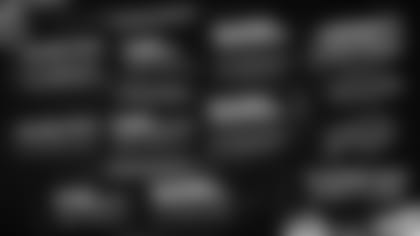 Hall of Famer and Bills Legend Joe DeLamielleure will announce a Bills pick
To add to the excitement of day two of the draft, a Pro Football Hall of Famer and former Buffalo Bills Legend will be announcing one of the picks for the Bills tonight. Offensive guard Joe DeLamielleure who was drafted by the Bills in the first round of the 1973 NFL Draft will announce a pick. DeLamielleure is a part of the Buffalo Bills Wall of Fame and was named to the NFL 1970s All-Decade Team. He will also be a part of the NFL's Draft-A-Thon which is raising funds in support of the pandemic recovery efforts.
Analysts give the Bills high marks with day one draft grades
The Bills received some high marks for their first-round pick. Many of the draft analysts think that it was an excellent pick by Buffalo and that Rousseau has untapped upside. Here are some of the grades the Bills received overnight: 
Draft pick - Miami DE Gregory Rousseau (No. 30 overall)
Analysis: The Bills are in a favorable position, as their roster is so well-built that they could sit back and allow the draft to come to them. Rousseau played only one full season of college ball but looks exactly like the powerful and long edge rushers teams want. He moved inside at times at Miami, presenting the power and agility to be a difference-maker at the next level. I suspect this will prove to be an excellent pick in time.
30. Buffalo Bills: Gregory Rousseau, DE, Miami (FL)
Gregory Rousseau is a high-upside selection for the Buffalo Bills out of Miami. Pass rush was a serious concern for the Bills last season and was a big part of why their playoff run stalled in the AFC Championship Game last season. Rousseau is likely not a Day 1 starter, but he should be a useful rotational piece.
30. Buffalo Bills: Gregory Rousseau, EDGE, Miami
Strengths: Length, interior pass rush
Miami's Gregory Rousseau is only scratching the surface of what he can become as a pass-rusher. He exploded onto the scene in 2019 and finished second behind then-Ohio State defensive end Chase Young with 15.5 sacks. The ACC Defensive Rookie of the Year then decided to opt out of last season.
... A.J. Epenesa flashed late in his rookie year and provides promise as a potential long-term starter. Rousseau can join him on the edge to get after the AFC East's young cadre of quarterbacks. The pick does come with risk. Like Epenesa, Rousseau slid in the draft because of a poor athletic profile. To be clear, the incoming defensive end presents an excellent natural skill set. Still, Rousseau really struggled in a couple of areas during his pro day. But talent evaluators couldn't overlook the fact that the 21-year-old finished second in sacks two seasons ago (behind 2020 No. 2 overall pick Chase Young) before opting out of the 2020 campaign.
"There's still so much untapped upside with him," a coach told The Athletic's Bruce Feldman. "He's still learning how to rush the passer. He's even longer than [Jaelan] Phillips, and he has so much leverage."